This article may contain compensated links, please read our disclaimer for more information.
RV clothes storage can be a big challenge. Many RVs simply are not made to be lived in, and if you can't figure out how to store your clothes properly, they end up being a big mess in the cabinet, drawer, or even on the floor. 
The good news? There are some things you can do to use your storage space more efficiently. Below, we will share our top RV clothes storage tips so you can get those clothes put away and focus more on having a good time traveling with your family. 
Downsize Your Wardrobe
First things first, you will probably want to downsize your wardrobe. The vast majority of us own way, way too many clothes, and when storage space is limited, this can be a major problem. Besides all that, clothes are heavy and can eat up a good chunk of your RV's cargo carrying capacity. 
One of the best ways to downsize your wardrobe is to create a capsule wardrobe. This will give you the ability to put together plenty of different outfits using the same base pieces, making it the perfect option for RVers. 
To create a capsule wardrobe, choose a base color—black, brown, navy, and gray are good choices—and pick up pieces such as pants, a skirt, a jacket, and shoes in that color. From there, you can use shirts and accessories to add pops of color.
RV Clothes Storage: Fold Outfits Together
Once you have your more limited wardrobe put together, you'll need to figure out the most efficient way to put them away. One way to make your RV clothes storage work well is to fold outfits together. 
For instance, if you plan to wear a certain shirt with a certain pair of pants, fold both items together. This will make it easy to find an outfit that goes well together without pulling out every pair of pants or every shirt. We find this is a particularly good clothes storage technique for kids. 
…or Roll Your Clothes
We also find that space is used more efficiently when you roll your clothes rather than folding them. When you roll, you can roll tightly, removing excess air to reduce fluffiness and thus allowing them to fit more snugly into a drawer or box.
Use Vertical Space with Totes
Sometimes RV clothes storage options are kind of odd. You might find you have to work with a really tall space or a really deep cabinet. In this case, totes are your friend. 
Plastic totes can be used to organize your clothing items however you see fit, and they make it possible to get to a particular item without pulling a whole stack of clothes over. You can roll each item or outfit tightly, place it in a labeled tub, put the lid on the tub, and stack it in the cabinet until you need it. 
Look Into Hanging Storage Options
Have lots of closet space but no drawers? Hanging storage options might be helpful to you. 
Hanging shoe organizers can go on the inside of closet doors and they hold small items such as underwear, socks, and accessories. Hanging sweater organizers are also great. These hang on the rod in the closet and can hold sweaters, t-shirts, pants, or any other clothing items you may not want to put on hangers.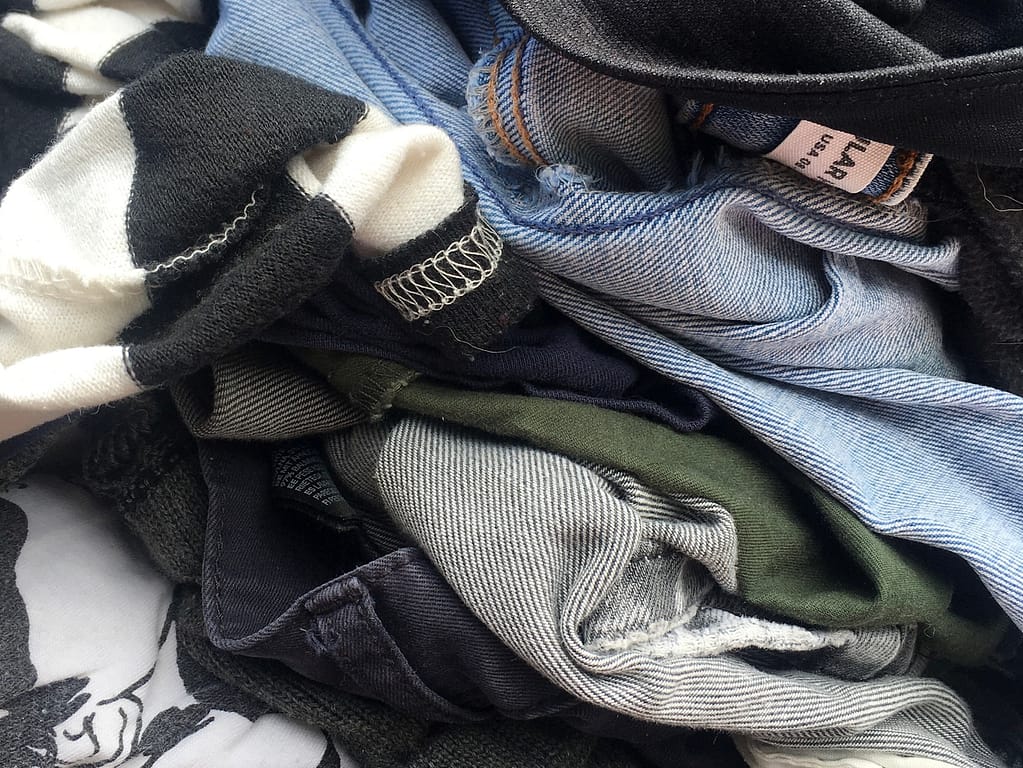 Put In Shelves
Of course, you could also put that extra closet space to use by putting in a set of shelves. You can put your clothes into bins and then place the bins on the shelves, giving your closet a neat, organized look, as well as utilizing space that may have been wasted otherwise. 
Invest in Tension Rods
Tension rods are excellent for RV clothes storage. You can use a shower curtain tension rod to hang items up when no traditional closet is available. Meanwhile, small tension rods can be placed in front of bins on shelves to ensure nothing falls while the RV is in transit. 
Hang Command Hooks
Easily one of the best RV storage solutions out there, Command Hooks definitely deserve a place on our list. These hooks stick to the wall and can hold up to quite a lot, making them ideal for hanging things like hats, scarves, and even shoes.
That said, the hooks can be removed quickly and without damaging the walls when the time comes, meaning you don't have to do anything permanent to your rig to create some awesome places to hang things. 
Put Out-of-Season Things Away
Making sure out-of-season items are put into storage can help a lot too. Use vacuum storage bags to get rid of excess air and make your out-of-season clothes as small as they can be. Then, you can put the bags into totes and place those in the storage bays, under the couch, or wherever else you have storage space available.
There you have it, some really awesome RV clothes storage ideas that will help you keep your clothes up off the floor and your RV looking neat wherever you roam. Now all you have to do is figure out how to do laundry on the road, and then you and your wardrobe will be all set!
Join Fulltime Families
Fulltime Families Members get access to the best resources, community and discounts.
Fulltime Families is a participant in the Amazon Services LLC Associates Program, an affiliate advertising program designed to provide a means for sites to earn advertising fees by advertising and linking to amazon.com, amazon.co.uk, amazon.ca. Amazon and the Amazon logo are trademarks of Amazon.com, Inc. or its affiliates.