For the most part, we full-time RVers don't have to think about finding affordable RV storage. We do live in the things, after all, and a home isn't something you just put away very often. That said, there are certain times when it does come up. Perhaps you're headed out on a cruise, or you need to fly out to see family. In these cases, RV storage is necessary.
Fortunately, RV & boat storage is something you can find in most places. However, traditional storage isn't always cheap. If you're low on funds, you might be looking for RV storage ideas that'll save you money. The good news? Affordable RV storage solutions are out there!
In this article, we are going to give you info on what you might expect to pay for storage, offer some affordable RV storage ideas, and give you some tips on choosing the right RV storage option. 
How Much Does RV Storage Cost? 
First, let's address the burning question: How much does RV storage cost? Obviously, RV storage fees depend on where you are located, the type of storage you choose, and what kind of RV you need to store. That said, on average, people spend between $50 and $200 a month on traditional RV storage. 
If this is within your budget, you'll likely be perfectly happy paying to store your rig at an RV & boat storage lot. Better yet, if you can afford to pay a little more, you might want to consider indoor/climate-controlled storage to keep your home-on-wheels extra safe. 
That said, not everyone can afford these prices. Not only that, but most RV storage lots charge by the month and are looking for a multi-month commitment. If you'll be back in your tiny home in just a week or two (and most full-timers will), this likely won't work for you. That's where the creative solutions below come into play.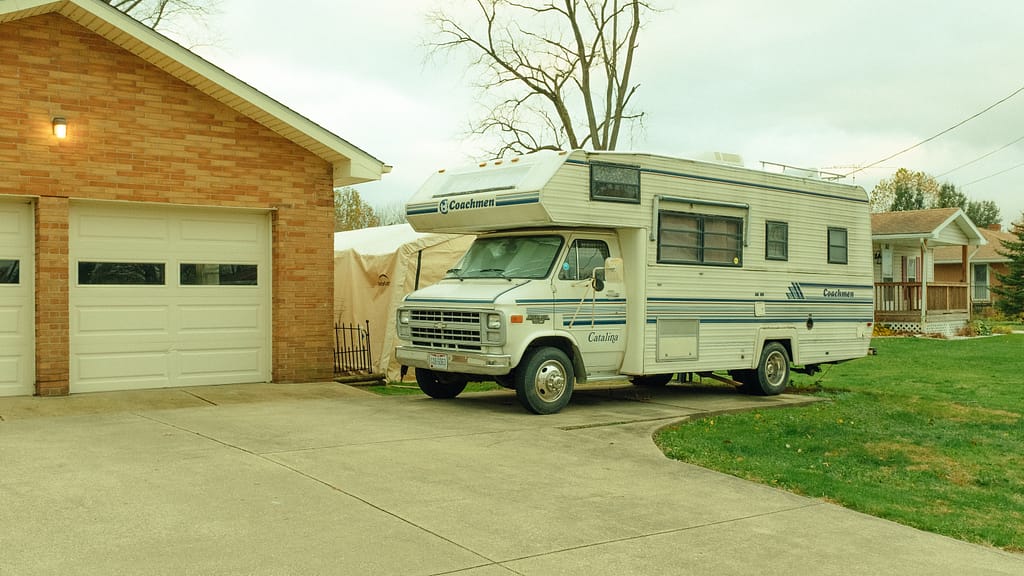 Affordable RV Storage Solutions
Wondering where to store RV campers if not on a traditional RV & boat storage lot? Don't worry, there are a lot of great options, and many of them might even save you a few bucks on RV storage fees.
Here are our top picks when it comes to affordable RV storage.
A Friend's Property
The best option—if you don't have property of your own—is to store your RV on some property owned by a friend or family member. This might mean parking in an empty spot in the driveway, or it could mean getting set up in the grass. In some cases, you might even get lucky enough to park in a garage or under a carport.
No matter where you end up parked on a friend's property, you will likely feel safer that they can keep an eye on it. Just be sure you thank them and offer something in return! 
Campgrounds
There are some campgrounds that will allow you to pay for a nightly spot and leave your camper there unoccupied. That said, there are also many that don't allow this, and in our experience, most membership campgrounds and budget options (such as state parks) do not allow this. 
The better way to go? Campground storage areas. Many campgrounds have a special area set aside for RV & boat storage. While you will pay to use these storage areas, they tend to be cheaper than dedicated RV storage lots. They are also pretty handy because you can easily put your RV in storage after staying at the campground, and then move right into a site once you get back to your RV. 
Church Parking Lots
Church parking lots are another one of our ideas for RV storage. This one is best for those who only need RV storage for a few days. Why? Because many churches have huge parking lots that aren't used at all during the week, but could easily fill up on Sunday. If you'll only be gone for a few days during the week, a local church might be happy to help you out with a place to park your rig. 
Of course, whether this will work depends a lot on where you are, what churches are around, and if you have any sort of relationship with any of the churches. It is definitely something worth considering though! 
Other Local Lots
If a church lot won't work but you happen to know a local business owner, you could be in luck! Many businesses have parking lots that never fill completely. A business owner who is also a friend might just be willing to store your RV in their business parking lot for a bit, an affordable RV storage idea that many don't consider.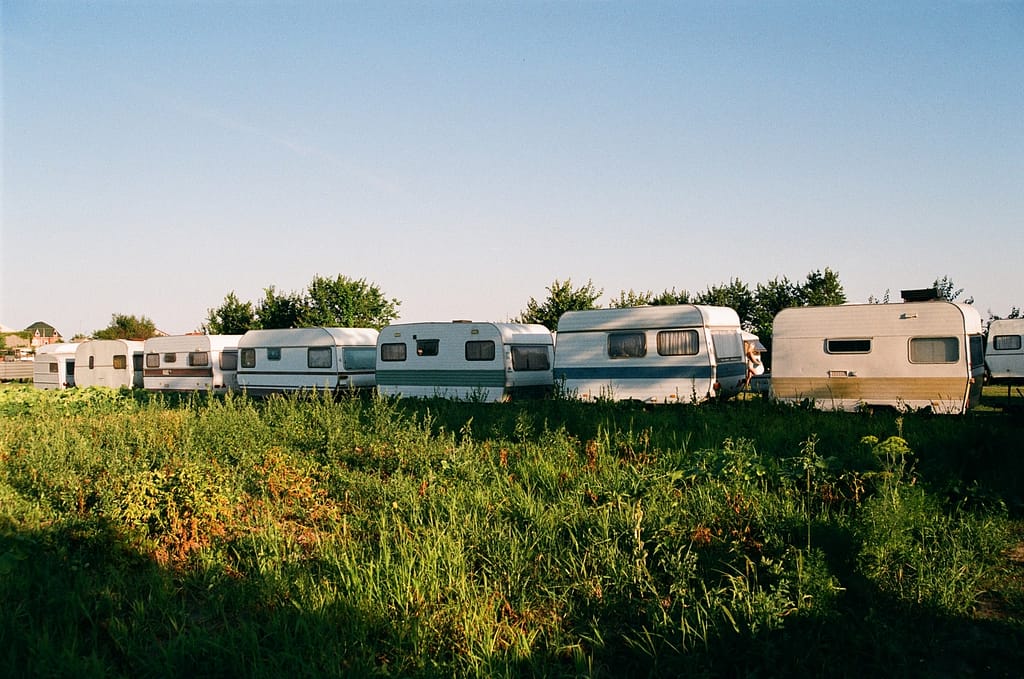 Choosing the Right RV & Boat Storage
Still not sure which RV storage option is best for you? There are a few factors you should consider when making your decision. Thinking about these things should help you make the best choice for you and your rig. 
Cost
Cost is the most obvious factor to consider. You can definitely shop around and find the least expensive storage lot in the area. That said, because traditional RV storage is so expensive, one of the RV storage ideas above might just be your best bet for affordable RV storage.
Location
Location is also important to keep in mind. If you're traveling by plane, for example, parking close to wherever you are flying from is a good idea. Leaving the rig in a decent part of town and away from a lot of traffic is also a good idea to prevent theft or vandalism. 
Security
It's also important to consider the security of the spot you choose to leave your rig. Is it gated? Will someone be around to keep an eye on the RV? Is the space it'll be parked in well-lit? You definitely want your home-on-wheels to be there when you get back, so these are things you'll want to ask yourself. 
Weather
Lastly, you will want to consider the weather in the place where the RV will be stored. If you'll be leaving the rig for a long time, you might want to skip any place with extreme weather conditions such as intense sunlight, lots of rain, or huge amounts of snow. These things all take their toll on RVs, so leaving your rig sitting still in these elements for a long period of time is never a good idea. 
If you must leave your RV in cold weather, be sure to fully winterize it and then leave time to de-winterize when you return.
Need even more info on RV storage? Check out the video below.
With this information, you should be able to seek out an ideal RV storage solution without breaking the bank. Not sure how to begin the search? Ask around to see if a friend or family member has a yard or lot they'd be willing to lend. Check with local campgrounds about their storage options.
If all else fails, search "RV parking storage near me" and start gathering information on RV storage fees so you can make the best decision for you and your budget.