This article may contain compensated links, please read our disclaimer for more information.
If you're like most parents, coffee in the morning is a must. This is true whether you're in a sticks-and-bricks house, on an RV vacation, or living in an RV full-time. For this reason, it is important that you find an RV coffee maker and a good system for making coffee in your rig.
If you're still trying to figure out what the best coffee setup for your RV might be, you've come to the right place. In this post we will discuss RV coffee maker options, as well as things like RV coffee mug storage, how to secure your coffee maker in your RV, and the coffee accessories you might want to keep on hand. 
Ready? Let's get started.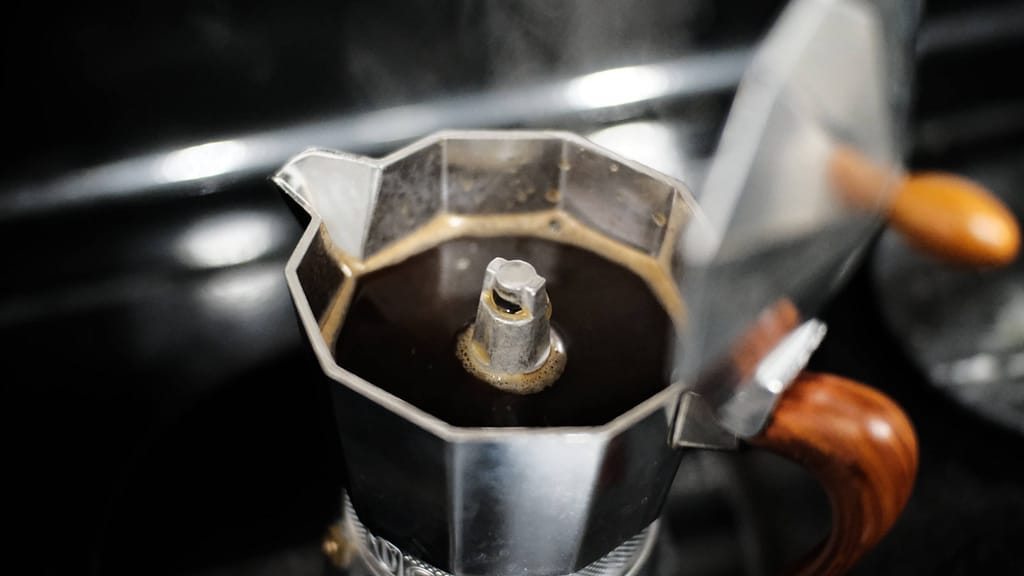 Finding the Best RV Coffee Maker
The first step to making great coffee in your home-on-wheels is finding the best RV coffee maker for your situation. Below are some of our top picks for RVers. 
Space Saving RV Coffee Maker Options
One of the biggest challenges when it comes to full-time RV living is making room for everything. Since many coffee makers can be space consuming, it's a good idea to look for space saving options. These include undermount coffee makers and smaller machines that use less counter space. 
Some of our favorites are: 
Black and Decker Spacemaker Undermount Coffee Maker
This Black and Decker Spacemaker coffee maker for RV is perfect for those with very little counter space. It mounts under a cabinet, meaning it doesn't consume any counter space at all. We love the auto brew feature the coffee maker offers, and the "sneak-a-cup" function that allows you to pour a cup of coffee before the brew cycle is fully complete. 
K-Mini Keurig Coffee Maker
Don't mind giving up a tiny amount of counter space for the sake of convenience? The K-Mini Keurig Coffee Maker might be for you. This teeny tiny single-serve coffee maker is less than 5 inches wide, making it the perfect Keurig coffee maker for RV living.
Built-in cord storage means you will never be left with a cluttered RV countertop, and the fact that you can remove the drip tray to fit a travel mug under the brewer is definitely a bonus. 
Best Coffee Makers for Boondocking
If you're boondocking, you might be looking for ways to conserve electricity. Fortunately, there are plenty of ways to go about that when making coffee in an RV. You might purchase a battery operated 12v coffee maker for RV usage, or go a more traditional route that allows you to use water boiled on a propane stove. 
Some great choices include: 
Makita 12 Volt Coffee Maker
If you're looking for a standard drip brewer that can be used even when camping off-grid, you might want to take a peek at the Makita 12 Volt Coffee Maker. This machine runs off of a 12-volt battery (like the ones used in handheld power tools) which can be charged in advance of your trip and recharged when you run your generator. Single-serve coffee packets can be used, or grounds can be poured directly into the reusable filter. 
Moka Pot Stovetop Coffee Maker
Prefer to make coffee on your propane stove? The Moka Pot is the quintessential stovetop camping and RV coffee pot, and we highly recommend it. We love the simplicity of this RV coffee maker, as well as the strong, high quality coffee it makes. Best of all, the pot is super small and easy to store.
AeroPress Coffee Maker
Another super small option that allows you to make coffee by boiling water on the stove is the AeroPress Coffee Maker. We love that this tiny coffee press is made from very durable plastic, meaning it's both lightweight and won't break while stored in your RV cabinets. It makes a nice strong cup of coffee, and can even make an approximation of espresso with the right attachment. 
ESPRO 1032C French Press
Need to make more than a single cup of coffee at a time but like the idea of a coffee press? The ESPRO French Press could be a good bet. The model linked makes 32 ounces of coffee, but there are other sizes available from the same brand. No matter what size you buy, you will have deliciously smooth coffee that you are sure to enjoy every morning. 
Hario V60 Pour Over Coffee Maker
Finally, there is the classic Hario Pour Over. This is another option for those who prefer to boil water on the stove in order to make coffee. The boiled water is poured over grounds placed in the coffee maker, which drips down through the grounds and into your mug to make a well balanced cup of coffee that is sure to wake you up.
We appreciate that this RV coffee maker is so affordable, lightweight, and small. 
Best RV Espresso Machines
If you prefer lattes over regular drip coffee, you might need a bit more than a regular RV coffee pot. In this case, an espresso machine might be called for. 
We have a couple of suggestions when it comes to RV espresso machines. 
DeLonghi Dedica Espresso Machine
Perfect for those who want a quality countertop espresso machine with a small footprint, the DeLonghi Dedica makes good espresso and will even allow you to steam milk. For this reason, it is one of our favorite small kitchen appliances for RV living. We do recommend making the modifications mentioned in this blog. 
CONQUECO Portable Espresso Maker
If you need something smaller and more portable and don't need the ability to steam milk, you might consider the CONQUECO Portable Espresso Maker. This portable coffee maker runs off of a battery which can be recharged in the RV or in a car. It also uses Nespresso capsules, meaning no grinding or measuring is necessary. These things make this the ideal option for making an espresso while hiking, fishing, or exploring the world.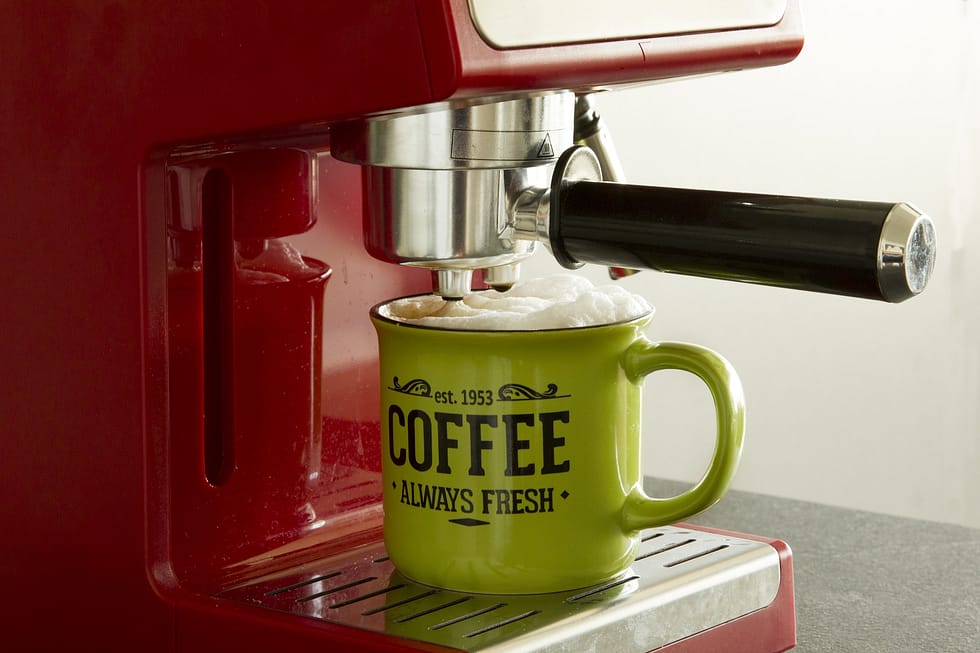 How to Secure Coffee Maker in RV
If you choose an RV coffee maker that cannot be stored in a cabinet and can't be mounted, you may be wondering how to secure it on your countertop. Not to worry, it's actually surprisingly easy to secure a coffee maker in an RV. 
Museum Putty
Many RVers choose to use museum putty between their coffee maker and the counter to keep the appliance from moving around. Believe it or not, this works quite well and is very easy to remove, should you ever want to get a new coffee pot or a new rig. Just remember on travel days to remove any included coffee pot piece and place it in the sink or a cabinet for safekeeping. 
3M Command Strips
A similar solution is to place 3M Command Strips between the coffee maker and the countertop. Command Strips are very strong, so some people feel more comfortable with these than the museum putty, and they are easy to apply. Again, you will want to make sure any loose parts are secured before hitting the road. 
Hooks and Bungee Cords
We've also seen people secure their RV coffee pot with bungee cords. These can be wrapped around the coffee maker and held in place by hooks on the wall. This method works best when at least two bungee cords are used in order to secure the top and the bottom of the appliance at once.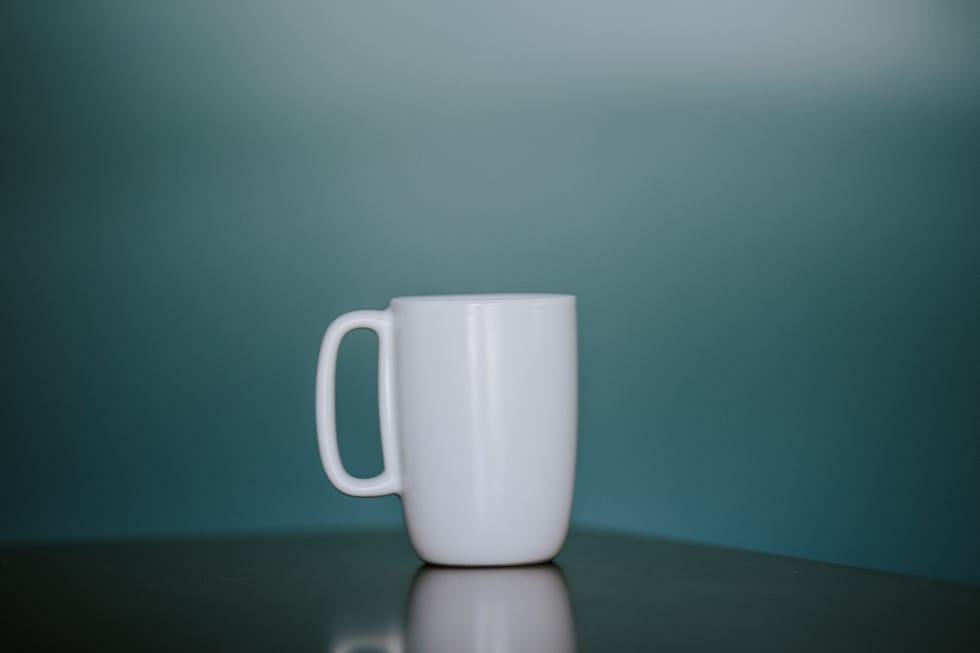 RV Coffee Mug Storage Solutions
Of course. If you're going to have coffee, you're going to need coffee mugs. However, storing coffee mugs can be a little bit tricky in a small space such as an RV. This is why we recommend the RV coffee mug storage solutions below. 
Stackable Mugs
If cabinet space is limited, you might want to store your mugs in a back corner of the countertop or on a tabletop somewhere. These stackable stainless steel mugs are perfect for this. They nest together perfectly, meaning they leave a smaller footprint than non-stackable mugs. And since they're metal, they won't break if they tip—plus, the metal rack can be held in place with museum putty. 
Mug Hooks
Another awesome option is to hang your mugs on mug hooks. Not only will this keep the cups out of the way without using cabinet or counter space, it also allows you to display them. Unfortunately, hanging mugs don't always travel well, so you might want to take any breakable mugs off of their hooks before moving day, or just invest in metal mugs to avoid problems should they fall. 
Stackable Mug Gadget
If you do have cabinet space but want to minimize the amount of space your mugs are using, these stackable mug gadgets might be just the thing for you. Each of these little plastic pieces goes on top of a mug. From there, another mug can be stacked upside down on top. Because the gadget adjusts to the size of your mugs, the cups will be held in place.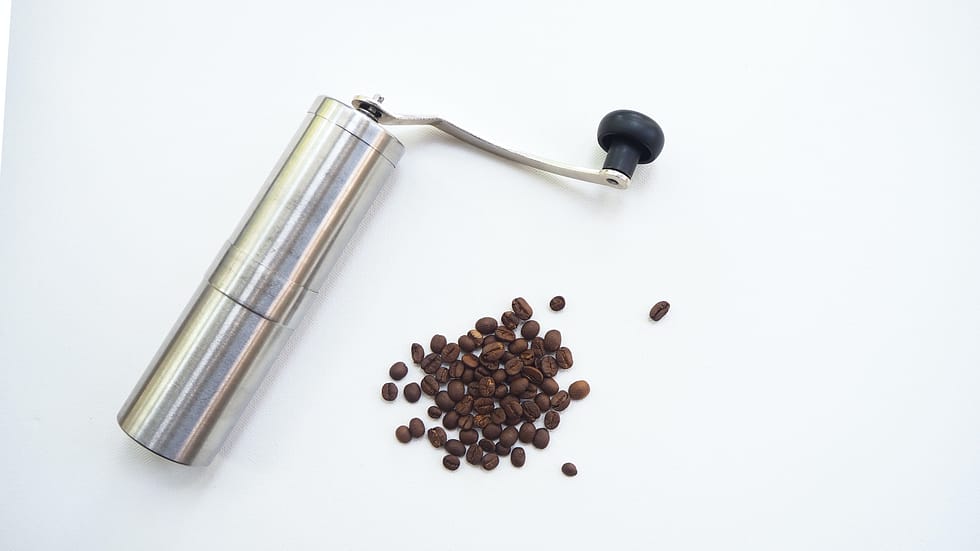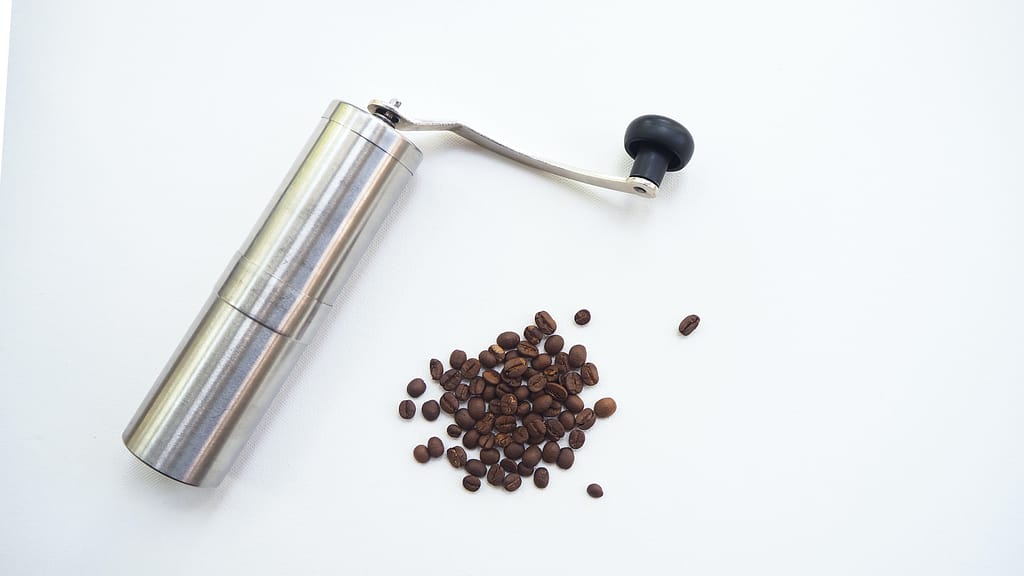 RV Coffee Accessories
Finally, we must discuss RV coffee accessories. These items will help you get the most out of your RV coffee making station so you can continue to enjoy your morning cup of joe no matter where you roam. 
Camco Coffee Filter Dispenser
Finding a way to store filters can be frustrating, especially when you want them to be easy to access. This is why we love this Camco Coffee Filter Dispenser. This dispenser mounts under a cabinet and dispenses filters one at a time, simplifying the things when you make coffee in your RV. 
YETI Coffee Tumblers and Mugs
Want to drink your coffee on the go? There are, of course, a huge number of travel mugs on the market. That said, our absolute favorites are the Yeti coffee tumblers and mugs. 
In particular, we recommend YETI Rambler Mugs, which feel like traditional mugs but come with a travel lid. We love that these cups are insulated, helping to keep your coffee warm. We also appreciate that they are stainless steel so they won't break during your adventures. 
Porlex JP-30 Hand Grinder
One of the easiest things you can do to ensure you always have an excellent cup of coffee is use freshly ground beans. If you don't have a grinder already, we highly recommend the Porlex JP-30 Hand Grinder. This grinder is small, simple, and easy to store, but it is also highly adjustable and will give you the grind you desire. It can even grind fine enough for espresso!
Kook Stovetop Gooseneck Kettle
Finally, if you plan to use the AeroPress, French press, or pour-over dripper mentioned above, you will need a way to boil and pour water. That's where the Kook Stovetop Gooseneck Kettle comes into play. This is a high quality kettle that is sure to last for years, even when bumping around in your RV. 
AccuWeight Digital Gram Scale
If you want coffee that is consistently good, you will need a way to weigh your beans before you brew. That's why we recommend keeping a little gram scale on your coffee bar. This tiny scale by AccuWeight doesn't take up much room, but it can definitely improve that taste of your morning coffee.
There you have it, a huge number of ways to make coffee in your RV, along with everything you need to know to get your RV coffee station set up. Go ahead and brew a cup of joe so you can hit the road for your next big adventure!
Join Fulltime Families
Fulltime Families Members get access to the best resources, community and discounts.
Fulltime Families is a participant in the Amazon Services LLC Associates Program, an affiliate advertising program designed to provide a means for sites to earn advertising fees by advertising and linking to amazon.com, amazon.co.uk, amazon.ca. Amazon and the Amazon logo are trademarks of Amazon.com, Inc. or its affiliates.