Looking for something fun and educational to do at your next destination, but tired of museums and national parks? Why not mix it up a bit by visiting some of the best zoos and aquariums?
These animal-based attractions can offer some seriously awesome learning opportunities, as well as a chance to make some excellent memories. In fact, even the smallest zoo can hold hidden gems, and we love exploring every zoo and the best aquarium installation we can find.
That said, some of these animal attractions are definitely better than others. Therefore, if you're looking for a particularly spectacular experience, you may want to look beyond the small-town zoos and seek out the best of the best.
Lucky for you, we've done all the legwork and compiled a list of the best of the best in terms of zoos and aquariums. In fact, we fully believe that each and every attraction on this list is worthy of being a trip destination in and of itself.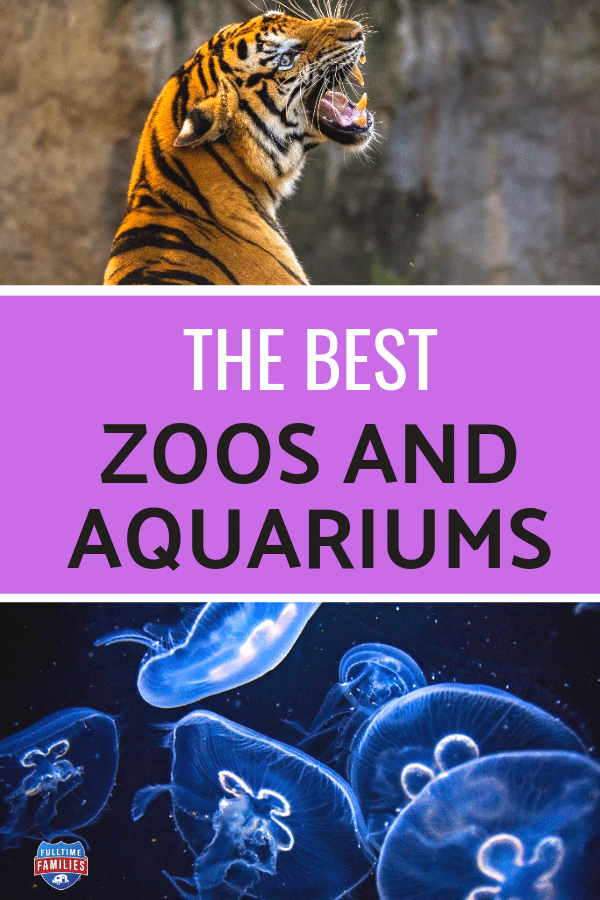 Zoos
Let's begin with the list of zoos. There are so many zoos in this country that it would be nearly impossible to visit them all. If you can manage to visit the ones listed here though, you'll be doing pretty good, and you can definitely rest easy knowing you've seen the best of what the US has to offer when it comes to land animal exhibits.
Henry Doorly Zoo and Aquarium
Often referred to as the "Disney World of zoos", Henry Doorly Zoo and Aquarium in Omaha, NE certainly is a unique place. Many of the zoo's animals are housed in indoor exhibits, making it easier to simulate the environment such an animal might live in, and making the zoo an enjoyable place to visit even when the weather isn't just perfect.
The indoor jungle exhibit is easily one of the best zoo exhibits in the country, and the desert dome is nearly as amazing.
San Diego Zoo
Most people are well aware that the San Diego Zoo is often touted as the best in the country, and we can't say we disagree. This zoo is definitely in the top 5 in our book, and could easily take the top spot.
The animals are arranged by where they are from, and the amazing open-air habitats are beautifully done. The zoo also features a number of unusual animals, a bus ride that covers 75% of the park, and a sky lift ride. Additionally, this zoo owns and operates the San Diego Zoo Safari Park, another must-see attraction.
Memphis Zoo
The Memphis Zoo is a surprising gem that visitors just can't get enough of. This zoo was rated the "#1 Zoo in the Country" by TripAdvisor in 2008, a title that is earned based on visitor opinion.
The landscaping at this park is gorgeous, and the interesting and diverse collection of animals is absolutely fantastic. We especially love the Northwest Passage exhibit where guests can view black bears, polar bears, sea lion shows, and more.
On top of all that, their special events can make your visit extra special.
Cincinnati Zoo and Aquarium
An enormous zoo that could easily fill a day or more, Cincinnati Zoo and Aquarium is one of the best attractions in the state of Ohio.
The insect exhibit is especially interesting, as is the penguin habitat. We loved that we got to see a capybara (the world's largest rodent) in person, and the world-famous hippo Fiona was fun to check out as well!
This zoo offers a safari train and a carousel that are fun for the kids, but we found that the 4D theater was both more unique and more entertaining.
Smithsonian National Zoological Park
If you ever find yourself in Washington, D.C., you might be wondering which of the Smithsonian attractions to visit. There are, after all, a large number of them, and every single one is as amazing as the last.
One of the most highly recommend Smithsonian attractions for kids is the Smithsonian National Zoological Park. This is a relatively large zoo, and the fact that it offers free entry—alongside the rest of the Smithsonian museums—makes it an excellent deal. Best of all, this is one of the only places in the country to see the black and white panda!
St. Louis Zoo
Like the Smithsonian National Zoological Park, the St. Louis Zoo is also free to the public. This is fantastic for budget travelers, but it might leave you wondering if the zoo cuts corners. The answer? Not at all!
This amazing zoo has several animals you don't see everywhere, along with some seriously awesome exhibits. Once again, we were especially enthused about the penguin exhibit, and we loved watching the polar bear swim and splash around. The hippo and elephant habitats are also pretty great.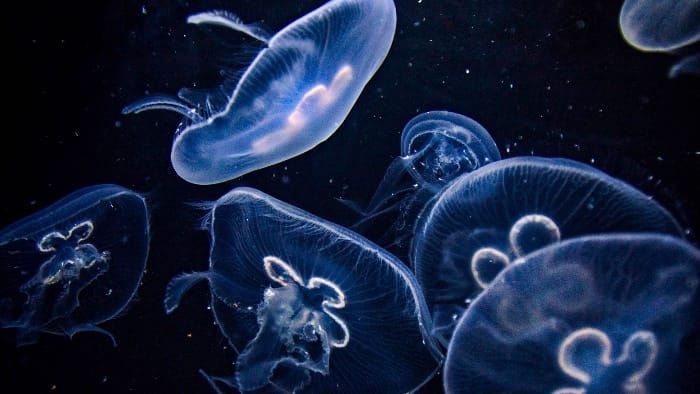 Aquariums
Now that we've discussed the awesome zoos out there, let's turn our attention to the many wonderful aquariums. The aquariums below are, in our opinion, the best out there, and well worth visiting if you ever happen to be nearby.
Georgia Aquarium
In addition to being one of the best aquariums in the country, Georgia Aquarium is also one of the best attractions in the state of Georgia and might just be the best thing to see in Atlanta.
The "Ocean Voyager" exhibit is incredible and features gorgeous sharks and manta rays that you can't help but stop and stare at. The dolphin show at this location is fantastic as well, and the sea lion show is quite educational.
Shedd Aquarium
A lovely aquarium located in Chicago, Shedd Aquarium is another fantastic place to peek at ocean life. The beluga whales are fascinating to see, and the penguins and dolphins are equally as fun to watch.
Be sure to catch the aquatic show as well, as you're sure to learn something new. The 4D movie is entertaining and unique, and the touch tanks are popular with younger visitors.
Want to expand upon your visit further? Look into the many educational tours offered by the aquarium!
Monterey Bay Aquarium
Planning a visit to California? If so, make sure to add Monterey Bay Aquarium to your must-see list. The jellyfish exhibits are absolutely breathtaking, and we could simply stand there and watch them swim and glow for hours.
We especially love that this aquarium is so focused on environmental conservation, a mission that was very tied into their exhibits and presentations. Make sure to make time for some of these presentations to make your visit extra interesting and educational!
Tennessee Aquarium
Located in Chattanooga, TN, the Tennessee Aquarium is pretty fantastic. The attraction is split into sections based on the habitats of the animals on display. The salt water building features ocean life, while the fresh water building gives guests a chance to check out a wide variety of fresh water creatures.
Additionally, the aquarium features a butterfly garden, a forest section, and a rainforest exhibit, all with land animals. Each of these is just as magical as the water exhibits and definitely deserves some of your time.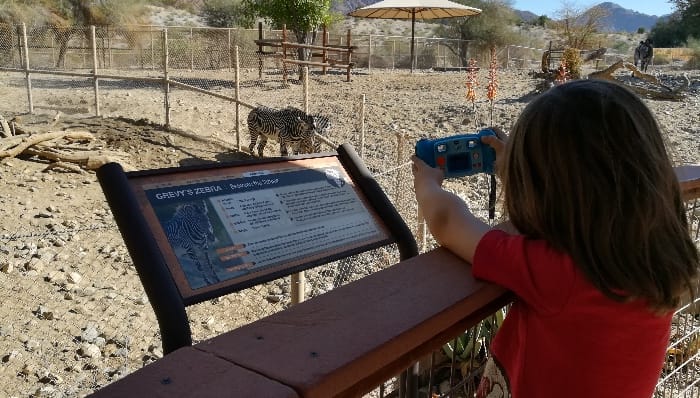 Tips for Visiting Zoos and Aquariums
Wondering how to ensure everything goes smoothly during your animal-based attraction visits? Use these tips to improve your visits to these attractions, as well as any other zoos and aquariums you may visit.
Save Money
Let's be honest, none of us has an endless supply of money. Therefore, it's always a good idea to find ways to save money. Luckily, there are ways to go about this:
Find Free Options — There are a surprising number of free zoos out there. In fact, two of the zoos on this list are free to the public. Seeking out these free attractions can be a huge money saver.
Watch for Free or Discount Days — Some of the zoos and aquariums that are not normally free do offer free or discounted admission on certain days, or to certain people. Watch for these savings opportunities.
Check Groupon — Occasionally, Groupon will offer a great deal on tickets to an aquarium or a zoo. For this reason, we always check Groupon before paying full price for any outing.
Consider City Pass — Some animal attractions participate in such programs as City Pass. City Pass offers guests admission to a number of area attractions at a discounted price.
Use a Reciprocal Membership — Last but not least, we cannot recommend the AZA reciprocal program enough. This program gives travelers free or discounted admission at dozens of zoos and aquariums. Learn more about Reciprocal memberships here.
Attend Presentations
As a roadschooling or homeschooling parent, you're likely always looking for ways to make your field trips more educational. One of the best ways to do this is by attending the shows, feedings, and other presentations offered by zoos and aquariums. For this reason, we always plan our days around these events.
Expand Upon What You Learn
Another way to make the most of your visit is by expanding on the things that catch your child's attention. Some aquarium and zoo websites offer printables that go right along with their exhibits. However, even just chatting with your kids during and after your visit, or finding a book or two on an animal that was particularly fascinating to them, is just fine.
Pack Wisely
Packing well for a roadschooling field trip is incredibly important. Many zoo visits can become quite hot, so plenty of water and sunscreen are necessary. Parents of young children might want to consider grabbing a change of clothes because touch tanks can lead to wet shirts and pants, and snacks—if they are allowed—can be a lifesaver.
>> Want to learn more about Fulltime Families Membership? Head here for more details and learn more.! <<