Some of the very coolest attractions you'll come across on your travels are this amazing country's national parks. From mountains to beaches, this land has a little bit of everything, and as an adventurer, it's your job to explore it all.
Not sure which parks to go to? Our recommendation is to see every single one you pass on your travels. We've yet to visit a bad national park, and every single one has unique and beautiful features you won't want to miss.
That said, some people may be limited on time or looking for specific destinations. In these cases, it's nice to have some suggestions of ideal parks to visit. For this reason, we've compiled a list of the very best national parks to visit with kids.
> Want to learn more about Fulltime Families Membership? Head here for more details and learn more.! <<
Each of these parks has something extra special to offer the youngest explorers and their families. Therefore, picking and choosing from this list is sure to keep your family extra happy as you explore the USA.
Arches National Park
Location: Utah
When to visit: Spring and fall are the best times to visit. Summers in this area are very hot, while winters can be chilly.
Why families love it: Arches National Park is awesome because it offers a huge number of options for hiking with kids. This means you can go on a variety of mini adventures without wearing out little legs. The various rock formations here are incredible, and learning about how they came to be is a fascinating geology lesson for school-aged kids.
Learn more about Arches National Park on Roadschool.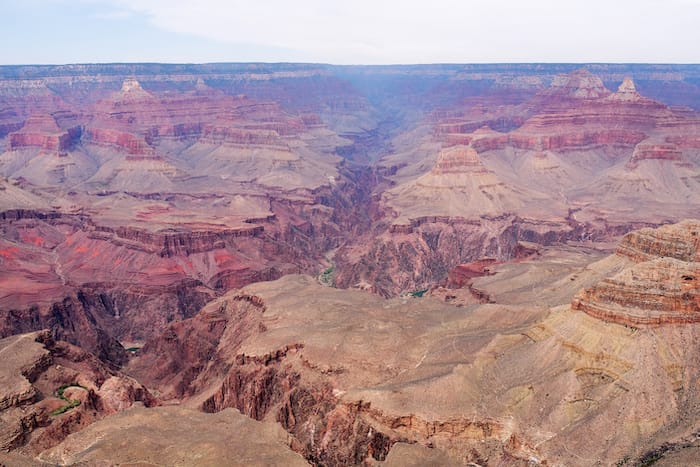 Grand Canyon National Park
Location: Arizona
When to visit: This park is also ideal in the spring and fall. This is when temperatures are cool but not cold, and crowds are thin enough to allow visitors to really explore.
Why families love it: Though it may not be the first activity you think of when you think "Grand Canyon", this park is actually one of the best places in the world to stargaze. The park also offers a few different hiking trails that are easy enough for very young hikers, including the fabulous Trail of Time at Yavapai Point. Finally, those with older children might want to consider a river rafting trip, which is incredibly exciting and fun.
Learn more about Grand Canyon National Park on YTravel Blog.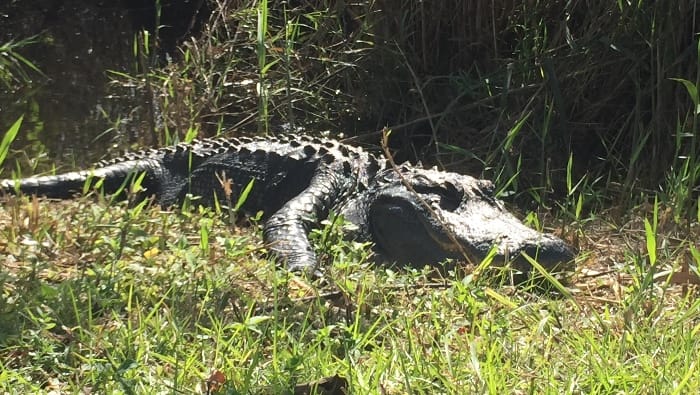 Everglades National Park
Location: Florida
When to visit: Winter is the best time to experience the Florida Everglades. More specifically, you will want to visit sometime between December and April.
Why families love it: Airboat tours are the best way to explore this park. These tours are suitable for all ages and engaging enough to keep the youngest explorers engaged. There are also some paved walking paths where you can get up close and personal with gators and native birds. Nighttime ranger-led tours are especially neat. Just be sure to keep little ones in strollers.
Learn more about Everglades National Park on Lindstroms on the Road.

Yellowstone National Park
Location: Wyoming, Montana, and Idaho
When to visit: Visiting between June and August will ensure everything is open and the weather is nice. Going in May might mean some trails are closed, but May and June are the months when the most wildlife can be spotted.
Why families love it: There are numerous astounding sights to see in this park, and most are not far off the beaten path. This means keeping the kids' attention will be plenty easy. Be sure to see Old Faithful, of course, but also make time for Grand Prismatic, Hayden Valley, Artist Point, Lake Butte Overlook, and Lone Star Geyser. As far as hiking goes, we recommend Storm Point Trail.
Learn more about Yellowstone National Park on YTravel Blog.
Sequoia National Park
Location: California
When to visit: Late March and early April give you a better chance of getting some snow to play in. That said, going during these months could also result in missing out due to closed roads. The most reliable time of year to visit is in the summer.
Why families love it: Seeing these enormous trees is absolutely magical and brings out the kid in all of us. We loved the in-park museum, as well as the many options for paved walking paths. If you travel to the highest elevation you might even find some snow to play in, something many snowbird children don't get to see often enough while traveling.
Learn more about Sequoia National Park on Wonder Wherever We Wander.
Great Smoky Mountains National Park
Location: Tennessee
When to visit: While summer is gorgeous in this park, we highly recommend visiting during the fall months to see the incredible fall foliage and skip the crowds as much as possible.
Why families love it: This lovely park gives visitors numerous hiking opportunities for every level. Even the easiest paths take you through plenty of the natural landscape and give opportunities to see local wildlife. The Cades Cove bike ride is out of this world, and if you go at the right time of year you can see the synchronized fireflies, which is an amazing display.
Learn more about Great Smoky Mountain national park on YTravel Blog.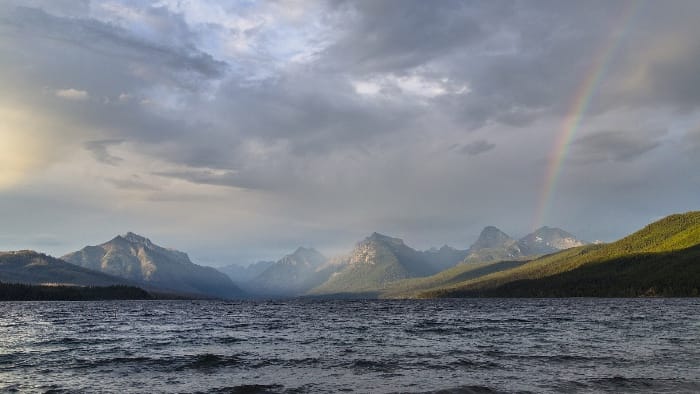 Glacier National Park
Location: Montana
When to visit: Summer is far and away the best time to visit this park. The weather is lovely, if a bit cool, and the wildlife is out and about.
Why families love it: Glaciers are quickly disappearing from this amazing park. Therefore, you will want to take the kids to see this natural wonder while you still can. The many easy hiking trails make it easy to explore the park, and bears, sheep, and goats are all spottable. We highly recommend spending some time at Lake McDonald Beach and driving Going-to-the-Sun Road.
Learn more about Glacier National Park on Crazy Family Adventure.
Acadia National Park
Location: Maine
When to visit: Late summer through early fall. Summer months are the busiest, so shooting for times just after most kids go back to school could be ideal.
Why families love it: Filled with woodlands, rocky beaches, and glacier-scoured granite peaks, Acadia is different from other national parks in that the focus is less on grand adventures and more on the laid-back enjoyment of nature. Beach play, leisurely walks, and picnics are all favorite activities in this park, making it the ideal place for a relaxed family getaway.
Read more about Acadia National Park on Let's Travel Family.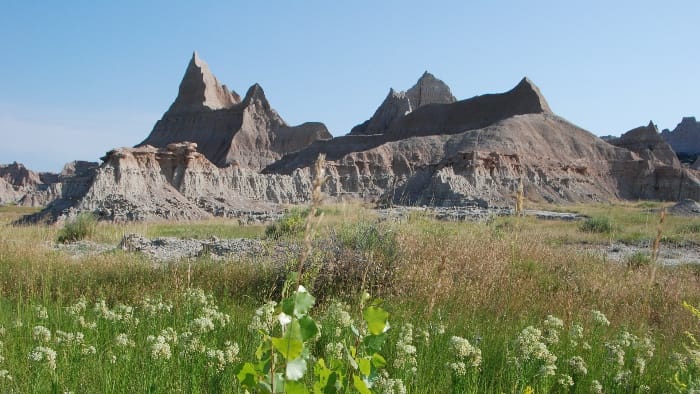 Badlands National Park
Location: South Dakota
When to visit: Anytime, but going during rainy season does raise your chances of finding fossils. The highest rainfall occurs in May, June, and July.
Why families love it: The Badlands is home to one of the richest deposits of fossils on earth. Bring a shovel and go on a fossil hunt right there in the park. Just know that whatever you find belongs to the NPS. Families can also hike along the quarter-mile-long Fossil Exhibit Trail and check out replicas of many of the fossils found in the park. Lastly, we recommend stopping by the Paleontology Lab, where you can observe scientists working on fossils and earn a Junior Paleontologist Badge!
Read more about Badlands National Park on Crazy Family Adventure.
Other Notes
Junior Ranger Badges
In addition to all the great things each individual park offers, it's also important to note that every single national park in the country offers a Junior Ranger Program. These programs encourage children to really dive into the national park experience and do some exploring and learning of their own.
Once your child has completed the required Junior Ranger activities, they can then return to a ranger station to receive a national parks badge. Some Fulltime Families kids have collected countless badges and display them by their beds or on hats or vests.
"America the Beautiful" Pass
As mentioned in our post about reciprocal memberships, those who visit national parks on a regular basis will definitely want to consider investing in the "America the Beautiful" annual pass. This pass costs a mere $80 per year, and gives the holder admission to countless national parks and monuments across the country.
A few people—including those with special needs, 4th graders, and seniors—may qualify for a free or discounted pass, so be sure to look into this option as well.
Other Parks
Many of these parks are located very near other national parks. We've said it before and we'll say it again: All national parks are worth visiting.
Therefore, if you visit one of these parks and find yourself near another one, or if you happen to spot one along the way, make a stop and check it out. You never know what magical experiences may await you there!
For inspiration or to get the kids excited about their national parks visits, be sure to read some of our top national parks book picks!
What National Parks do you like to visit while you're either taking a road trip with your family or RVing the states like so many of our members? Share with us in the comments.