haionaAt  This article may contain compensated links, please read our disclaimer for more information.
The most wonderful time of the year is here, and that means it's time to get some shopping done. While most of your shopping will likely be for others, there's no reason you shouldn't treat yourself to a thing or two. On the other hand, you might be looking for something useful for your spouse or your kids.
In any of these cases, you'll likely be on the lookout for something RVing-friendly. After all, RVs don't offer much in the ways of storage space, so everything you bring in should serve a purpose and be used on a regular basis.
Fortunately, there are a lot of items that fit the bill perfectly. Our recent gift guide lists several of these items, giving you a great place to start when making your Christmas list. That said, that list doesn't talk about any prices or special deals.
That's where this list comes into play.
Below we've listed the top Black Friday deals for RVers. The Amazon deals begin today, November 20th and run through at least the 27th. Some will even run right through Cyber Monday on November 30th, giving you plenty of opportunity to grab some new gear at rock-bottom prices. All the other deals? We've listed the dates for these individually, but know that all are limited, so you will want to hop on them quickly!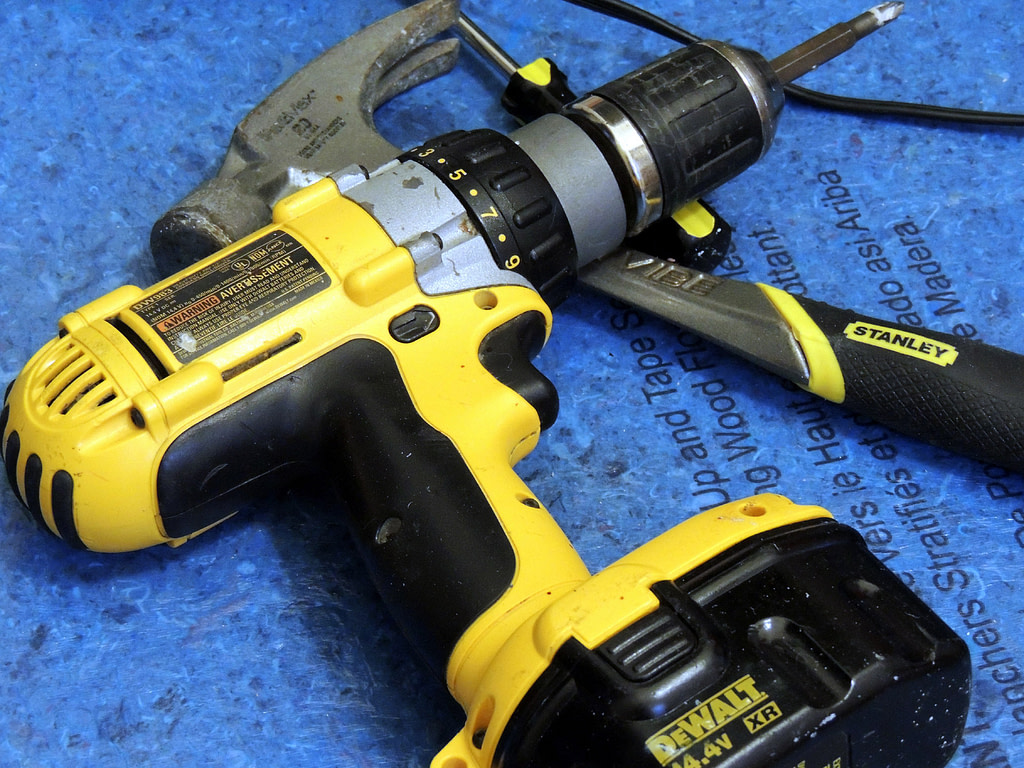 Tools and More
When you live in an RV, it seems like there's always something that needs fixing. If not that, there's always something you're wanting to upgrade to make life a little easier.
Having a good collection of tools is super handy. And of course, if you want to upgrade something, you'll also need the items to do that. Fortunately, you can get some of these things on sale this holiday season.
DEWALT Tools
If you need to stock up on tools, now is the time to do it. DEWALT is a fabulous brand, and they will have their tools on sale for up to 30% off on Amazon. This means you can fill your toolbox with all those things you've needed for a while, but haven't wanted to splurge on.
SKIL Tools
SKIL tools will also be on sale. These will be sold for up to 20% off on Amazon, and are an excellent deal. Therefore, if you don't see what you need or a price you like when checking out the DEWALT options, we recommend checking out the SKIL tool section.
Verizon Wireless
Verizon just announced a bunch of their black friday promotions and one of the biggest is huge discounts on the iPhone 12! Up to $700 off iPhone 12 w/Trade-In. Plus 25% off iPhone 12 cases & screen protectors
Or they have some promotions on Watches, Tablets, or Switch to Verizon & get a $400 Verizon giftcard. Online only.
Their Black Friday Deals all have different dates Some start NOW others are only Black Friday weekend 11/26/20 – 11/29/20.  We have all of the deals listed and linked in our Verizon Post.
RVLock
Looking to replace the lock on your trailer or motorhome? If so, RVLock is the perfect product for you. These locks offer keyless entry, and you can buy a key fob to make getting into your home on wheels even easier. 
Starting a 12:01 am MST on November 26th, RVLock is offering 40% off their entire site. This sale ends at 11:59 pm MST on November 27th, so you have to be fast!
TechnoRV Sale
From safety gear to tools to technology, TechnoRV is a great place to do a little shopping for your rig. Lucky for you, the site is offering a fantastic Black Friday sale this year. Be sure to check it out. We're guessing you'll find something you or someone you love needs. 
Battleborn Batteries
The ultimate RV battery, Battleborn's lithium ion batteries are the perfect option for full timers. Currently, you can save $25 by purchasing a Battleborn battery here. Log in to your Fulltime Families account to save even more!
Renogy Solar Products
Finally, it should be mentioned that select Renogy Solar Products will be on sale for up to 30% off on Amazon. This is excellent news for RVers who have been looking to add some solar power to their RVing setup.
Solo Stove
These fire pits are AMAZING! They also have grills and stoves. They are wood burning fires that reduce and even eliminate much of the smoke. This means you don't stink up your clothes sitting around the fire, but still get the heat of a wood fire! Check them out, they have amazing Black Friday Deals!
RV Navigation 
Driving on unfamiliar roads can cause a bit of anxiety at times. This Garmin Navigation System made specifically for Rvs has built in traffic and dash cam features. With voice activated navigation, you won't have any additional distractions. Save 20% during their Black Friday special.
Tires 
This is one thing that might not have been on your list but when you find a good deal, you should definitely go for it! Discount Tire has savings of up to 20% on select manufacturers including Goodyear. You can often find tire shops that will put your new tires on for a very small fee. 
Bike Rack for Travel Trailer
Traveling with bikes is a common pain point with full-time travelers. The question of how to transport these big items often comes up. Here's one solution for a travel trailer. For other ideas on how to haul these toys check out the article on How to Avoid Expensive RV Mistakes.
Household and Kitchen Items
As far as household and kitchen items go, you're likely using many of the same things you would use in a sticks-and-bricks house. That said, there are some items that work particularly well with RV life.
Below are some of those items, which will be listed at amazing discounts for Amazon's Black Friday event.
Shark Vacuums
In our RV vacuum post, we mentioned that we highly recommend the Shark Rocket vacuum. Lucky for you, these wonderful little vacuums are going to be sold for up to 40% off during Amazon's Black Friday event! If you need to upgrade your vacuum cleaner, this is the one you want. 
Berkey Water Filters
A favorite water filtering system of many travelers, a Berkey is a fantastic addition to your RV kitchen. Right now, Berkey is having an awesome Black Friday sale that will save you money on a number of different Berkey products. 
Venture Wipes
Venture Wipes are perfect for those times when you're boondocking with limited water, but need to clean up. This Black Friday you can pick up a pack of these amazing wipes for less. Get 25% off any order of $25 or more be using code TURKEY25 anytime between November 24th and December 1st. 
Instant Pots
We at Fulltime Families are huge fans of the Instant Pot pressure cooker. These super handy kitchen gadgets can do the jobs of several different appliances, making the Instant Pot one of the most versatile kitchen tools you can own.
Since a multi-use tool saves storage space, Instant Pots are ideal for those living the tiny life, and you can snatch one for up to 33% off on Amazon this year.
Breville Smart Ovens
We also love the Breville Smart Ovens. These can take the place of the not-so-great propane stock ovens that tend to come in motorhomes and travel trailers, and they do a much better job of baking. Not only that, but many of these ovens are multi-functional, making them an even more amazing purchase for those living the RV life. Grab yours for up to 36% off on Amazon this Black Friday.
Ninja Kitchen Products
Ninja Kitchen Products are also a favorite in the RV community. This line includes a number of different tools, and many can do more than one job. They are all electric, meaning you can save your propane, and they won't heat up your tiny home nearly as much as propane appliances. These will be marked down by up to 40% on Amazon, making Black Friday week the perfect time to get one.
Hydro Flask
The Hydro Flask is a great water bottle that kids and adults love for staying hydrated with fresh cold water all day long. Offering 25% OFF SITEWIDE on Black Friday. Plus you can get an additional 15% cash back through Rakuten!
GE Profile Nugget Ice Maker
The last kitchen product on our list is the GE Profile Nugget Ice Maker. This is a bigger product, meaning you will have to sacrifice quite a bit of counter space for it. That said, if you love nugget ice and want to save some freezer space, you might want to consider getting one of these ice makers for 15% off.
Beddy's
Does making the bed always end up being a workout you didn't want to deal with? Or maybe your personality likes things very nice and neat. Beddy's bedding is a one piece bedding set that goes on like a fitted sheet and zips up to provide a comfortable nights sleep. Perfect for those hard to make rv beds and very beneficial for people with sensory issues. For Black Friday Beddy's is offering 25% off! 
Dehumidifier
This item is a must have for any rver. We switch climates a lot and need to keep humidity and condensation to a minimum. The SEAVON is perfect for your smaller space and easy to move around. At almost 50% off, this is a great price point for grabbing a necessity. 
Just for Fun
Next, there's the fun stuff. After all, that's what RV life is all about, right? The items below are tried-and-true toys that we know pair nicely with life on the road. Snag these deals to put a smile on your face or that of a loved one this holiday season, and add to the fun your family has while exploring this amazing world.
Kids and Adult Bikes
Bicycles are the perfect things to carry with you on your RV travels. Yes, they are on the big side, but they can be carried and stored outside, and they will get used often.
Whether you need to get around a big campground or you just want to go riding with friends, you will be thankful you have bicycles while on your adventures. Get one for up to 20% off on Amazon this holiday season.
LEGO Sets
LEGO bricks are among the very best toys for RVing kids to have. They're small, easy to store, open-ended, and good for a variety of ages. A box of LEGO bricks can entertain a group of kids for hours, and you can add to a LEGO collection on holidays and birthdays without taking too much more space.
Black Friday is one of the best times to buy these building toys, and Amazon will have them for up to 25% off this year.
Amazon Kindle Fire 7 Kids' Tablet
Finding ways to get your kids fresh reading material while traveling in an RV can be a challenge. You don't always have easy access to a library, and books are heavy anyway, meaning buying new ones won't always work.
The Kindle Fire tablet is a great solution. It gives you access to Kindle books which can be purchased or borrowed through various library systems. On top of that, the Fire can be used as a regular tablet, offering plenty of fun games, especially with the year-long Amazon FreeTime subscription that's included with the kids' versions of these tablets.
This Black Friday, the Fire 7 Kids Tablet will be marked down to $59.99 from $99.99. An excellent deal!
Amazon Kindle w/ Front Light
Looking for something for your spouse or yourself to read with? Try the Amazon Kindle e-reader. The Kindle is our favorite device to use for reading, as it offers the settings you need to make the reading experience the most comfortable for you.
During Amazon's Black Friday event, the Amazon Kindle w/ Front Light will only be $59.99. This device is normally $89.99, so this is a great deal!
Mixtiles
Decorating in an rv can be tricky because size and weight really do matter! Showcasing your adventures is the perfect way to add some personalization to your rolling home. With Mixtiles you can get your most treasured photos printed and hang them on the walls. Lightweight and 8 x 8 in size, you are sure to find a space for them. These would make a great gift for family as well! Black Friday sale gets you 16 tiles for $89! 
Subscription Boxes
You might be wondering why a subscription box is being recommended on a blog for rvers but this one is simple! KiwiCo has a variety of subscription boxes for kids of all ages. They have everything from crafts to steam activities and the boxes are so much fun. You can order just one or set it up monthly. The great thing is that it tells you when it will ship and you can change the address whenever you want. These also make amazing gifts for those nieces and nephews at home. Save 50% off your first box and if you use Rakuten you can get 22.5% cash back!
Passes, Memberships, and Subscriptions
As RVers, we tend to focus more on experiences than things. Therefore, these deals on passes, memberships, and subscriptions are excellent options. Whether you're shopping for yourself or someone you love, you aren't going to want to miss out on these!
Thousand Trails Camping Pass
Camping fees are often the most expensive part of a full time RVer's budget. Thousand Trails memberships can help offset those costs. Snag a Thousand Trails camping pass at a $150 discount this Black Friday! This deal runs November 24th-December 1st. Ask Slade Howard or Eric Benson for details on this and other membership deals. 
The Dyrt Pro
An excellent subscription that gives you access to trip planning features, a free camping database, and more, The Dyrt Pro is something every full time RVer should have. Their Black Friday deal gives you 6 months of this amazing service for free. Be sure to take advantage of this awesome deal!
Harvest Hosts
Harvest Hosts members can choose from over 700 truly unique locations to park their self-contained RVs for the night. These locations include wineries, breweries, museums, farms, and other unique attractions. The free overnight visits add great experiences and can even be worked into your roadschooling adventures! Their Black Friday deal gives you 20% off an annual membership and it's the biggest deal they've ever given! Join Harvest Hosts now!
*This deal from Harvest Hosts starts on Black Friday 11/27/20 and goes through the end of the year.*
Amazon Prime
Fulltime Families loves Amazon Prime. We love that the service will deliver almost anything to almost anywhere in only a couple of days. We also love the free music, movies, and digital books that can be accessed through this service. If you plan on purchasing any of the Amazon deals listed, be sure to snag your Prime membership first!
Fulltime Families
That's right, we're having a sale too! New annual and lifetime memberships are 15% off on Black Friday. Business memberships are also on sale. Join Fulltime Families and immediately become a part of our community!
Experiences
Gifting experiences is a great way to satisfy your minimalist lifestyle and also give something really fun. Bonus if you find an experience where you can join in and spend some quality time with those you love!
Six Flags
If your family loves the thrill of amusement parks, this is a deal you should definitely check out! Up to 70% off of season tickets through the end of November. They have options for one park or multiple parks.
Local Experiences
We love checking out local experiences when we are traveling and have even found some fun activities close to home. Finding deals for date night, family night, or massage night is key to keeping the budget in check. Groupon is a great way to find new experiences and restaurants and the savings is typically 25-50% off. A quick search for Pigeon Forge, TN shows ziplines, ice skating, dinner theaters, alpine coasters. wineries, massage places, and tons of other options. The service is free to use and super easy! They will be having additional savings for Black Friday as well!
Extra Money Saving Tip
If you do any amount of online shopping you should check out Rakuten if you haven't already. Rakuten is a cash back program that is free to join. All you do is use their app to get to your preferred online shopping website and then your experience is exactly the same as if you never used it. Basically open Rakuten and click the Groupon, Kohls, Wal-Mart, icon and that's it. In a couple days you'll get a notification letting you know your cash back total. Some of the stores are up to 15% cash back for Black Friday! Right now they have an amazing deal where new users get a $40 bonus after spending $40!
There you have it! The best 2020 Black Friday Deals for RVers. What are you going to snatch up first?
Fulltime Families is a participant in the Amazon Services LLC Associates Program, an affiliate advertising program designed to provide a means for sites to earn advertising fees by advertising and linking to amazon.com, amazon.co.uk, amazon.ca. Amazon and the Amazon logo are trademarks of Amazon.com, Inc. or its affiliates.