Calling all new families and first time ralliers!
Attending this rally, we had everything from a family who hasn't launched yet to a family who have been on the road for 2 years but haven't made it to a Fulltime Families event yet and everything in between. The idea for this rally was to help newbies make connections and it was a resounding success!
"Mom, can you wake me up early tomorrow so that I can get out sooner with the other kids?"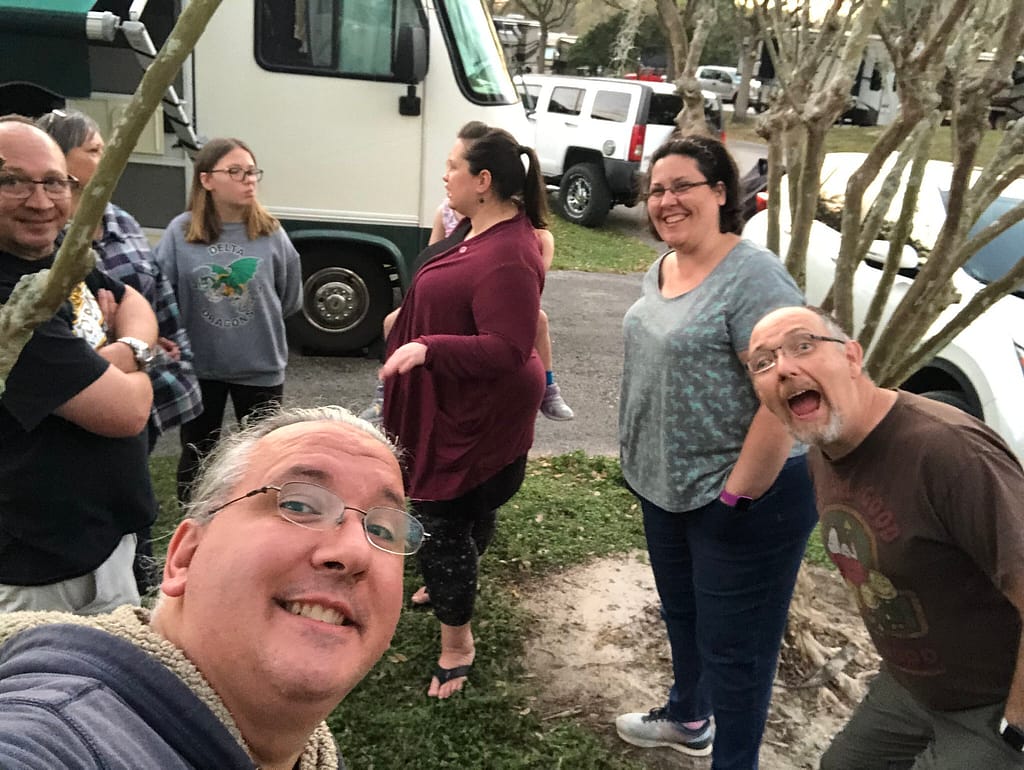 Getting Started
24 families gathered at Lazy Days RV Resort outside of Tampa for a week of rally festivities.
My favorite parts of rallies are often the impromptu visits. The gatherings started Saturday evening with a few families charting and then a few more by a fire hosted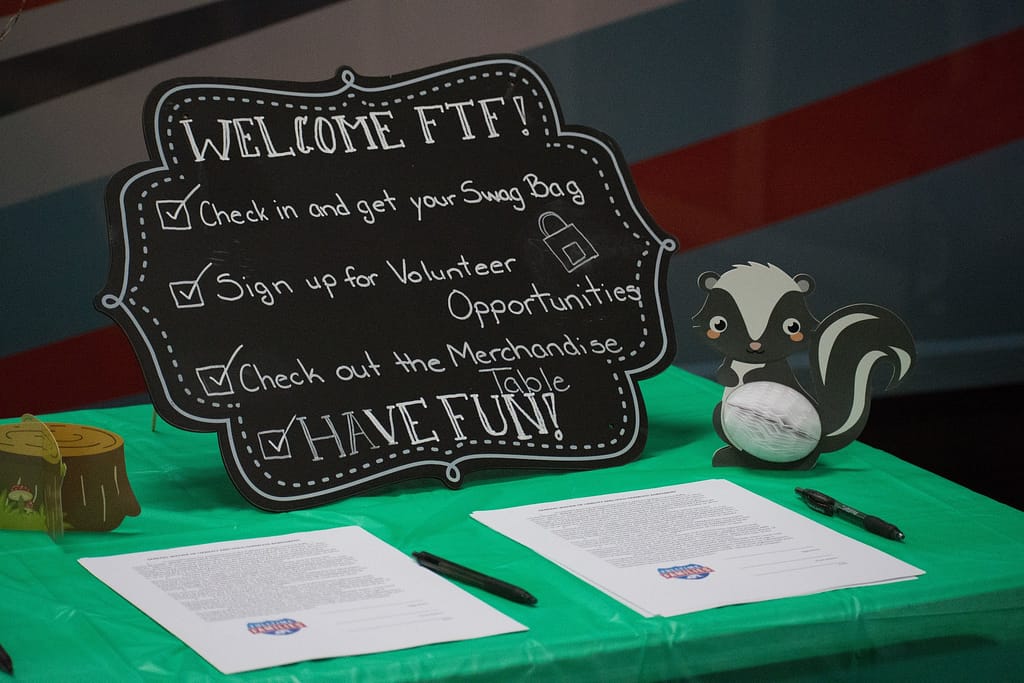 We started Sunday out with rally registration and then opening ceremonies where Nicole and Dustin Schroeder welcomed us. We got a great look at the week ahead!
Afterwards, to get people mingling we did "RVer Have You Ever…" bingo followed by a game night for the teens and tweens. (Which, let me tell you- the teen group was small but all clicked wonderfully!)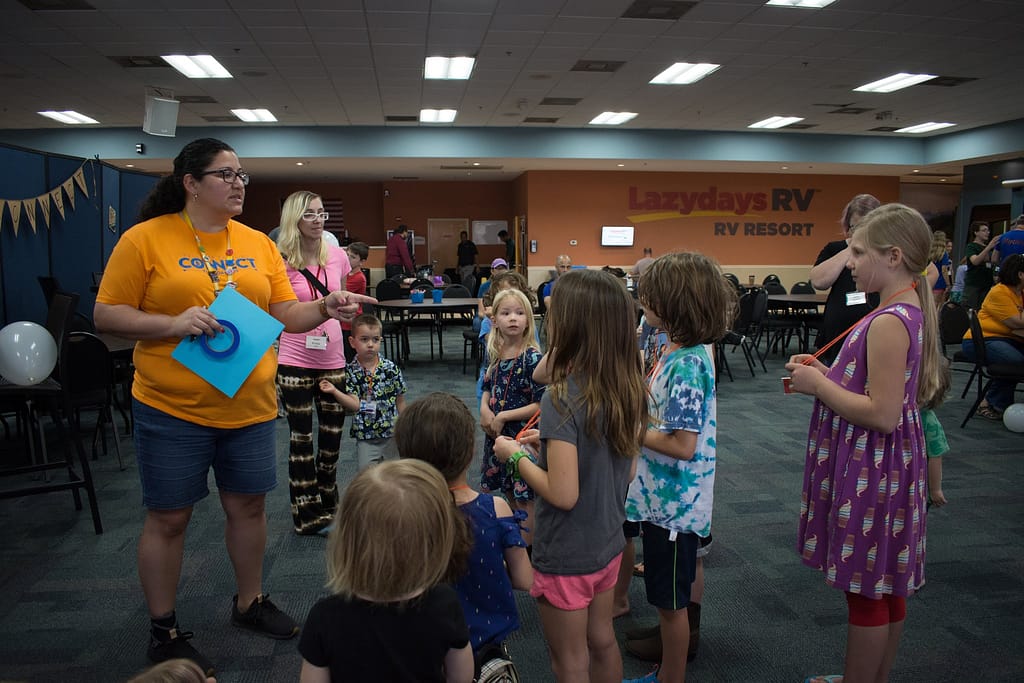 Day Two
Monday started off strong with an activity using the Snap Circuit learning electronics. These really struck a chord with some of the kids as they kept going back to them over and over as the week progressed! And then it was a hot commodity for the rally cash raffle at closing ceremonies.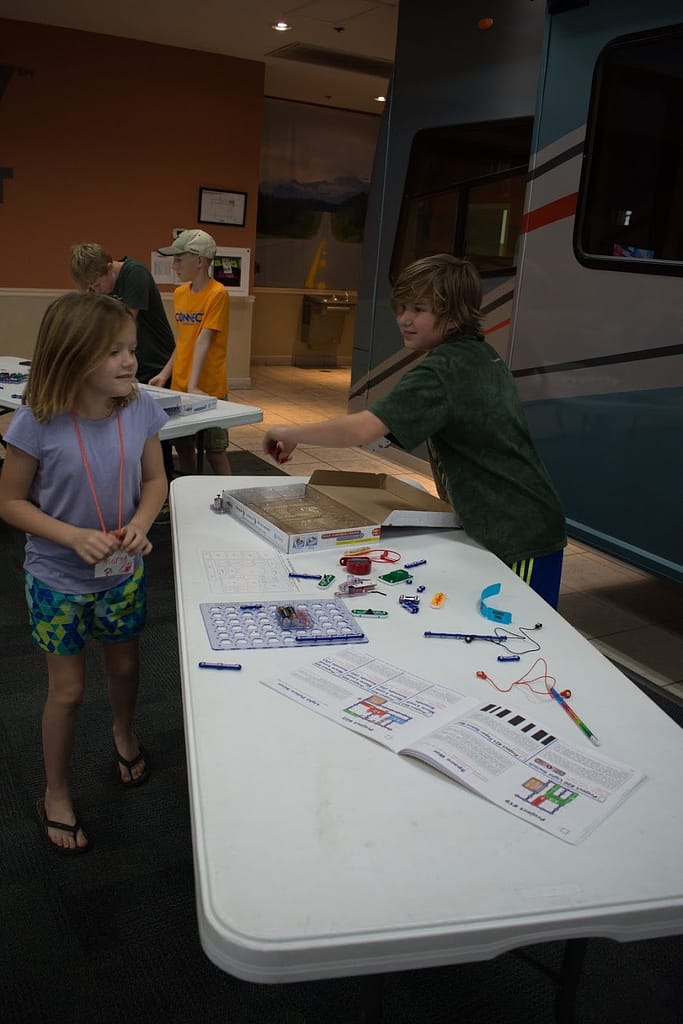 There was a strong push for seminars this week and we had a great one on Roadschooling led by Carla Geiger. So many great resources were shared.
Monday was capped off with small group potlucks. Each group had a different theme- I heard "backyard BBQ", "hometown favorites", and simply "Mexican!". But let me ask you, for a hometown favorite, what would you do for Las Vegas? And have you heard of a "Tater Tot Hot Dish"? I know my family are still eating our leftovers!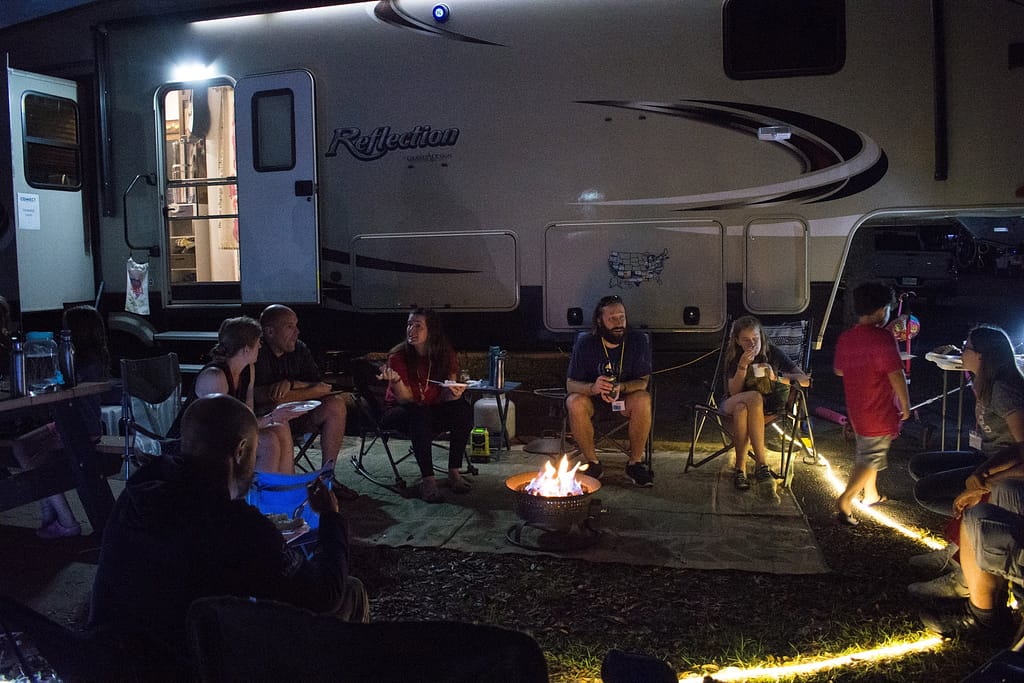 Day Three
Tuesday started bright and early with a 9am coffee talk on Internet and Connectivity. Many thanks to Dustin Schroeder of The Connected RV for facilitating the discussion. We had a great talk about different plan offerings and what hardware to best make our homes work for school, fun, and work.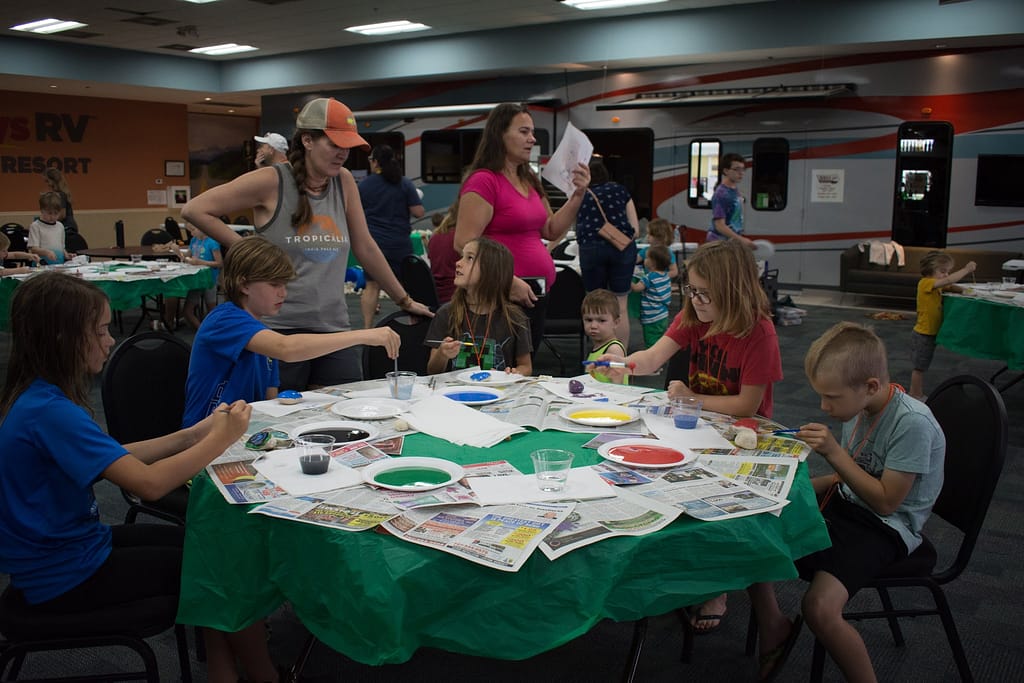 And then keying in on my hot topic (weighing your RV), our activity was painting ROCKS. As if we didn't need a bit more weight, but the kids and adults really did do an amazing job on their rocks.
After rock painting and a quick lunch, most of the families headed to a service project at Feeding Tampa. There we sorted boxes of donations, checked expiration dates, were new/unopened, and usable. They were then packed into boxes to be distributed. In talking to some families, this was a highlight of the week. I know my kids said they really felt good about helping out. I think we are going to find more of that to do.
And then that night, the Mom's Got a Night Out, only it was "in" the rally center. They played Bunco and some kind of crazy (but fun!) game of Taco, Cat, Goat, Cheese Pizza. This was so much fun in, it got broken out again a few nights later! Thanks to the Dussaults for bringing and sharing it. I'm sure the ladies would have stayed out later, but the rally center closed promptly at 11 and it was too chilly to party outside! I could find in the drawer of the stored things like table and chair covers to follow the party inside.
Day Four
Wednesday was my personal favorite. It started with an Egg Drop challenge for the morning session. All of the kids did great jobs at protecting their precious cargo!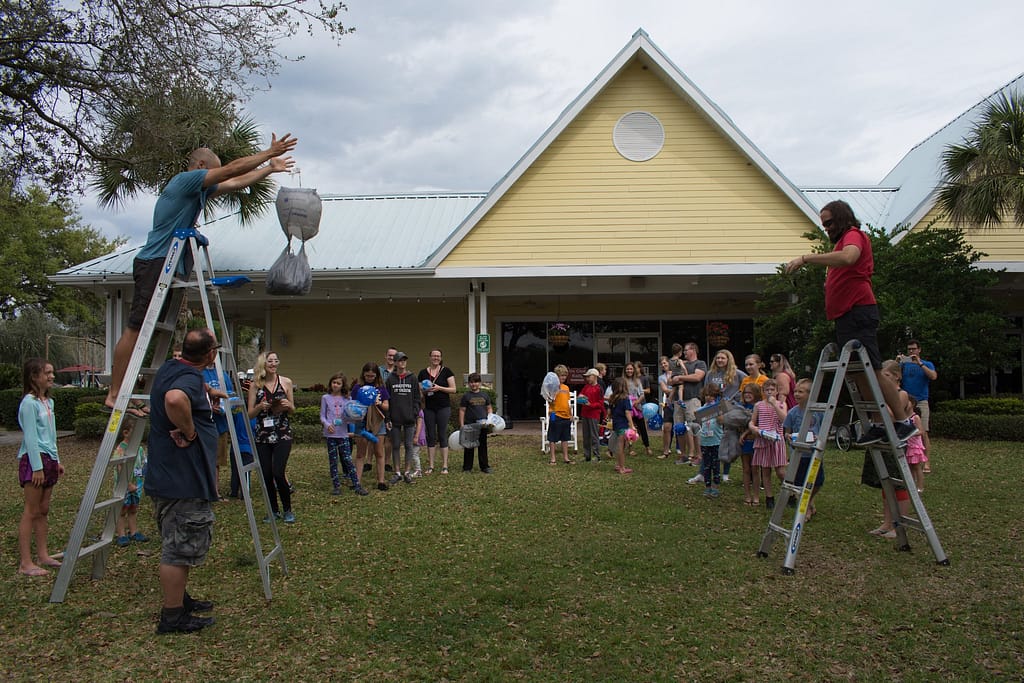 Afterwards, 8 families opened up their homes for the Parade of Homes. We split the group in two and made our way from one to the next. Lots of discussions happened on how best to customize your home and the upgrades that can make a difference. My favorite had to have been the Williams rig as we got our tour from their teenage daughter who was able to answer all questions asked! Plus, they have a cool skywalk for their cats to look down over the living room.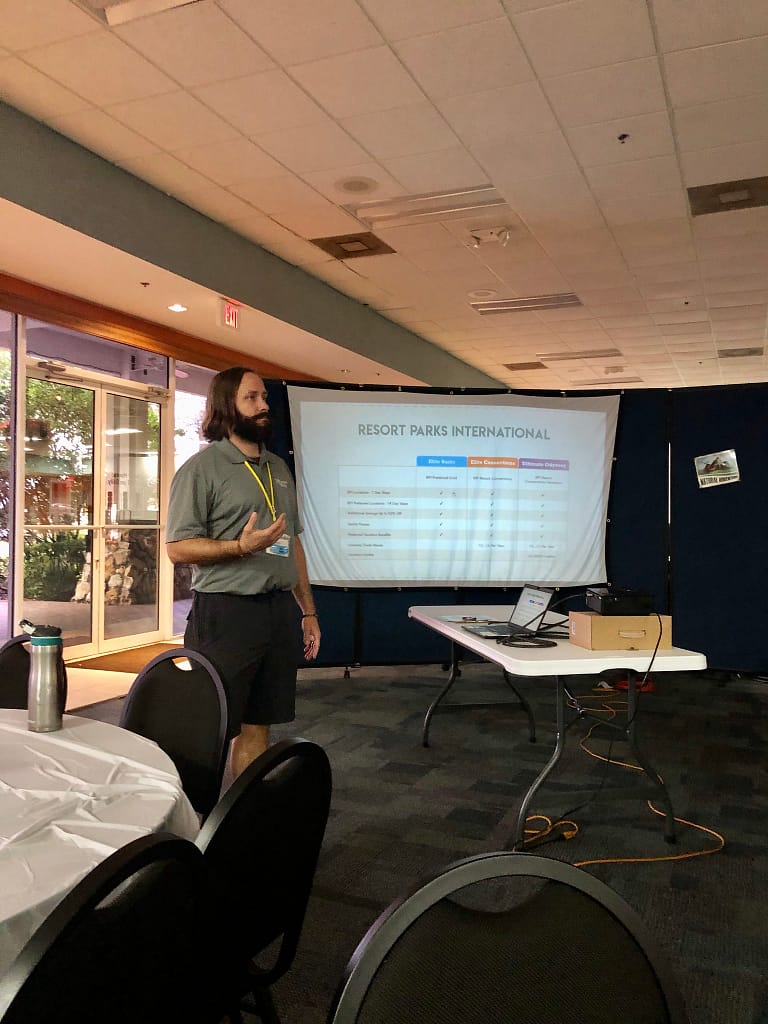 Spade then gave an excellent talk on Thousand Trails memberships. One family said they traveled for a year and a half and hadn't ever met another family on the road. After seeing the community firsthand and seeing their kids play with others, they're now buying in so they can be more intentional about meeting others on the road.
And then the night was capped off by Dad's Night Out. We went out to Splitsville and ended up playing darts, fooseball, Skiball, and shuffleboard. We had a few drinks, many laughs, and some awesome conversations. It was my first DNO in a while and it was just the thing for making Connections at the Connect rally! A special mention to David Geiger for picking such a fun place to go- it couldn't have been more perfect.
Day Five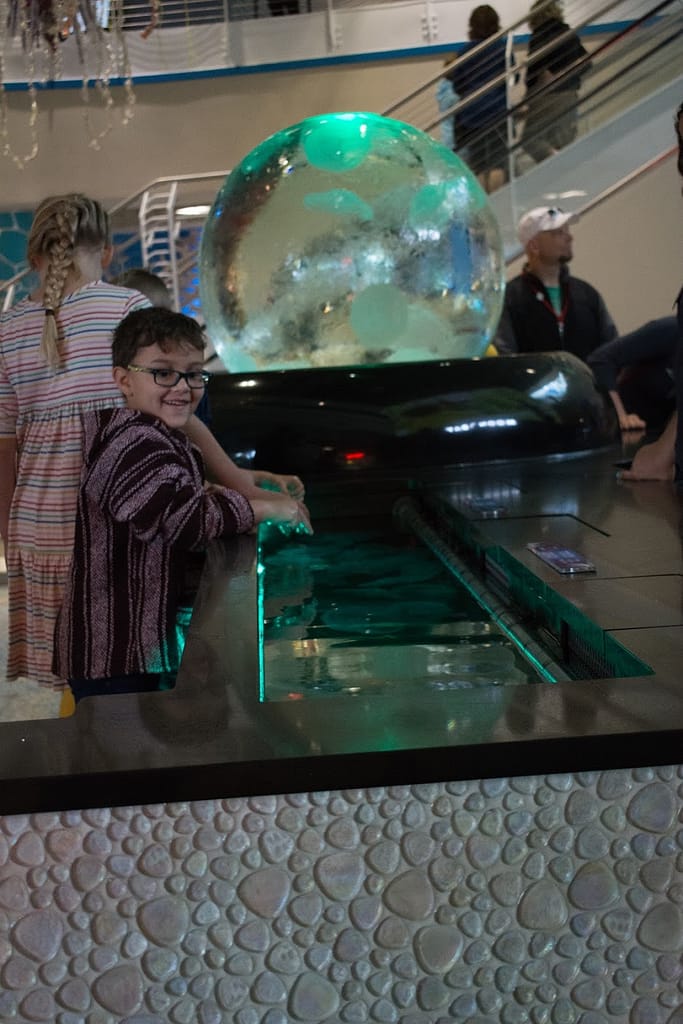 Thursday was field trip day to the Florida Aquarium! The kids had a classroom session where they got to see and touch various animals. And then they were free to explore the aquarium for as long as they wanted. I heard nothing but good coming out of that!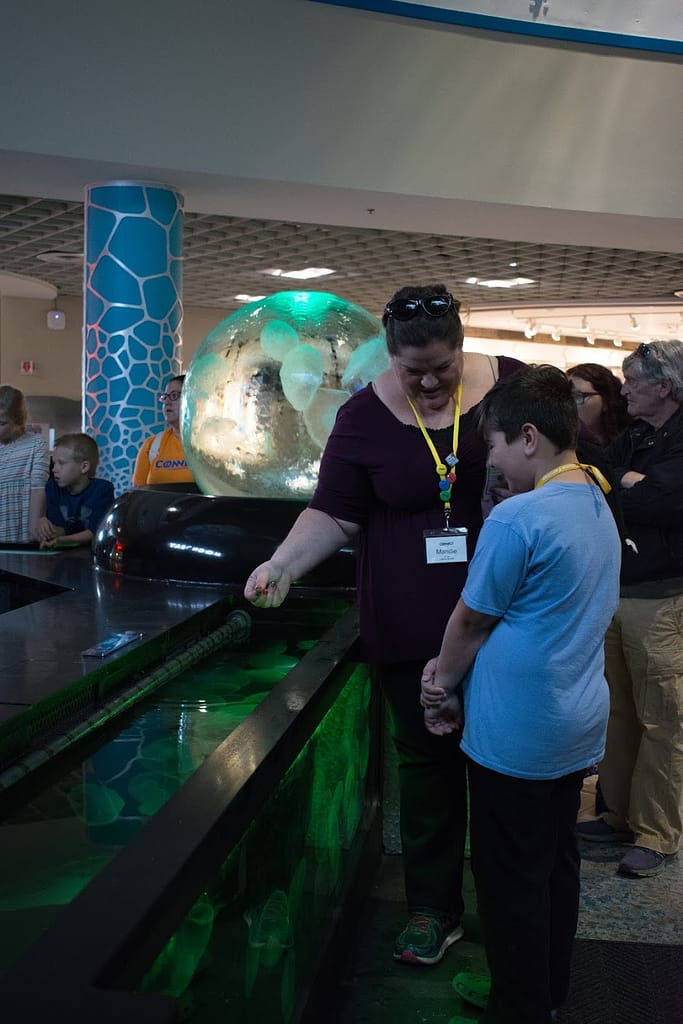 Next up: Venture Wipes brought a little bit of gross, a whole lot of fun, and offered an excellent cleanup with their Swedish Fish/Chocolate Pudding challenge. There were a lot of strange looks as Thomas and Tammy Fromm asked everyone who wanted to participate to take off a shoe and sock! The challenge was to be the fastest at digging out 2 Swedish Fish hidden in bowls of chocolate pudding. The laughter and squeals were contagious. So much fun! And, of course, a Venture Wipe to clean up after.
To end the night, we watched Frozen 2 on the lawn while… well, freezing! To keep warm, there was lots of snuggling under blankets. Mandie proved again that Reflectix on a camp chair does an amazing job of reflecting body heat back to you and warming you up. If you haven't tried it, you need to!
Day Six
Friday came with a little sadness.. the rally was nearing its end but there was still a lot of fun to be had!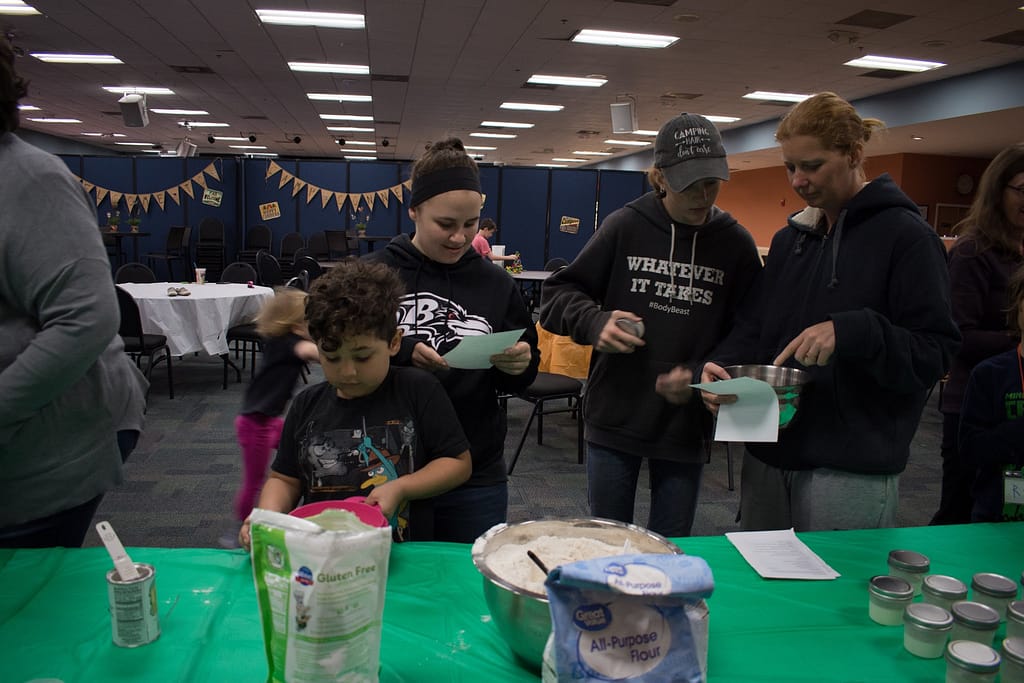 The fun started Friday morning with making Olive Oil Bed and Butter. The kids did a great job working together to make the dough and butter.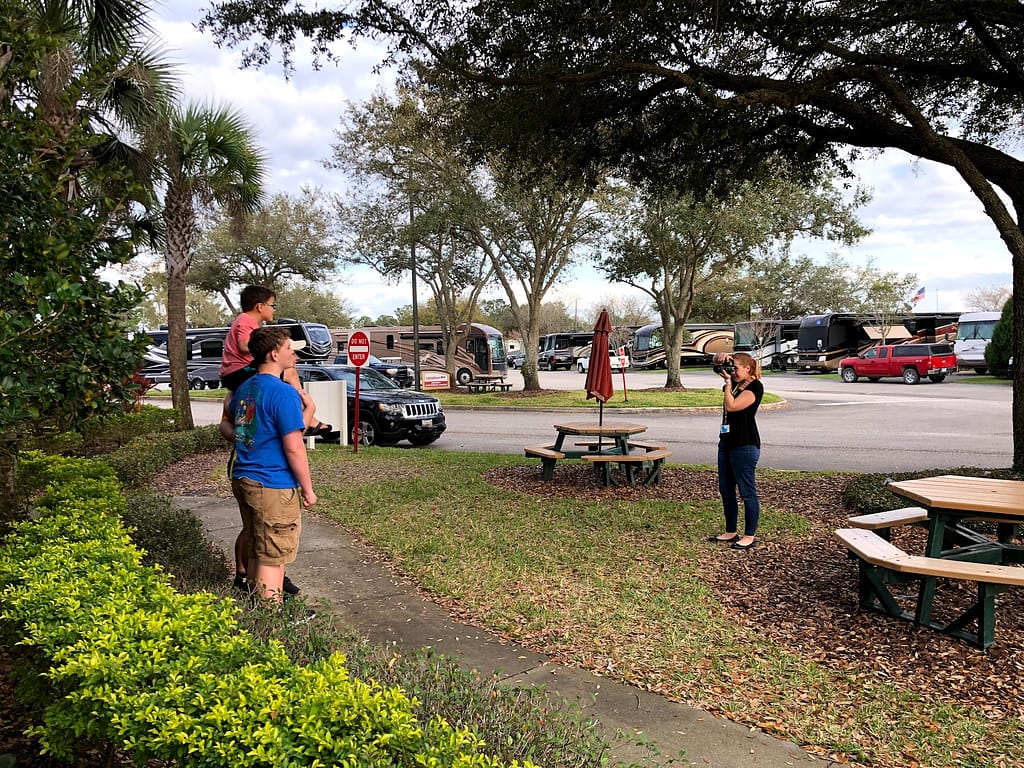 Paige Setzer did an amazing job taking portraits of all of the families for the Memory Mate craft on Friday. These are a really cute keepsake that have a picture of your family and the group picture.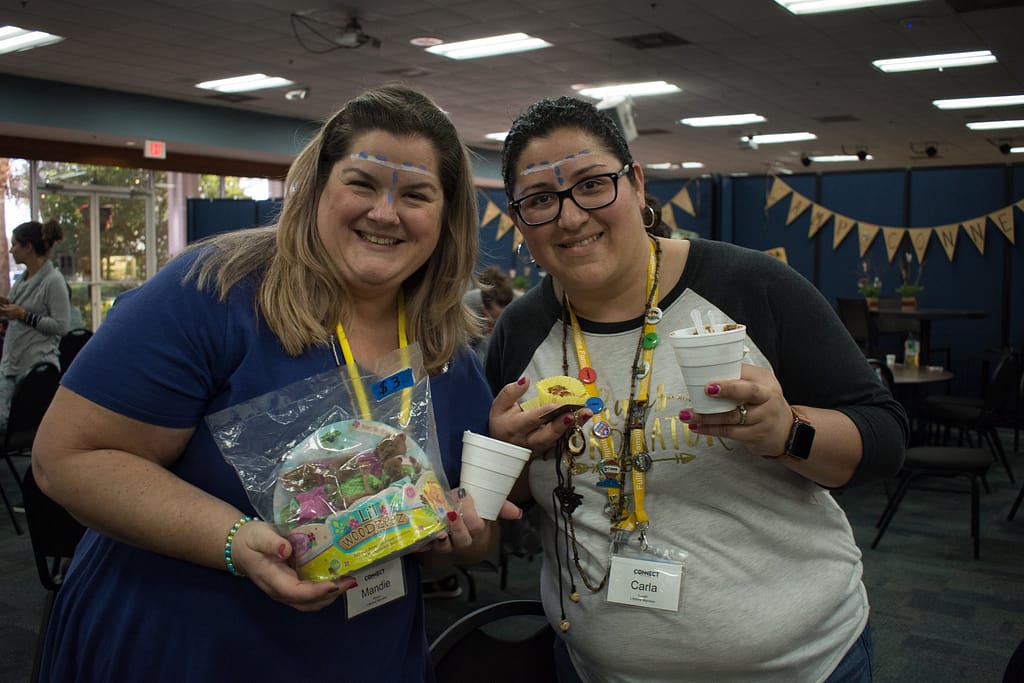 At Friday's Kids Marketplace, there were all the wares to be had! Mandie came home with Egyptian princess face painting, Logan came home with Pokémon cards, Paige was able to sell some of her photos, and I got a cleaned up bike at Levi's Bike Wash. All of the kids showed such creativity at the Marketplace it truly is one of the best activities they a rally offers. It teaches the kids such great skills and it's just wonderful to see the budding entrepreneurs.
We closed out the night with s'mores by the campfires and impromptu games in the rally center.
Finishing the Connect Rally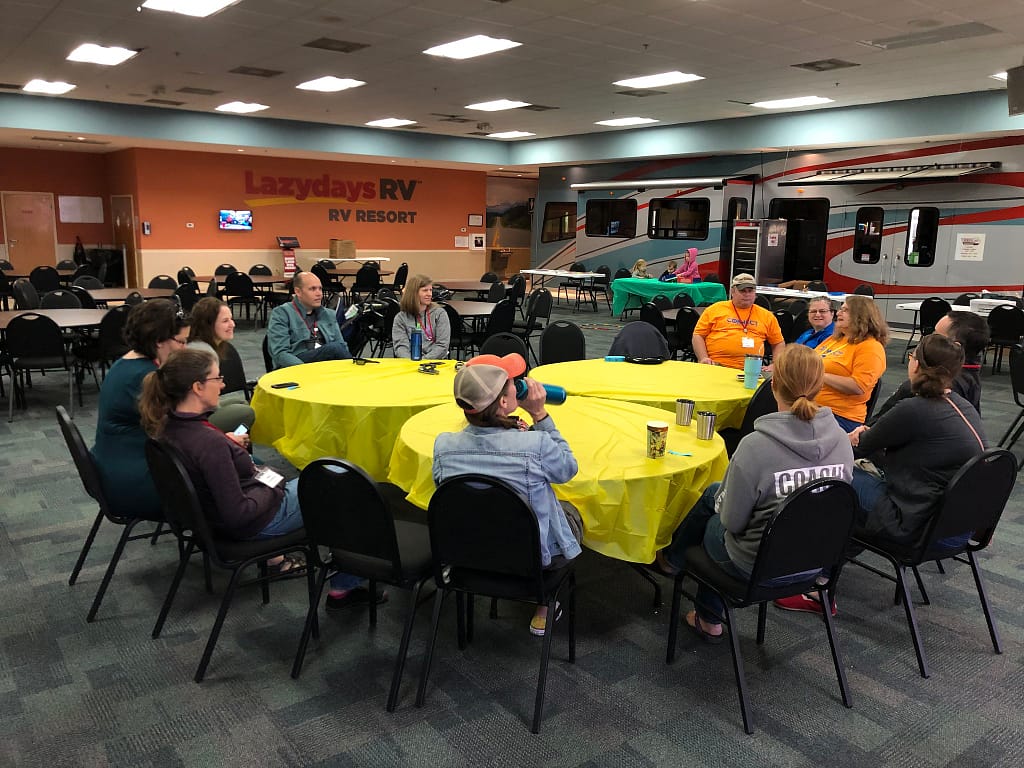 Saturday came much too soon with a 9am coffee talk hosted by Stephanie Barnard on the various branches offered by Fulltime Families. Branches really are something special and let you connect regional or by interest with other Fulltime Families members.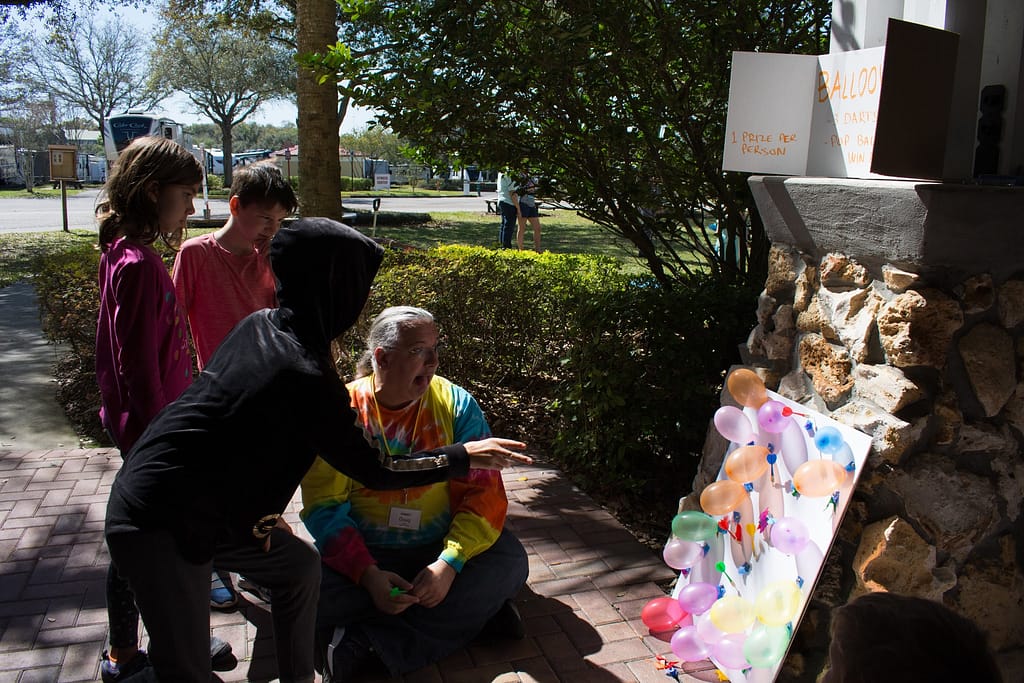 Mandie Setzer pulled off an amazing setup for Carnival Games. And while there were a couple cries of "it's rigged!", everyone came away a winner. The rally had such amazing volunteering by the families that each station had a host running it. I got stuck with the dart throw (get it? "stuck with"!) but fortunately that was the only sticking that happened!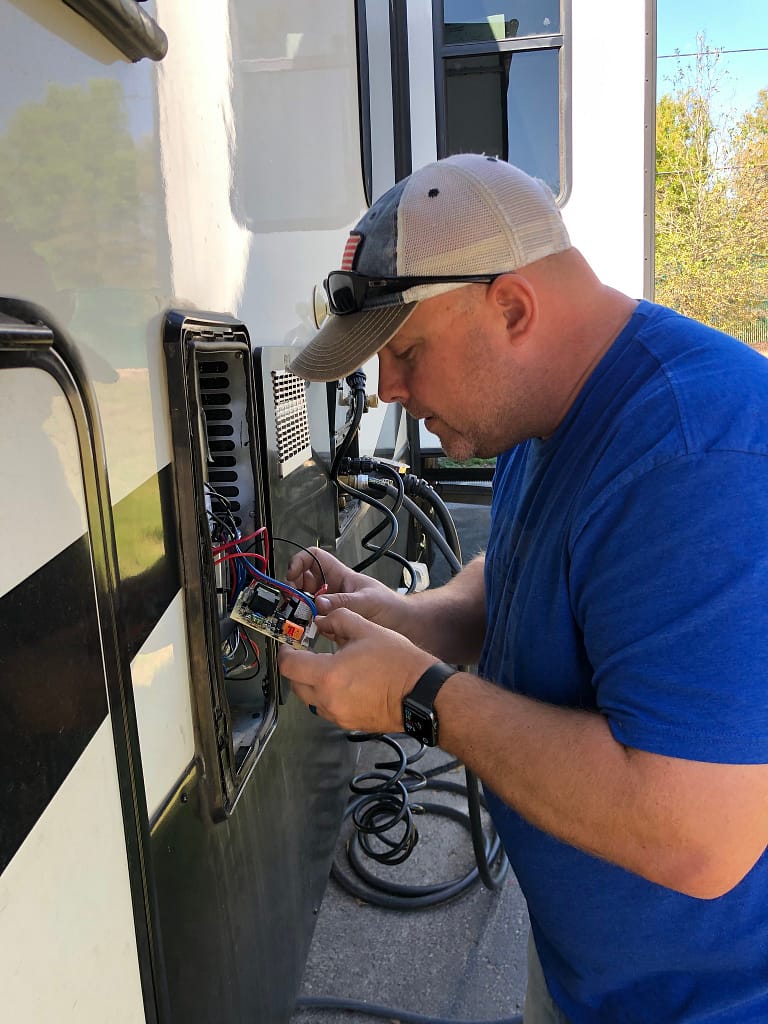 Brian Demo of On My Way Mobile RV Service had an excellent talk on RV maintenance and fielded many questions from the group. He even stopped by a couple of rigs afterwards for quick fixes and diagnoses.
Rally sponsor RV Roof System gave a nice overview of their products and answered questions about it and general roof maintenance.
Before we knew it, we were closing out the rally with a spaghetti potluck, closing ceremonies, and a dance party. A special thanks to the Duncan Family who drove over from Orlando and helped with the audio/visual for the evening. The food was awesome and had some of the cutest Leap Year frog cupcakes; not only cute, but oh so yummy yummy!
The rally cash raffle was a big hit and we had some great products offered by the rally sponsors and more!
The dance party was a fun end to the night and an amazing week.
Thank Yous
There are so many thanks for this rally. First, from me, Doug- thanks to Fulltime Families for this community and for hosting these events. I talked to new friends who said the rally far exceeded their expectations and I 100% agree. Without Fulltime Families, the Setzers would have been lost on the road and I hope this Connect rally helps others like our first rally oh so long ago.
Next up are the families who came! Y'all were awesome at participating at the organized events and hosting so many others. The Morris family especially for their Magic The Gathering sessions and giving out starter decks from Magic Kids.
Not only did you come out, but everyone pitched in and volunteered. We had setup help, cleanup help, and even dish washing after some of the events. Rallies are made by volunteers and you stepped up.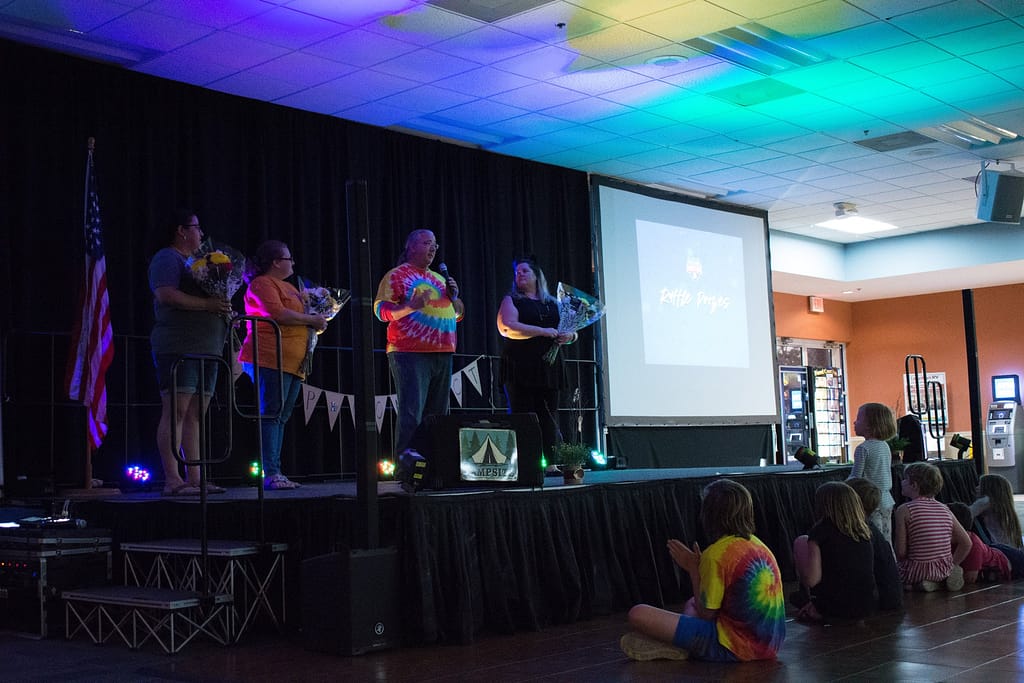 Near and dear to my heart at the ladies at the core of the Connect rally for Fulltime Families. I got a bit choked up on stage trying to mumble some feeble words to say thank you to Carla Geiger, Mandie Setzer, and Stephanie Bernard. You ladies planned this rally with Nicole Schroeder for months leading up to this week. Thousands of messages, countless phone calls, and some passionate discussions on how to best make this rally wonderful. Your hard work paid off- bias aside, this is easily one of my most favorite rallies I've attended. I love you ladies and words can't say how thankful we all are for your hard work.
There's never goodbyes in the Fulltime Families world. As we talked this week, some folks are sticking around Lazy Days for a few days extra and others are already planning meetups down the road. Connections were made at the Connect rally.
About the Author
Doug Setzer, his wife, and 2 kids have been fulltimers since 2015. In an effort to help family and friends, he started LearnToRV.com with articles on how to go RVing. The site has grown and continues to be an excellent resource for new and old RVers alike.
Links:
Website: http://learntorv.com
Facebook: http://facebook.com/LearnToRV
Instagram: http://instagram.com/LearnToRV
Pinterest: http://pinterest.com/LearnToRV
YouTube: https://youtube.com/OurNowOrNever/
Join Fulltime Families
Fulltime Families Members get access to the best resources, community and discounts.