This article may contain compensated links, please read our disclaimer for more information.
When you spend a lot of time in your RV, you have to figure out ways to make your teeny tiny kitchen work for you. While cooking in an RV is totally possible, and hundreds of families on the road do it every day, it does take a bit of creativity and flexibility. On top of that, it's important to understand that what works for one family may not work for another, meaning you'll have to take a bit of time to figure out the best RV cooking methods for you.
If you're not sure where to begin on your cooking in an RV adventure, you've come to the right place. In this article we will take a look at the best cooking tools and methods for RV living. We'll also give you a variety of recipe ideas that could help you dive into these new ways of preparing food if they're new to you, or change things up if RV cooking is something you've been doing for years.
Ready? Let's dive in!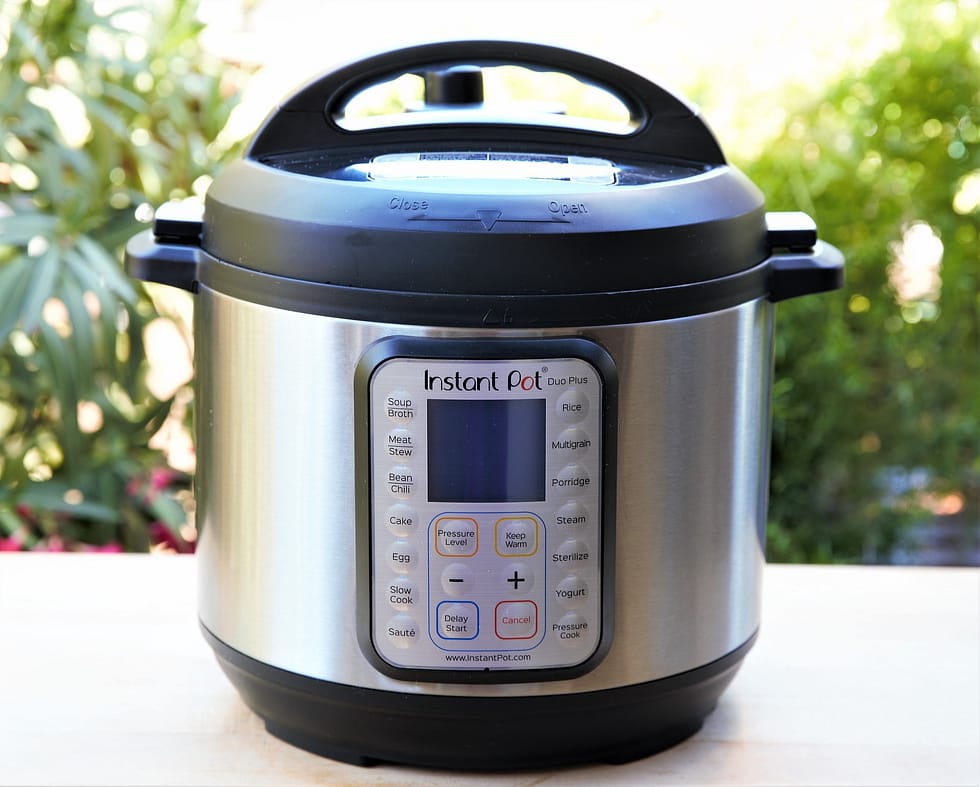 The Best RV Cooking Methods
There are a few things you have to consider when choosing how you'll go about cooking in an RV:
The first is whether you have power. If not, cooking with an electric appliance is out of the question.

Cooking in summer? You may want to take your food preparation outside to avoid heating up your tiny home-on-wheels.

Of course, if you do have electric hookups and would like to save propane, finding a way to cook without using the gas stove or oven is your best bet. 
Below are the best RV cooking methods for each of these situations. 
Cook without Electricity by Using Propane Appliances
The first and most obvious option is to cook as you normally would, using the propane stove and oven that are typically built into RVs. This is an excellent option if you want to use typical stovetop and oven recipes that you always used in a house, and it works especially well if you happen to be camping without electric hookups.
That said, cooking with propane does have its own set of drawbacks. 
One problem with using the gas appliances is the fact that they require fuel in order to run. This means you'll go through your propane tank more quickly, requiring you to spend time and money going out to get it refilled. 
Another issue? Propane appliances give off moisture. In the winter, this can add to the problems so many RVers have with condensation gathering on the walls and in the cabinets. This can be fought with a dehumidifier and Damp-Rid in the cabinets, but the less moisture you have to deal with in the first place, the better off you're going to be.
Save Propane with Electric Appliances
Because the typical RV stove and oven use propane and give off so much moisture, many RVers are left looking for other cooking options. Enter electric appliances. 
There are countless electric kitchen appliances on the market, and depending on your preferences, you might find you like something different from most RVers. That said, there are a few electric appliances that a huge number of those living in RVs love. 
These include: 
The Instant Pot

— We love this particular appliance because it can do so many different jobs. It can serve as a slow cooker, a pressure cooker, an air fryer, or even a yogurt maker. Because it serves so many purposes, it definitely earns its place in your RV cabinet, and the fact that it can cook things over a long period of time while you're out sightseeing

or

very quickly after a long day of travel is wonderful. 

Induction Cooktop

— This is a great option to have when you want to make a stovetop meal or side dish but don't want to use propane. We appreciate that induction burners are not hot to the touch, keeping little hands safe, and that portable burners can be stored in a cabinet or drawer easily. 

Toaster Oven

or

NuWave Oven

— Obviously, you only need one of these, not both. Either one works, and having one is great when it comes to baking without running through your propane. We also like this option because RV ovens have a tendency to overcook things in the middle. Additionally, a toaster oven gives you the option to broil, whereas a small RV oven does not. 
Keep the RV Cool by Cooking Outside
If you find yourself cooking in an RV in a hot place in the middle of summer, or if you're boondocking and it's getting a bit warm, cooking outside might be your best bet. There are a few different ways to go about this, and all of them result in yummy food and a nice, cool home to relax in after dinner. 
Outdoor cooking options include:
Grill

— Perhaps the most obvious option is to carry a small grill to cook meats and veggies on. Not sure which grill to buy? Check out the

recommendations of other RVers right here

. 

Blackstone Cooktop — Another great choice is a Blackstone griddle. Other Fulltime Families like to use these to make big outdoor breakfasts, delicious meats for dinner, and more. 
Campfire Cooking — Finally, there's the option of cooking over the campfire. In some cases, this might involve a Dutch oven, a cast iron skillet, or a campfire grill—but other times, wrapping your food in foil and placing it on the hot coals does the job just fine. 
Must-Have RV Kitchen Tools
So far we've mentioned some electric appliances you might consider, as well as some outdoor cooking tools that can come in handy. You probably won't need all of these, but choosing from these options is a great place to start.
Wondering what else might come in handy in your RV kitchen? This post by Fulltime Families veteran Lisa Anderson of Adventuring with the Andersons might help!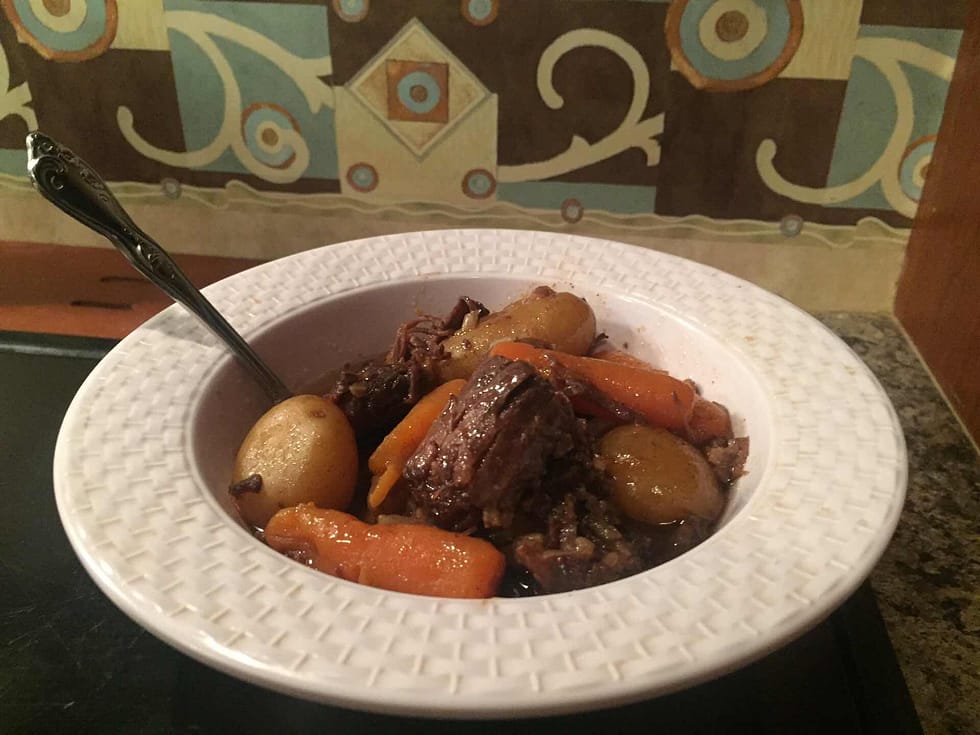 Yummy Recipes for RVers
Now that you have a better idea of how you might cook while traveling, the next step is figuring out what you'll be cooking in an RV. In the sections below, we've compiled a few awesome recipes used by fellow RVers, as well as some wonderful cooks who share their recipes online. 
Pick and choose from this list and you won't go wrong. 
Baking Recipes for the RV Oven
Love to bake, but unsure what will do well in a tiny RV oven? Well, for starters, we suggest putting a pizza stone in the bottom of the oven in order to better distribute the heat and help prevent burning. Once you've done that, most things will bake up pretty nicely. That said, this No-Knead Bread and Zucchini Bread from full-time RV mom Mila from Faith Joy Ride do especially well. 
Instant Pot Recipes
The Instant Pot is easily our favorite way to cook anytime electricity is available. Fortunately, it's incredibly easy to find delicious recipes to cook in the Instant Pot. 
Check out some of these favorites:
Slow Cooker Recipes
Sometimes it's nice to put something in the slow cooker and let it do its thing while you go out sightseeing or just get things done around the RV. Fortunately, there are tons of recipes that can be adapted for a slow cooker. In fact, a few of the awesome gluten-free recipes on the Roaming Well website owned by fellow traveler Eric Benson are perfect for a slow cooker. 
These include:
We also appreciate this BBQ Pulled Pork recipe by the RVing family behind the Roving Foleys. 
Whether you choose to use the slow cooker mode on your Instant Pot or use a traditional slow cooker, you're sure to love these slow cooker recipes. 
Grill Recipes
Want to light up the grill and cook outside? We wrote a post a year or so ago with some seriously delicious grill recipes and tips and tricks. If those aren't enough, try checking out The Traveling Kettle for a wide variety of grill recipes that represent the travels of the author, who just so happens to be a fellow Fulltime Families member.
Campfire Recipes
Last but not least, there is the option of cooking over a campfire, a fun option that allows you to take advantage of your laid-back lifestyle:
This

Cast Iron Shepherd's Pie

recipe by the

Roving Foleys

actually works quite well in a Dutch oven over a fire. 

Looking for a great way to finish a meal? We also really like this

Dutch Oven Cobbler

recipe by the same bloggers. 
Hopefully these ideas and suggestions inspired you, so you can start making awesome meals in your RV. Need even more suggestions? Check out the Fulltime Families Cookbook for a whole collection of excellent recipes to try.
Join Fulltime Families
Fulltime Families Members get access to the best resources, community and discounts.
Fulltime Families is a participant in the Amazon Services LLC Associates Program, an affiliate advertising program designed to provide a means for sites to earn advertising fees by advertising and linking to amazon.com, amazon.co.uk, amazon.ca. Amazon and the Amazon logo are trademarks of Amazon.com, Inc. or its affiliates.