This article may contain compensated links, please read our disclaimer for more information.
RVing with a dog is an amazing experience. It gives you the opportunity to connect with your family pet in a whole new way, exploring and enjoying the great outdoors in different locations all across the country.
One of the best places to do this? Dog friendly national parks, of course!
While most national parks do allow dogs on roadways and in vehicles, there are some national parks that allow dogs to do much more than that. These parks will welcome you and your pup with open arms and invite your furry friend to enjoy the park fully right alongside you. 
Below, we've put together a list of the most dog friendly national parks in the country. Stick to these parks and you are sure to have an amazing time adventuring with Fido. 
Grand Canyon National Park
Arizona
At Grand Canyon National Park, pets are allowed on all of the popular South Rim trails. If you're headed to the other side, pets can explore the Bridle Path and a portion of the Arizona Trail. Dogs are also welcome at some in-park campgrounds. 
If you find yourself wanting to A) ride a shuttle bus, B) go into a visitor center, or C) hike below the canyon's rim, your dog cannot go with you. In this case, you might consider making use of the kennel available on the South Rim. 
Shenandoah National Park
Virginia
Shenandoah National Park is ideal for hitting the trail with your furry hiking buddy. This is because Shenandoah has over 500 miles of hiking trails, and all but 20 miles of those trails are pet-friendly. 
In addition to the many miles of pet-friendly trails, this national park also welcomes dogs at all in-park campgrounds, and your pup can always get out and stretch their legs with you on pull-outs along Skyline Drive. 
Acadia National Park
Maine
Acadia National Park is awesome because it offers 100 miles of dog friendly trails. Additionally, there are 45 miles of carriage roads your pup is welcome to explore. Best of all, aside from Duck Harbor, all of the Acadia campgrounds allow pets, meaning you can park your rig in the park. 
Dogs are not allowed at Sand Beach though, and they can't swim anywhere within the park. 
Congaree National Park
South Carolina
Congaree National Park will gladly welcome your doggo. Here, Fido will be allowed to wander all of the park trails as well as the boardwalks that meander through the place. This is great because it means your pup can go where you go. 
This park does not offer RV camping, but pets are allowed in the tent campground. They are also allowed on tours with Carolina Outdoor Adventures. 
Petrified Forest National Park
Arizona
Another of the dog friendly national parks where your pet can go wherever you go, Petrified Forest National Park lets dogs walk on all park trails and roads. Additionally, dogs are welcome to adventure in the official wilderness areas, giving you even more to explore with your pet. 
New River Gorge National Park
West Virginia
The country's newest national park is also one of its most pet-friendly parks. New River Gorge National Park lets dogs check out the well-known Endless Wall Trail and the stunning Grandview Rim Trail, as well as any other trail in the park. 
Mammoth Cave National Park
Kentucky
No, dogs are not allowed to explore underground in the huge cave system at Mammoth Cave National Park, but they do have a kennel where Fido can stay while you go cave exploring. Another cool thing? Pets are welcome on any of the park's 70 miles of surface-level trails.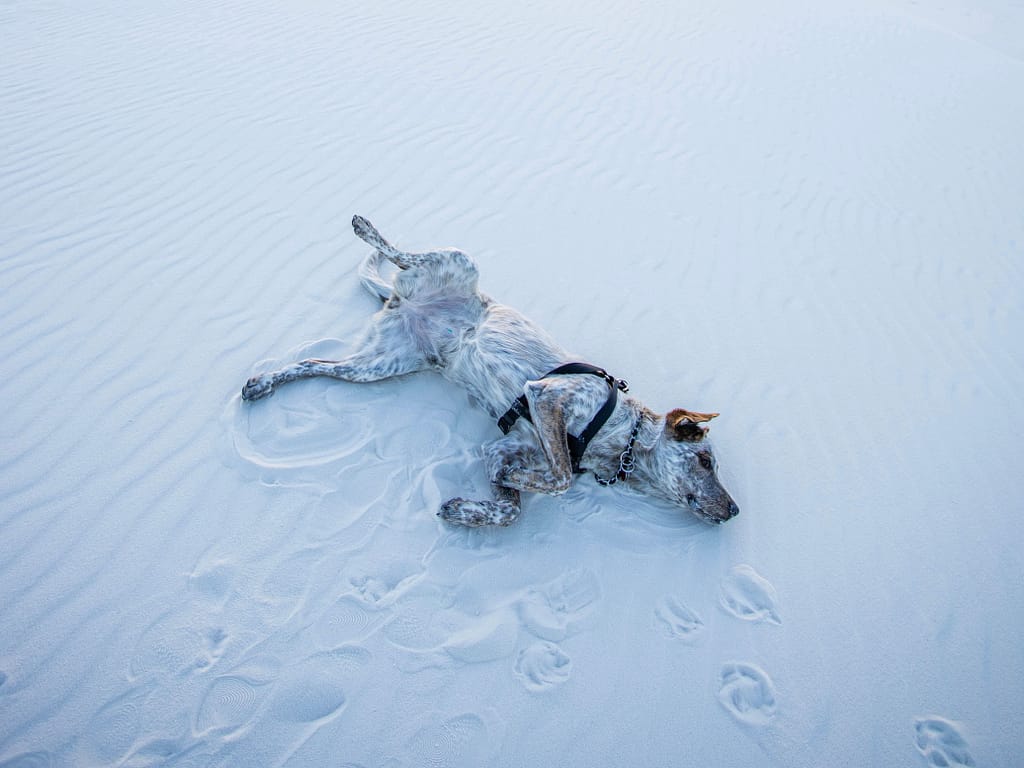 White Sands National Park
New Mexico
White Sands National Park is yet another place where you and your dog can roam freely. With nine miles of trails and seemingly endless dunes to explore, you and your dog could easily spend an entire day playing in this park. Just keep in mind that the sand does get very hot here, so dog shoes might be necessary.
Cuyahoga Valley National Park
Ohio
While dogs cannot go to the East Rim mountain bike area or ride the in-park scenic railroad at Cuyahoga Valley National Park, they can hike! Pets are invited to hike 110 miles of trails in this national park, including 20 miles of the famous Towpath Trail. 
Hot Springs National Park
Arkansas 
At Hot Springs National Park, you and your dog will have 26 miles of trails to explore together. No, Fido won't be allowed in the historic bathhouses, but he is welcome to camp in the in-park campground, so bringing him along shouldn't be an issue. 
Indiana Dunes National Park
Indiana
Water-loving pups will appreciate Indiana Dunes National Park. Here, pets are invited to play at most in-park beaches during the off season. From Memorial Day to Labor Day, the list of dog friendly beaches is shorter though, so be sure to check which ones welcome pets before you go. 
In addition to beaches, dogs are also welcome to hike any of the trails in the park except Great Marsh Trail, Glenwood Dunes Trail, and Pinhook Bog Trail. 
Great Sand Dunes National Park and Preserve
Finally, there is Great Sand Dunes National Park and Preserve. Here, pets can walk the Mosca Pass Trail or hike the Dunes Overlook Trail. They are also welcome to play in the massive sand dunes up to the first high ridge, or splash in Medano Creek to cool off when the weather is hot. 
Just remember that sand can be hot and dog shoes may be necessary!
More Info on Visiting National Parks With Dogs
Choosing a dog friendly national park is only part of the planning process. You also want to go in knowing the rules and tricks for visiting national parks with dogs. This will help ensure your visit goes smoothly and everyone has a great time. 
Keep Pets Leashed
First, it's important to know that all national parks (even dog friendly national parks) require that pets be on a leash that measures six feet or shorter at all times when exploring the park. We recommend using a harness to keep your pet comfortable.
We also recommend leaving the leash on your pet even when in the car, and then tying the leash to something to ensure the pup doesn't bolt when the door is opened. Even if your dog isn't usually a runner, the new location (and any nearby wild animals) could trigger an unusual response. 
Learn Your Boundaries
Before you head out and start exploring, be sure you know what the boundaries are. Know where your dog is and isn't allowed, and stick to those boundaries. Keep in mind, the rules are put in place to protect you, your dog, other visitors, and the plants and animals in the park. 
Note: Dogs are never allowed in national park buildings. 
Always Clean Up after Your Dog
Always, always carry poop bags and clean up your dog's waste. Yes, it's natural and you're in a natural area, but nobody wants their national park trip to be ruined because they stepped in dog poop. Besides, leaving dog poop laying around is just plain gross. 
Give Wild Animals Space
National parks are home to many wild animals. Naturally, your dog is going to want to say "hi" to those animals, but it is very important that you keep your pet close and give the wildlife their space. Wild animals can and will hurt those who get too close.
Stay on the Trail
It's also important that you stick to established trails when walking through national parks. Stepping off the trail can actually cause damage to the ecosystem that takes decades to repair. Obviously, we want to care for these beautiful natural spaces, so staying on the trail is definitely a good idea. 
Be Pest Aware
Obviously, you're probably going to come across some bugs while visiting national parks with your dog. Take care of your pup by giving them their flea and tick treatment before you head to the park and bringing along some dog safe bug spray. It's also a good idea to do a heartworm treatment, as mosquitoes can carry heartworms.
Carry Water and Food
Hiking these dog friendly national parks will make your dog thirsty. Make sure to carry a collapsible bowl and some water to pour into it, and stop for drink breaks often. You may also want to bring some food and treats if you'll be out all day. 
Protect Those Paws
Many people forget just how hot the ground can get. Sand and asphalt become especially hot in the sunshine. Make sure you check every surface by placing the back of your hand on the ground for at least 10 seconds. If it's too hot to hold your hand there, it's too hot for your dog's paws. 
Want to be able to hike on hot surfaces? Consider some dog shoes to protect your dog's paws. 
Participate in the B.A.R.K. Ranger Program
Lastly, we highly recommend participating in the B.A.R.K. Ranger Program. This is a fun little program that helps educate dog owners about proper park etiquette and is a perfect addition to any trip to one of these dog friendly national parks. All you have to do is learn the B.A.R.K. principles and your dog will be eligible to buy a super cute ranger badge dog tag. 
Taking your pup to dog friendly national parks is a great way to enjoy RVing with your pet. Why not choose one of the parks listed above and start planning your adventure today?
Join Fulltime Families
Fulltime Families Members get access to the best resources, community and discounts.
Fulltime Families is a participant in the Amazon Services LLC Associates Program, an affiliate advertising program designed to provide a means for sites to earn advertising fees by advertising and linking to amazon.com, amazon.co.uk, amazon.ca. Amazon and the Amazon logo are trademarks of Amazon.com, Inc. or its affiliates.