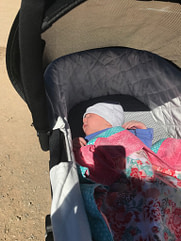 Welcome to the World Cecilia Adelina Hartog!  We are so pleased to meet you!
It all started last Thursday night, October 12th, 2017, while 22 full-time rving families were gathered to experience the Albuquerque Balloon Fiesta at the FtF Balloon Fiesta Hangout.  Unless you count the false labor on Monday night that served as a drill for ensuring appropriate water supply and set up.
As Thursday afternoon progressed, soon to be mother of three, Clementine Baksteen's labor pains fell into a regular pattern two minutes apart for 30 seconds.
Did I tell you all the FtFs at the event were in dry camping, including expectant Clementine?  That means that we had no water hook ups, no electricity to plug into and no sewer to receive our waste waters.  To me it seemed that Clementine's birth would be akin to the experiences of pioneer moms, bringing forth new life in one room cabins on a desolate prairie.
But unlike her 19th century counterparts, Clementine and the whole Hartog clan were encamped among their friends new and old, and many pitched in with last minute preparations which included, filling a birth tub, straightening up the labor and delivery room (ie; Clementine's camper living room) and in general making the family as comfortable as possible.
As the sun set that Thursday, we gathered with the Hartogs, their midwives and families to feast on steak, potatoes and a big garden salad.  If we weren't parked on a landfill, the scene would have resembled a vineyard al fresco dinner complete with twinkling lights and mismatched weather beaten chairs.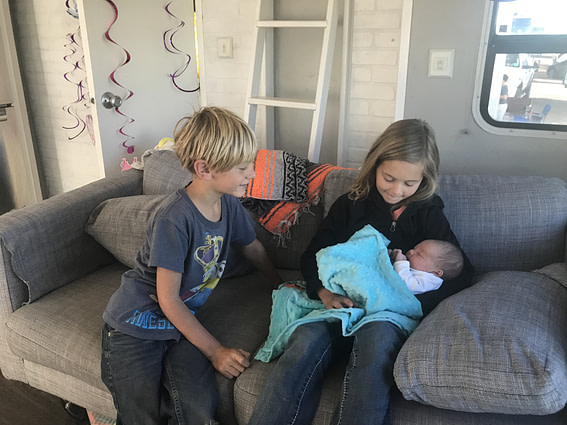 After Clementine felt satiated, labor came on strong and constant and the Hartogs and their midwives retreated to the toy hauler that has served as their home for the last 7 years, as well as the birth place of their 5 year old son.
20 minutes later, an emotional newly minted dad of 3, emerged from the camper and a jubilant cheer was raised through the darkness as we were all treated to the news of our "balloon baby's" arrival, already asking when a baby boy should start talking, so cute even with all the experience a new baby is always a new experience.
Tiny pink toes and cupids bow lips, she is a delicious delight of new birth and promise.
Are you a birth resource provider, get connected with our partner, Support for Your Birth to join their directory of nationwide midwives, doula, photographers and other birth support service providers.