This article may contain compensated links, please read our disclaimer for more information.
Having a kitchen wherever you happen to be is a real handy thing. However, there are many RVers out there who don't take full advantage of their RV kitchens. And the appliance that goes unused most often? The RV oven. 
We understand this to an extent. How to light an RV oven may not be completely obvious to the first-timer. On top of that, RV ovens aren't the easiest to use, as they tend to have a hard time holding heat and often burn foods in the middle. 
Fortunately, there are ways around all of these issues. In this article, we will help you understand how to get the most out of your RV oven so you can continue to bake cookies, casseroles, and pizzas wherever you may roam.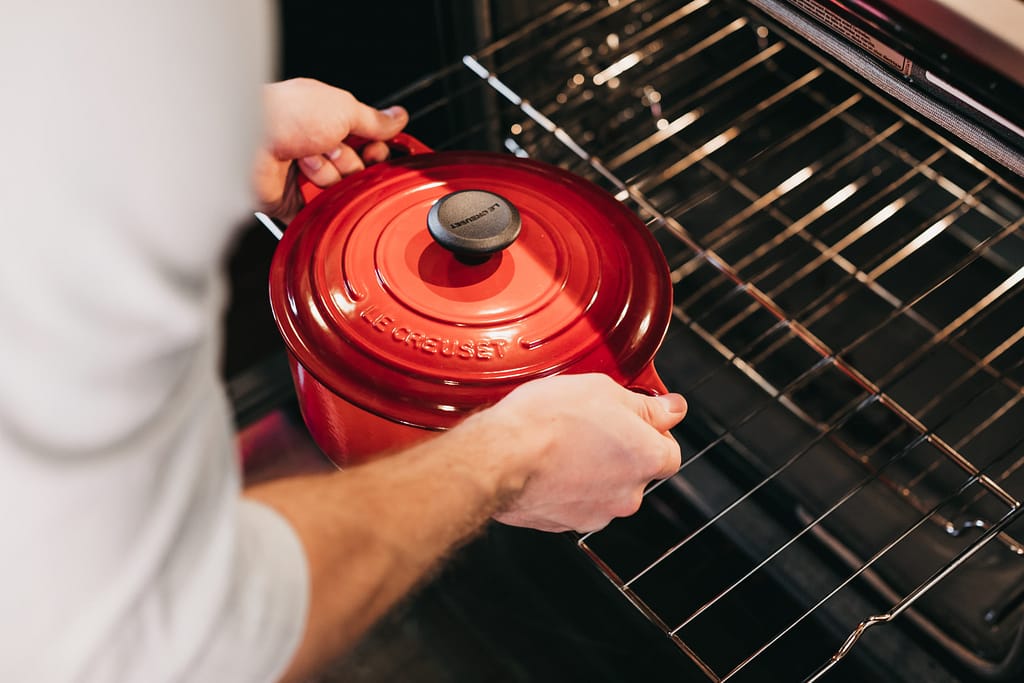 How to Light RV Oven
Let's start with the basics: how to light an RV oven. After all, you can't very well use a gas RV oven without first lighting it. Fortunately, while this little task might seem intimidating at first, it's actually quite easy and you're sure to get the hang of it in no time. 
First, use one hand to turn the oven knob to "light". Holding the knob in while in the "light" position, use your other hand to put the end of a long handled lighter next to where the pilot light should be (usually located at the back bottom area inside the oven). Light the lighter and allow the flame to catch on the gas coming from the oven. After lighting, hold the knob in the "light" position for several seconds (do a slow count to 30 if you must) before finally turning it to the desired temperature. 
This video might help you get a better understanding of how to light an RV before you give it a go yourself:
How to Use an RV Oven: Tips and Tricks
Of course, getting your RV oven lit is only the first step.
In some cases, you may be able to use your RV oven just like the oven in a house, but other times, you might need to do a bit of experimentation to get your RV baking process down to a science. 
Make Sure It's Shut
If you don't feel like your oven is retaining heat as well as it should, make sure it's actually closing all the way. In some cases, RV ovens will have a small gap around the door, even when closed. If this is the case for your oven, lean something against the door (such as a small stepladder) to ensure a good seal.
Spread the Heat
Because RV ovens are so small, the heat coming from the element at the bottom of the oven doesn't really spread out as well as it should. If you find your baked goods are burning on the bottom or only cooking in the middle, try encouraging the heat to spread by placing a pizza stone on the oven rack. Another option is to put an upside-down muffin tin on the rack and place whatever you're baking on top of that. 
Turn Partway Through
If your oven seems to cook one part of each thing you bake a bit more than the other parts, and using a pizza stone or muffin tin doesn't solve the problem completely, your food might benefit from being turned halfway through the bake time. 
Pay Attention to Temperature
We've found that the temperature in our RV oven is never quite where it should be. In our current rig, the oven is just a bit cooler than what the thermostat says. Therefore, we set the temperature to be about 5 degrees warmer than we actually want it to be.
As you use your oven, you will get a feel for whether you need to set your thermostat a bit warmer or cooler than usual. 
Run the Vent Fan
Because most RV ovens use propane, they tend to heat up tiny spaces and make them very humid. This can cause an uncomfortable situation in the summer, and it is likely to lead to condensation on the walls in the winter.
Running the vent fan in the kitchen anytime you use the RV oven can help combat both of these situations. A dehumidifier is also a good investment if you plan to use propane appliances frequently. 
Tips for Using Your RV Microwave Convection Oven
Many newer RVs feature a microwave convection oven rather than a traditional gas oven. These are great because they won't heat up your space, they don't put off moisture, they don't have hot spots and cold spots, and they don't eat away at your propane supply. However, they are less than ideal if you plan to do a lot of off-grid camping. 
In any case, if you have an RV microwave convection oven, you will want to know how to use it. The good news? They're actually pretty straightforward to use. 
Here are some tips to get the most out of your RV convection oven:
Reduce the Heat and Time
In most cases, you can reduce the heat you cook your food at by about 25 degrees. Additionally, you should check it about 10 minutes before it might normally be done. 
Use Cookware with Lower Sides
A convection oven relies on circulating hot air. Because of this, cookware with lower sides allows more air flow, faster cook times, and more even cooking. 
Always Use the Stock Rack
It's important that you always use the rack that came with your convection oven. This ensures your oven is able to circulate hot air effectively. 
Replacing Your RV Oven
In some cases, it might be a good idea to replace your RV oven. Perhaps your old oven broke, or maybe you don't like the look of the oven that is in your rig, or perhaps you want a different kind of oven. Whatever the case, it is possible to replace your RV oven. 
Here are our top picks for replacement RV ovens. 
RV Stove Oven Combo: Dometic Atwood RV Range Oven
Dometic is an excellent RV appliance company, and their stove and oven combo is a great pick. We especially love this stainless steel version, which looks sleek and modern, giving RVs an updated feel. 
Convection Microwave Oven for RV: RecPro Convection Microwave
This convection microwave is a direct replacement for Greystone RV convection ovens. It's compact but 100% useful, and gives RV kitchens a lovely modern look. Just be aware that the advertised measurements are off and you might need to cut a bigger space for this appliance to fit properly. 
Other Options
In some cases, it's better to purchase small appliances that can be put away rather than attempting to replace the entire built-in oven unit. If this is the route you decide to take, we highly recommend the following options for replacing your RV oven:
Hopefully these tips help you get use out of your RV oven, so you can continue to eat all of your baked goods as you travel.
Join Fulltime Families
Fulltime Families Members get access to the best resources, community and discounts.
Fulltime Families is a participant in the Amazon Services LLC Associates Program, an affiliate advertising program designed to provide a means for sites to earn advertising fees by advertising and linking to amazon.com, amazon.co.uk, amazon.ca. Amazon and the Amazon logo are trademarks of Amazon.com, Inc. or its affiliates.