This article may contain compensated links, please read our disclaimer for more information.
RVing is considered by some to be a seasonal activity. Many part-time RVers dewinterize their RV as things warm up in preparation for the summer vacation season. After a fun season of RVing, they then winterize and store the RV again when the weather turns cooler. Still, others full-time, RVing throughout the year, but following the warm or milder weather to keep things a bit more consistent as the weather changes.
As full-time RVers, we know RVing can continue throughout the year. We have personally been full-time RVing almost three years now and have experienced each season in an RV several times over. Each season has its beauty and unique draws. There are special things to see and do in each season that can only be experienced during that time. But along with those fun experiences also come some considerations to keep in mind. Various tips and tricks can enable you to get the most out of RVing through all the seasons.
Whether you are a fellow full-timer or take your RV out on a part-time basis for fun adventures, we hope the information below helps you enjoy RVing throughout the year in one or more of the seasons even more than you have before.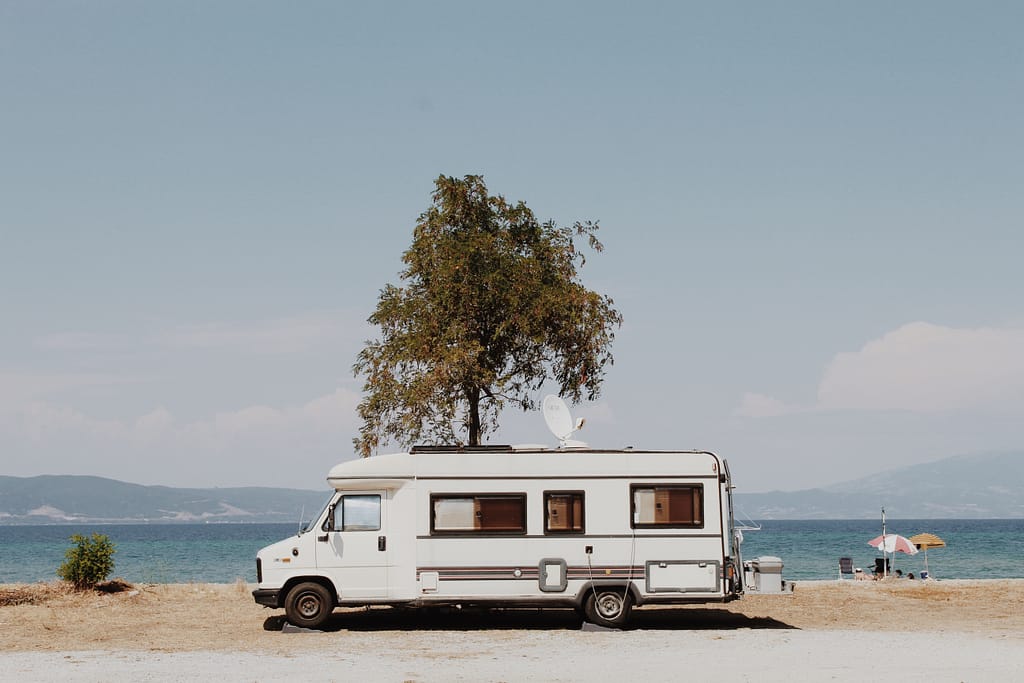 Summer
Summer is a wonderful time of year to RV. You and your kids may have additional time off from work or school over summer break. There are often many other families around to meet and hang out with. Communities hold lots of events due to the warm and sunny weather.
Summer Tips & Tricks
One of the biggest things to combat in summer is extreme heat. We used to avoid areas that were too hot in the summer, especially if full-hookups weren't available. That was the case until we upgraded our battery bank and installed solar. That is one strategy that will help immensely.
Having a generator is another way to take the edge off of the heat. We installed EasyStarts in both of our air-conditioners. Then we could run either one of them on our small generator and take the strain off of our inverters.
Besides that, consider limiting use of your indoor oven and other heat producing appliances and cook outside instead. You can select spots to park that are more shaded (if you are not relying on solar), put out your awnings, keep window coverings drawn, or utilize some insulated reflective material to insert in your windows to maximize the shading.
Another consideration for summer is that humidity can be very high during this season depending on where you are. Dehumidifiers come in various sizes. Look for one that is rated for the size of the space you have in the RV. We also tried to select one that specifically noted it wasn't too loud and disruptive. This is helpful as you go about your day to day or are trying to sleep at night.
Don't underestimate the power of a fan, which helps to move the air around. This can make you feel cooler, as can a cold drink. Keep the ice cubes stocked in your freezer, or do what we've seen some fellow RVers do and buy a countertop ice maker! A cool beverage can do wonders.
To maximize your outdoor shade space you can add an awning screen or room. This helps when you want to be outside at a time when the sun may be shining at an angle that your awnings don't block.
Places to Go in the Summer
Take your family for a swim at a beach and play in the sand, or get in a kayak or on a paddleboard. We highly recommend the northern Florida Atlantic coast beaches and state parks such as Big Talbot Island State Park. We have spent many happy times exploring St. Augustine and its beaches or paddleboarding the Intercoastal Waterway. This is certainly a place where the tips and tricks for heat will come in handy. However, the water will be way more comfortable than if you only visit Florida in the winter! Outside of summer, the water will be warmer in the fall as compared to spring. It takes a while for the water to warm up after the winter.
You can also use the strategy of heading north or to higher elevations in the summer. That was the strategy we took when heading north to Idaho to explore City of Rocks National Preserve and Castle Rocks State Park. We reserved a lot of our exploring for the evenings when it tends to cool off more quickly than in southern climes. For mountain lovers, Rocky Mountain National Park in Colorado provides the most comfortable experience in the summer. By then the snow has melted and the wildflowers are in bloom.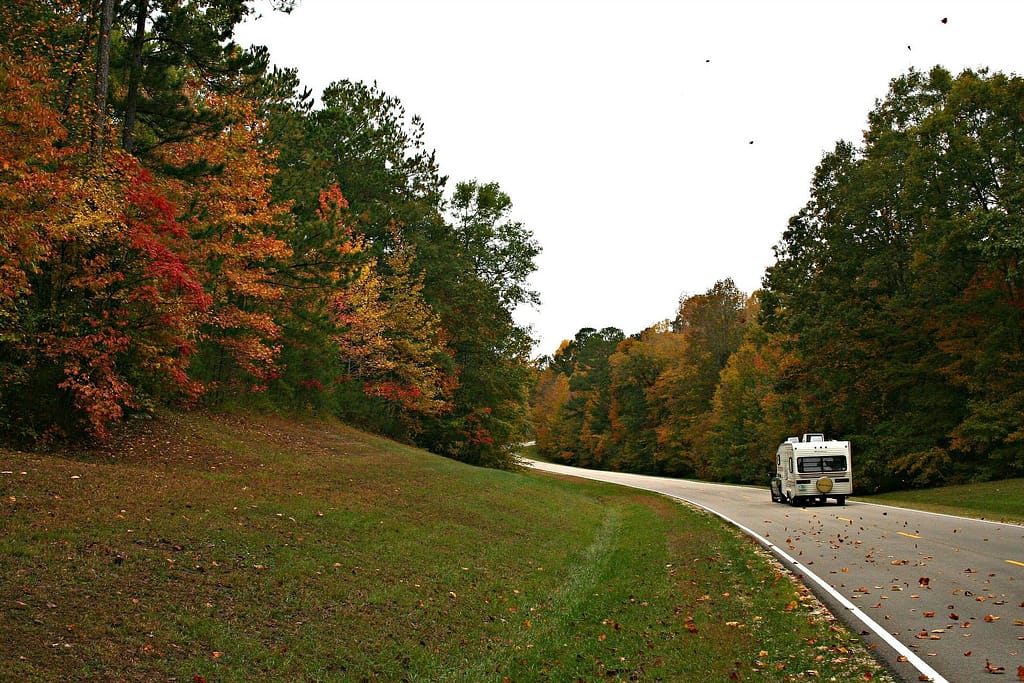 Fall
Fall brings a whole new look to places all around the country. The beauty of the changing season is highlighted by brilliant fall colors in many areas. The weather turns cooler and paves the way for cozy sweaters, warm beverages, and nights by the fire.
Fall Tips & Tricks
Fall can best be enjoyed by just making a few adjustments to maximize your enjoyment of RVing during cooler weather.
Get out your cooler weather clothes as the season changes if you've stored them away. Use a sealable plastic tub to put offseason clothes and gear in and store in your RV's underbelly. Tuck them away under your bed in vacuum sealed or regular clothes storage bags. This leaves more space throughout the year for currently in use items. Clear totes with labels can make the difference in easily locating gear for changing seasons.
A couple chairs, a cozy blanket, and a fire are all you need to sit outside for hours. An ottoman is a great place for storing a blanket or two inside the RV. Small square ottomans can be cheaply purchased. Also consider a soft basket with handles or a fabric cube in which to tuck a few blankets. Then they can be easily accessed or set outside should any of your family or guests get chilly.
Some may say it's not really a campfire if it's not a wood fire, but investing in a propane fire pit is a game changer. A propane campfire can be turned on or off at a moment's notice, and campfire smoke is never a problem.
Slow cookers and pressure cookers are useful for RVers year-round. They come in especially handy in cooler weather when we get the urge for warm soups and other hearty meals. After a full day of exploring the fall foliage, come back to your campsite and an RV either already smelling amazing from an almost ready slow cooked meal or whip up something quick and fantastic in your pressure cooker with minimal effort.
Make sure to check ahead on any campgrounds you plan to stay in as fall progresses. Make sure they remain open and haven't turned off the water if you are planning on needing that.
Places to Go in the Fall
The northeast is of course the easy answer for where to RV in the fall. It is notorious for its vibrant fall leaves in all colors. Not only does the northeast do fall colors right, but the covered bridges and maple syrup farms and products feel quintessentially fall.
Head to Acadia National Park in Maine, but leave enough time to sufficiently explore Vermont and New Hampshire as well. Visit a sugar house such as Sugarbush Farm to try their cheese and maple syrup. Come back in the spring to see the full maple season production, but the sugar house is open all year. Read exhibits and take a walking path through the woods. Here you will see how the trees are tapped and the sap lines are run.
Colorful falls are certainly not exclusive to the northeast. You could follow the colors south to Virginia's Blue Ridge Parkway and the Great Smoky Mountains for more fall colors.
Whereas the above mentioned areas showcase leaves of all colors, there is just something about the bright yellow aspen leaves of Colorado. Head to our favorite place for this, Steamboat Springs, Colorado. Here you will be treated to a "sea of gold" as the hillsides are blanketed in golden leaves.
Wherever you end up, there are apple or pumpkin orchards, farms and farmers markets with fall's harvest bounty, corn mazes and other fall festivities to be enjoyed.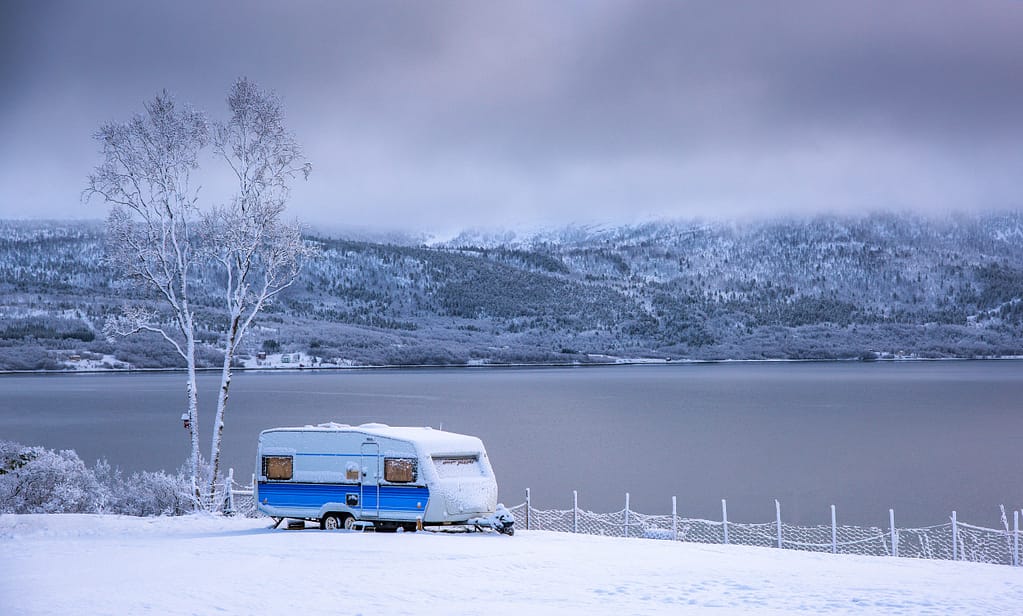 Winter
Snowflakes falling down, blanketing the landscape in white, puffy coats, warm hats, and hot chocolate all come to mind thinking of winter. There is a reason for the term "winter wonderland". Winter can be beautiful, but in an RV it can often present the most challenges.
Winter Tips & Tricks
In winter, all things are made easier if you can avoid the extremes and have an RV that is at least somewhat capable of cold weather camping.
Depending on the temperature and your plans, you may need to winterize or do more involved preparations. This might entail skirting, installing tank heaters, and using heat tape to wrap a hose or other exposed pipes. A heated water hose is also a good investment.
We recommend reading some resources specifically providing guidance on cold weather camping. Learning how to best take care of your RV for the conditions and temperatures and gaining confidence through knowledge is crucial.
Stock your RV with things you need on hand in terms of food and supplies and be prepared for any change in conditions. Check the condition of the roads and local weather. Sweep snow off your stairs and slides or slide toppers regularly. If not, the snow can turn to ice and be slippery and treacherous. It can make it difficult if not impossible to get slides in.
Space heaters inside your RV and/or in the underbelly can provide heat when you are hooked up to shore power. You won't have to blow through propane so quickly as can happen in cold weather. However, if you have to pay separately for electricity you can also see if you can rent a large propane tank locally.
Listen to guidance from the campground if provided for freezing temps, and as mentioned above regarding RVing in the fall, check the status of campgrounds before going.
Almost more than any other season, winter reservations can be difficult to obtain. There is high demand for favorite winter locations like Florida and Arizona especially. If you don't usually make reservations far in advance, winter may be a time you want to consider it if you plan to visit those areas.
Places to Go in the Winter
Winter favorites for RVers include Florida, Arizona, and Texas. For us personally, we haven't actually wintered in the southwest yet but plan to do so this year. We have heard great things about Lake Conroe Thousand Trails in Texas.
However, we've spent several winters in Florida. The Thousand Trails Orlando (TTO) campground is worth highlighting for the community that comes together during this time, the events that take place over the holidays, and even the festive holiday ambience that is created throughout the city and in various theme parks.
When in Florida, winter is also supposedly the time of year for best shark tooth hunting. Find a place with good reviews for shark tooth hunting and go after a storm at low tide if you can. There will be less people at the beach and rougher water to bring more and larger teeth to the shore.
For a real winter experience, some RVers purposely seek out areas for snow. More specifically, some seek out destinations for skiing. Breckenridge, CO comes to mind as a place that has a winter RVing community.
Basically any place you know and love can be a fun place to revisit in the winter. Two places to consider for their especially stunning transformations in the winter are Yellowstone National Park, mostly in Wyoming, and Bryce Canyon National Park in Utah. The steaming hot water from the geysers in the cold at the former, and the red rocks contrasting starkly against the white snow at the latter national park, are particularly spectacular.
Spring
Springtime is a time of growth and renewal with a lot of exciting things to see and experience. As many RVers leave their winter destinations or bring their RVs out of storage if not full-time, it's an excellent time to do some inspection and care of your RV and continue to hit the road for more adventures.
Spring Tips & Tricks
Spring is a time to dewinterize your RV if applicable and check for any new leaks that have potentially formed over the winter. Even if not, it is an opportunity to do some more thorough spring cleaning inside and out and take time for routine or annual maintenance.
Watch out and be prepared for the severe weather that occurs in some areas in the spring. With the winter thawing and springtime rains, encountering mud or flooding is also much more common. It is helpful to have more leveling blocks on hand than you typically would need for leveling your rig. These can be placed as stepping stones or potentially used as traction blocks.
Places to Go in the Spring
Visiting waterfalls in the spring typically ensures higher flow due to winter snow melt and/or spring rains. Yosemite National Park is amazing in any season, but waterfalls will be roaring in spring. Olympic National Park is also particularly lush after all the rain it receives in the winter.
A second spring time activity is looking for baby animals. Visit Custer State Park in SD to see the baby bison, but keep a healthy distance. You may also see baby mountain goats, antelope, and bighorn sheep.
View spring wildflowers and catch a superbloom in California if you can time it right or the Cherry Blossom Festival in Washington, DC.
General Tips for All Seasons
There are a couple additional tips for RVing throughout the year that are applicable to all seasons and not already mentioned above.
A weather app that you can have access to on your phone is useful year round to be aware of weather and be notified of storms and any severe weather. This can help you decide whether to travel to an area or if it is time to leave or even immediately seek safe shelter.
Make sure your RV and other vehicles are up to date on their maintenance and care and ready for the season and safe traveling. You definitely don't want your home or mode of transportation to break down on the way or present any safety issues to you or your family.
Check out the seasonal and regional food in the areas you travel. Each time of year brings in-season fruits and vegetables that are fresh and flavorful and special dishes and treats are often available to enjoy local and seasonal specialties.
Look for season specific and themed festivals and events as you travel as well. This can sometimes help us determine which time of year to visit a place so that we are there in time to enjoy a certain experience.
Conclusion
We could go on and on about the benefits of RVing in each of the seasons, ways to maximize your RVing throughout the year, and list out wonderful places to go. Hopefully this post has given you some ideas for your own RV trips or maybe made you want to see a part of the country in a season you hadn't previously considered. We wish you safe and happy travels wherever and in whichever season your adventures take you.
What tips and tricks do you have? What are some of your favorite places to visit to enjoy in each season? Let us know in the comments below!
About the Author
Christine Skelton has been a Fulltime Families member since early 2019. She and her husband Kevin have been traveling with their 2 children and dog in their 5th wheel for almost 3 years while working remotely, homeschooling, and exploring the country. You can follow her family's adventures on their Never Stop Adventuring YouTube channel, Instagram, and Facebook, or you can check out their website.
Join Fulltime Families
Fulltime Families Members get access to the best resources, community and discounts.
Fulltime Families is a participant in the Amazon Services LLC Associates Program, an affiliate advertising program designed to provide a means for sites to earn advertising fees by advertising and linking to amazon.com, amazon.co.uk, amazon.ca. Amazon and the Amazon logo are trademarks of Amazon.com, Inc. or its affiliates.