This article may contain compensated links, please read our disclaimer for more information.
The gift giving season is here, and that means it's time to start thinking about what to buy your family and friends. Unfortunately, gift giving can be hard, especially if your loved ones happen to live in a tiny space. This is why we created the Fulltime Families Holiday Gift Guide, which can help you find gifts for RVers that they're sure to love.
That said, the gift guide doesn't cover stocking stuffers. And sometimes, stocking stuffers for fulltime RVers can be even more difficult to choose than bigger gifts! This is because it can be a challenge to find small items that are useful and won't just end up in the garbage. 
Today, we are going to address this problem by sharing the Fulltime Families Stocking Stuffer Gift Guide. In this guide we have listed a huge number of stocking stuffer ideas, and we're certain you'll find the perfect gifts for the RVer in your life.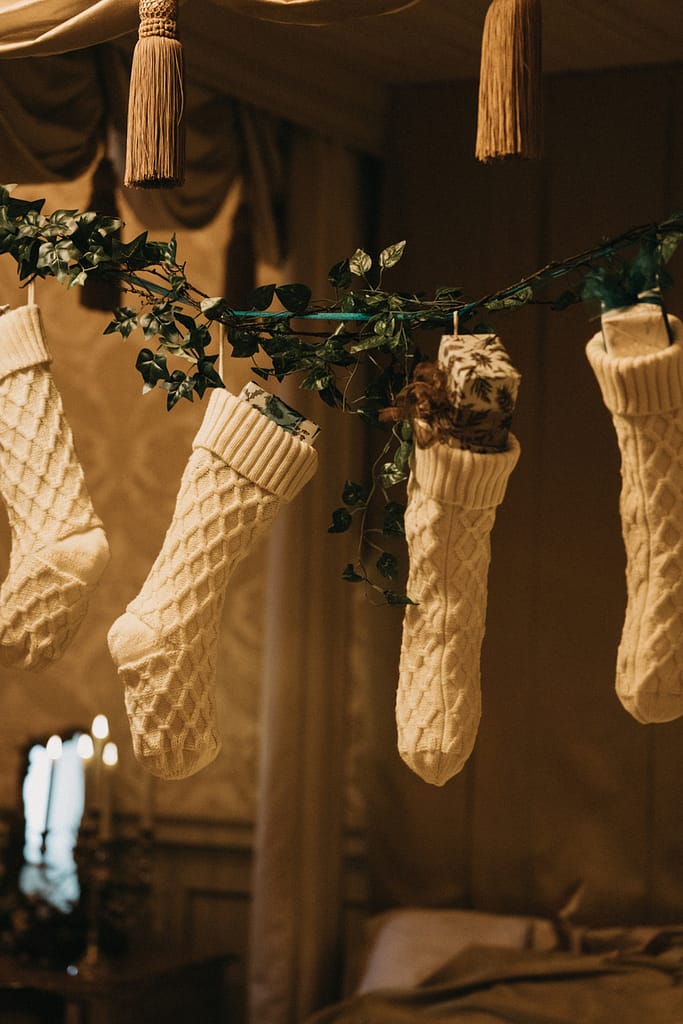 — Stocking Stuffers for RVers: Tools and Toys —
This first section covers items that adults living the RV life will find fun or useful—things that won't take up valuable counter space or end up in the garbage can a week later. Pick from this list and we're betting your RVing loved one will be grinning ear-to-ear as they pull things from their stocking on Christmas morning. 
SOG PowerAccess Deluxe Multi-Tool
Multi-tools are handy for keeping in a pocket or drawer, giving you easy access to make quick fixes. We especially love this multi-tool, which includes plenty of screwdrivers, something every RVer needs.
Prepworks by Progressive Collapsible Measuring Cups
Measuring cups are a must in any kitchen. Unfortunately, RV drawers aren't always the best for storing these cups. Collapsible measuring cups fit better and get the job done just as well.
Petzl Actik Core Headlamp
Flashlights are great, but headlamps are even better when squeezing into tight spaces to do RV repairs. This headlamp is one of our favorites, and we know your RVing loved one will appreciate it too.
Mini Travel Towel
When you're out adventuring, you never know when you might need a towel. Whether it's needed for an impromptu dip in a stream during a hike, or a spilled drink in the backseat, your loved one is sure to be grateful for this mini towel. 
Venture Wipes
That mini towel is fantastic, and super useful in a lot of situations. That said, sometimes a dry towel isn't quite what you need in order to get cleaned up. In these cases, Venture Wipes come in handy. You can use these to clean up whenever water is scarce or while you're out and about. 
When bugs come out to play, the Bug Defense Wipes by Venture Wipes are also super nice to have around. 
Color Changing Fire Packets
One of the best things about living in an RV full-time is the ability to light up a campfire almost anytime. A fire is fun by itself, of course, but these color changing packets make the flames even more exciting. They are one of the most perfect stocking stuffers for RVers. 
Fire Starters
Of course, those color changing packets are useless if you can't get the fire going thanks to some wetter-than-usual wood. That's where these Zippo fire starters come into play. These things can get a campfire going in almost any situation, making them one of the great stocking stuffer ideas for RVers. 
Wool Socks
Cold-weather hiking is no fun without the right gear. One of the most important items? Wool socks. Make sure the RVer in your life never hikes with cold feet by throwing a pair of these in their stocking. 
RV Log Book
It's always fun to look back on your adventures, and having a way to do this can sometimes even be useful when planning future trips. For this reason, we highly recommend every RVer fill out this RV log book. Why not help your RVing buddy out by putting one in their stocking?
— Stocking Stuffers for RVers: Gift Cards —
Small items are great, but sometimes you can't find anything that feels quite right. In this case, gift cards are the name of the game. Gift cards are great because they allow your RVing friend to buy whatever they want or need. We also like that, depending on the type of gift card you choose, they can be appreciated by people of all ages. 
Fulltime Families Gift Card
If your RVing friend is a Fulltime Families member, they will love a gift card to purchase some FtF gear. And if they're not a member yet, a gift card to purchase a membership might be even better.
Amazon Gift Card
Amazon gift cards are also great gifts for full time RVers! RVers love Amazon because they can have their packages delivered quickly wherever they are, and Amazon has almost any RV part or accessory one could ever want.
TechnoRV Gift Certificate
There is always another upgrade that can be made to an RV, and TechnoRV has many of the gadgets a person might want to make such upgrades. For this reason, a TechnoRV gift card is an excellent addition to any RVer's stocking. 
Mobile Must Have Gift Certificate
Another store that has tons of technology geared toward the RVer is Mobile Must Have. This site focuses mostly on keeping RVers connected on the road, so a Mobile Must Have gift certificate is a great option if you know your friend is always looking for the best internet solutions. 
Restaurant Gift Cards
Restaurant gift cards are something that can be appreciated by people of all ages. Whether you choose to give a card from a place the receiver knows and loves already or from a new place they haven't tried yet, they will appreciate a break from cooking and cleaning.
— Stocking Stuffers for RVers: For the Kids —
Finally, we need to talk about stocking stuffers for RVing kids. Because you want things that won't pointlessly clutter a teeny tiny living space, finding consumable items or things that will actually be used on a regular basis is the ideal way to go. Fortunately, there are tons of options that fit those criteria. 
Mr. Bubble Foam Soap
A super fun consumable product is the Mr. Bubble Foam Soap. It's ideal for RVers because it requires very little space, provides plenty of fun, serves a purpose, and gets washed down the drain.
Crayola Bath Paints
Similar to the foam soap mentioned above, Crayola Bath Paints are also a great pick. They can be used to paint shower walls or even little tummies, but are also soap, meaning they can be sudsed up and rinsed off. 
Magik Gamified Toothbrush
Toothbrushes are a necessity. Why not fill this need and give a fun gift at the same time? The Magik Gamified Toothbrush makes brushing teeth a fun activity that kids actually enjoy.
Mr. Sketch Scented Markers
Art supplies are sure to be enjoyed by kids of all ages, and they're the kind of thing that need replenishing from time to time. Refill a kid's marker supply with these scented markers and make their day.
Creativity for Kids Mini Crafts Kits
Another option is to purchase a mini craft kit or two. From simple painting kits to more complex sewing kits, there are options for all ages, and they will be thoroughly enjoyed.
Mini Activity Books
Want a fun activity that doesn't involve messy crafting? Mini activity books are also a great option. These can include paper dolls, stickers, mazes, word searches, and more.
LilGadgets BestBuds Volume Limited in-Ear Headphones
Kids who use electronic devices should always have earbuds or headphones in order to save their parents' sanity. These volume-limiting earbuds work great for this.
The North Face Salty Dog Beanie
A beanie is a must-have item no matter who you are. After all, even those who winter in the south will see some cold days. This North Face Kids Beanie is great for boys and girls.
Mini LEGO Sets
As we mentioned in this post, LEGO blocks are some of the best toys an RVing kid can own. They are versatile, small and lightweight, tradable, and collectible. For this reason, we like to buy our tiny RVers at least one new LEGO set every holiday season. 
Card Games
Card games are another great thing for RVing kids to have. They are small and easy to store, but just as fun as the larger board games out there. Additionally, because they are small, they make great stocking stuffers. Some of our favorites include Set, Quiddler, Uno, Eye Found It Card Games, and Pokémon. 
Play Silks
Like LEGO, play silks are super versatile, making them a fantastic toy choice. These simple strips of fabric can be used as doll blankets, as dress-up skirts, puppet show curtains, and much, much more. 
As you can see, there are tons of great options for those looking for stocking stuffers for RVers. Which items will you choose to make your RVing friends' season a bit brighter? 
Join Fulltime Families
Fulltime Families Members get access to the best resources, community and discounts.
Fulltime Families is a participant in the Amazon Services LLC Associates Program, an affiliate advertising program designed to provide a means for sites to earn advertising fees by advertising and linking to amazon.com, amazon.co.uk, amazon.ca. Amazon and the Amazon logo are trademarks of Amazon.com, Inc. or its affiliates.