Summer can be rough when you're living in an RV. The fact is, RV air conditioners just can't keep up with extreme heat. Parking in the shade, covering the windows, and using an extra A/C (if you have one) are all things that can help, but the best solution of all is to choose your RV destinations wisely during the hottest months. 
By picking destinations that are in the mountains, by water, or far north, you can avoid much of the extreme heat that beats down on the majority of our country during the summer. Select from these ideal summertime RV destinations below and you'll be cool and comfortable even in the middle of August!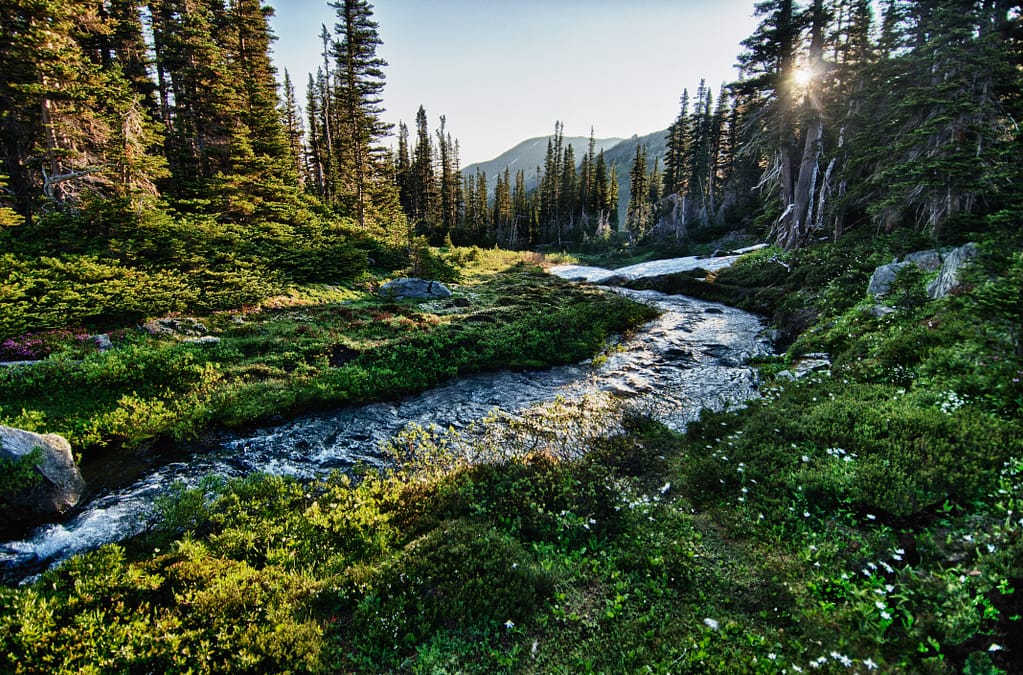 Olympic National Park
Washington
Easily one of the most magical places in the United States, Olympic National Park is also one of the most ideal summer RV destinations. Here you'll find absolutely stunning beaches, gorgeous mountains, the incredible Hoh Rainforest, and nice, cool temperatures. You're sure to love hiking the many different landscapes, and you'll never forget the amazing views found around every corner of this park. 
Our favorite place to go RV camping in Olympic National Park is in Hoh Campground, which allows you to park right in the middle of a rainforest. It is absolutely gorgeous, but you'll need to go in prepared to be without internet for a few days.
North Cascades National Park
Washington
Another Washington national park that is absolutely perfect during the summer months is North Cascades National Park. Because it sits at a high elevation, this park almost never gets hot. On top of that, the incredibly blue waters, gorgeous snow-capped mountains, and greenery all around make for a stunning landscape that you will definitely want to hike, photograph, and explore. 
When it comes to RV camping in North Cascades National Park, we recommend Gorge Lake Campground. This is dry camping, but the location cannot be beat. Just be sure your RV can fit!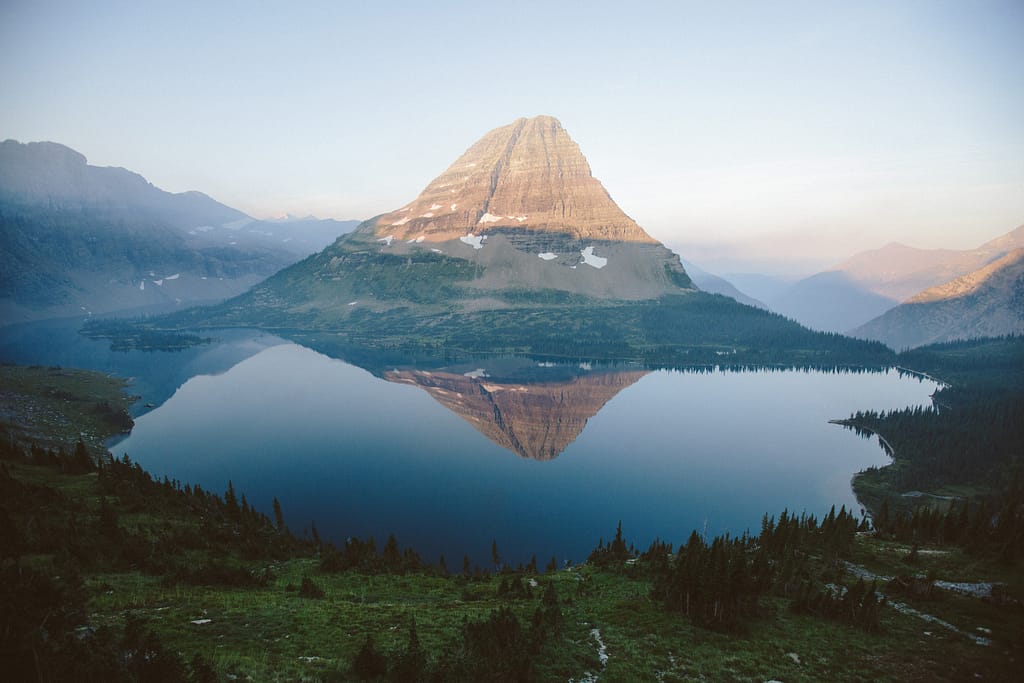 Glacier National Park
Montana
One of our favorite national parks in the country, Glacier National Park should be on every RVer's bucket list. This park is located both in the mountains and far north, meaning you might just find yourself feeling a bit chilly while visiting the area. Some people even find snow to play in while exploring the park well into June!
Glacier National Park is home to Apgar Campground, a great choice for RVers who are okay with dry camping and want to stay in the park. If you need full hookups, you will need to look outside of the park.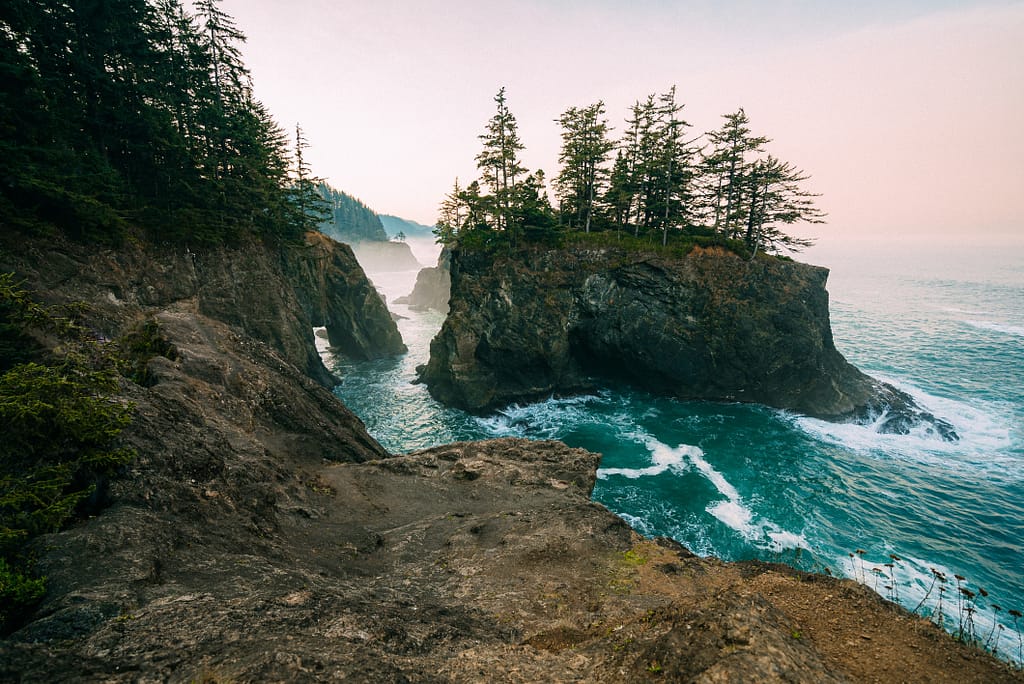 The Oregon Coast
Oregon
Like all of the Pacific Northwest, Oregon as a whole tends to stay relatively cool during the summer. That said, if you're able to snag a spot by the ocean, you'll have even cooler weather and some of the most beautiful views around. The way the rocky cliffs meet the water on parts of the coastline is just stunning, and the sunsets here really cannot be beat. 
RV camping is not hard to come by along the Oregon coast. In fact, several Thousand Trails parks sit in a row along the line where the land meets the sea. If you have a Thousand Trails membership, these parks are the way to go, and Seaside RV Resort and South Jetty RV Campground are our absolute favorites.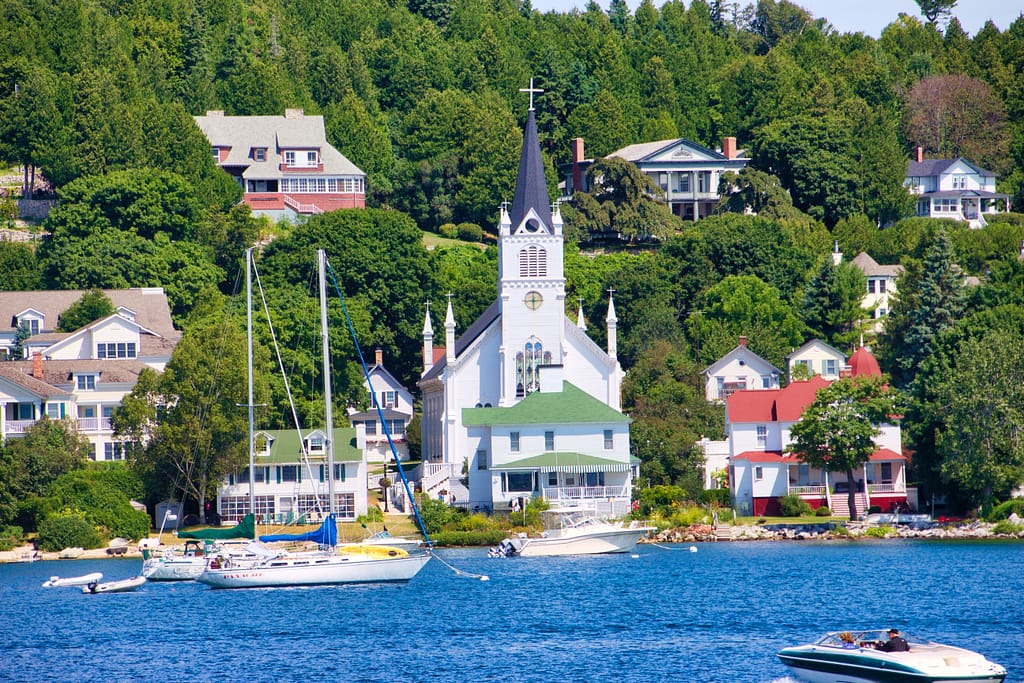 Michigan's Upper Peninsula
Michigan
Michigan's Upper Peninsula (aka the "UP") is like another world entirely, and thanks to its northern location and the Great Lakes all around the peninsula, the weather here is pretty much perfect during the summer. Be sure to spend a day exploring Mackinac Island and make a trip to Pictured Rocks National Lakeshore for some unique experiences. 
There are a lot of campground choices in the UP. Hovey Lake Camping Area and Raco Airfield are good choices for free dry camping, and there are plenty of full-service campgrounds around.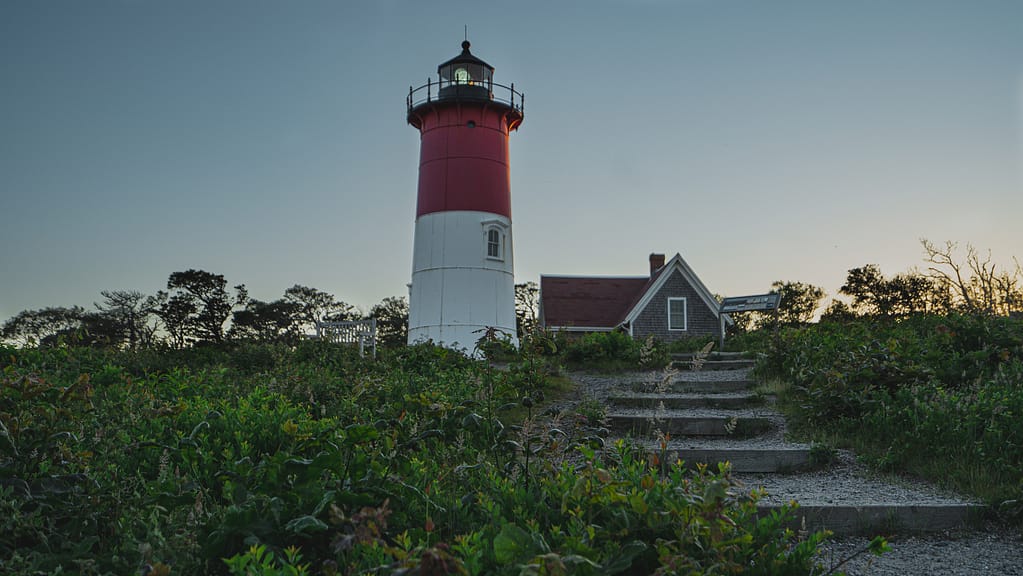 Cape Cod National Seashore
Massachusetts 
Heading over to the east side of the country, our next recommendation as far as summer RV destinations go is Cape Cod National Seashore. This NPS site is absolutely perfect for those who enjoy relaxing on the beach, playing in the sand, or surfing. The lighthouses here are picturesque, and the learning opportunities offered both in the visitor center and by the park rangers are fantastic!
If you have a Thousand Trails membership, it is possible to stay at Gateway to Cape Cod RV Campground and day-trip to the seashore. That said, we highly recommend boondocking on the beach if you are able.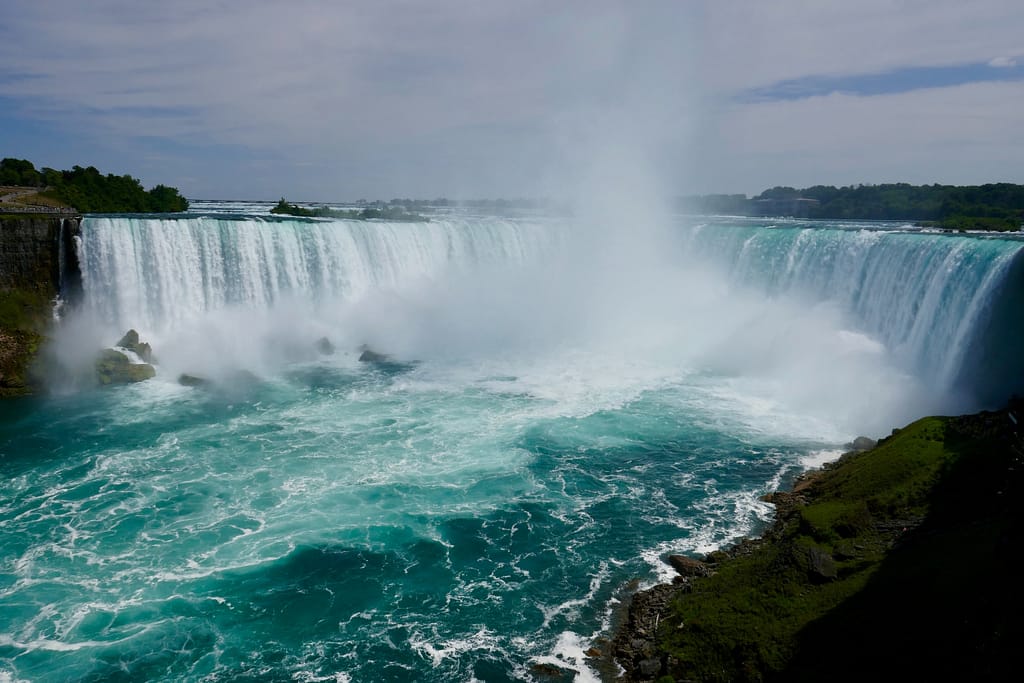 Niagara Falls
New York
Another of the great east coast summer RV destinations, Niagara Falls rarely gets hot and provides amazing opportunities for sightseeing and escaping into nature. Riding the Maid of the Mist tour boat is a once-in-a-lifetime experience, and the Cave of the Winds is a worthwhile experience as well. For hiking, there are many state parks in the area that offer fantastic trails. 
Four Mile Creek State Park, in our opinion, is the best place to stay when visiting Niagara Falls in an RV. The sites are level and provide water and electric hookups. The bathrooms are clean, there is a dump station, and best of all, your state park camping pass will get you into all area state parks for free (including the parking on Goat Island near the falls)!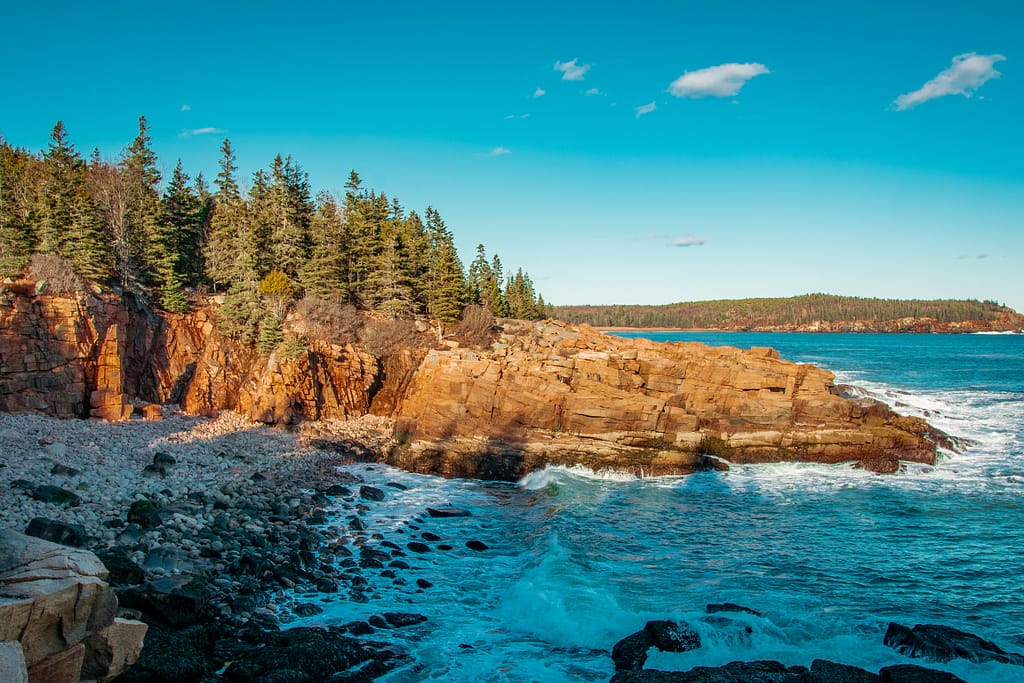 Acadia National Park
Maine
Last but definitely not least, we must mention Acadia. Like Glacier and Olympic, this is one of our absolute favorite national parks, and is one everyone should see at least once. Not only that, it's perfect as a summer RV destination. Be sure to see (and hear) Thunder Hole, spend some time soaking up the sun at Sand Beach, hike the Schoodic Peninsula, and take a walk around Jordan Pond.
Those who want to save money by using their Trails Collection membership can stay at Mount Desert Narrows, Narrows Too or Patten Pond. Meanwhile, if you prefer to stay in the park, you have several options—including our favorite, Schoodic Woods Campground. 
As you can see, there are plenty of absolutely amazing RV destinations that allow you to escape the summer heat while still enjoying beautiful scenery, awesome hikes, and other wonderful attractions. If you're feeling hot where you are now, head to one of these spots. You won't regret it!