One of the first things most people ask when considering RV living is, "How much does it cost?"
This is understandable. After all, you probably want to know whether or not full-time travel is even something you could consider financially. There is no easy answer to this question, and the truth of the matter is, you can make RV life as expensive or as affordable as you see fit.
Unfortunately, that answer doesn't tend to be very satisfactory, and it certainly isn't helpful. Therefore, we are going to use this article to help break down the real cost of RV living for you. While this won't give you a cut-and-dry answer to your question, it will help you come up with an answer of your own.
This is actually much better than a set-number answer because it means you can play with the numbers and the categories until you find a number that fits your bank account.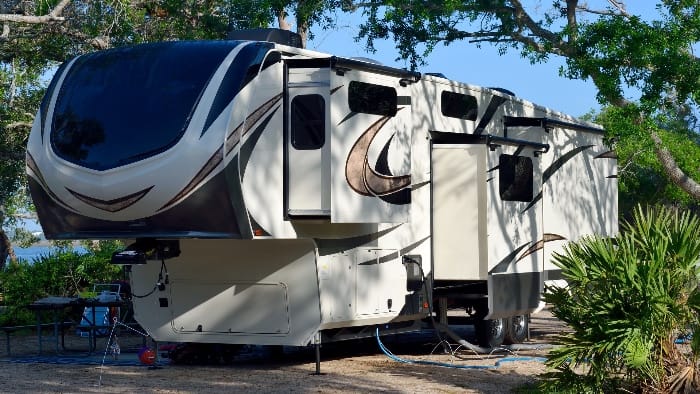 Rig
Your rig—meaning your truck and trailer, or your motor home and toad—is the very first thing you'll need to think about when budgeting for RV living. There are tons of options when it comes to choosing a rig, and this article can help you decide which type of RV is best for your family.
That said, before making any firm decisions, you will want to ask yourself whether or not you plan on taking out a loan to purchase your new home-on-wheels. While many people do finance their motor home or trailer, some people find it is much easier to budget on the road without any debt hanging over their head.
Depending on what kind of setup you go with, you might spend as little as $6,000 on your rig, or you could spend as much as you might on a house (if not more). Either way, we highly recommend purchasing a used camping unit and getting a good warranty, if at all possible.
Camping
Of course, you'll need somewhere to park your new home. For some, camping fees are an enormous part of the monthly budget, and if you're paying the usual nightly rates, you could easily spend $1,500 a month or more on campsites. That is a lot of money.
For this reason, we highly recommend investing in a camping membership or two. We also like staying at state parks or boondocking to save a bit of money, and we find that requesting weekly or monthly rates at private campgrounds can help shave costs as well.
By using these tips, many people are able to cut down campground costs to only a few hundred a month, if that.
Internet
Getting access to the internet while on the road can be a bit tricky. That said, please feel free to look over our article on RV Internet Solutions when you have some time.
Most people choose to use a hotspot or two, along with a cell plan for each adult. Some RVers are able to secure grandfathered unlimited plans, while others make do with the plans that are available on today's market. Depending on what your internet needs are, you may even be able to get away with relying solely on this free internet trick.
Once again, this budget category varies greatly from family to family. Some may spend $500 on internet access, while those who need internet less often could spend nothing at all.
Phones
Obviously, you will want to have at least one phone handy during your travels. That said, your phone bill really doesn't need to change that much unless you just want to change the way you do things.
Some people do change plans or providers to ensure they have coverage in more places or to get a good deal on a hotspot plan, but all in all, you can probably count on spending about the same amount on phones on the road as you do now.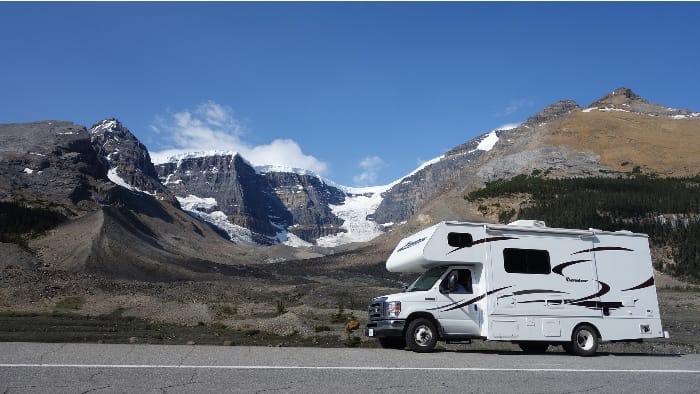 Roadside Assistance
Roadside assistance is extremely important when you'll be spending lots of time on the road and traveling far from family and friends. Not only will you want roadside assistance for your car or truck, but you'll also need a company that can help with your RV as well.
There are a few different companies that can do this including, Good Sam and Coach-Net. The cost is minimal (under $200 a year) and as soon as an issue arises, you'll be so glad you made that investment.
Insurance
Insurance is a biggie. You will need good full-timers insurance that covers your rig and everything in it. The cost of this RV insurance cannot be compared with the very cheap car insurance that most buy, but it's worth, should anything happen to your home.
Health insurance will also need to be taken into consideration. If you currently have insurance through an employer and would be leaving that job to hit the road, you'll need something to replace the lost insurance. Some people choose to use healthshare services while others turn to the healthcare marketplace. Still others pay for private insurance out of pocket or seek out location-independent work that will provide insurance. What you do will depend on your budget and needs.
Obviously, there is no way for us to predict your insurance costs. Our recommendation is to get some quotes now and to get an idea of what to expect. If you'll be changing your domicile state, be sure to take that into consideration when getting quotes. You may also want to get new car insurance quotes if you'll be changing states or vehicles.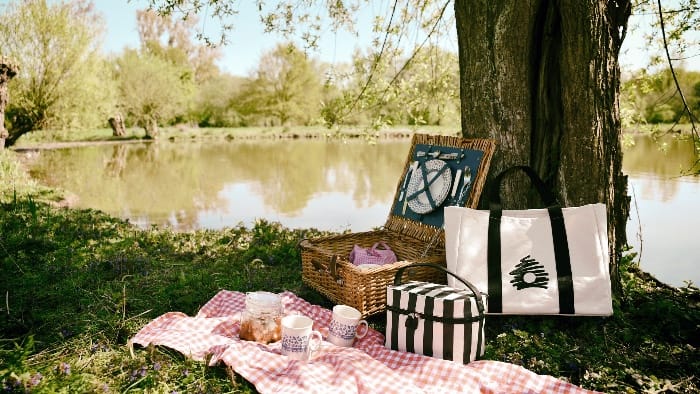 Food
Obviously, if you continue to eat the same, your food budget should stay about the same. However, food costs do tend to vary from state to state, and it is tempting to eat out more often when you find yourself out exploring the local sights.
For this reason, we recommend increasing your food budget by a little just to allow for those unusual circumstances that occur so often when traveling full-time.
Fuel
Your fuel costs depend a lot on how often you travel. If you stay in one place for a month at a time and travel short distances when you do travel, your fuel budget should stay relatively manageable. If you travel every few days and cover vast distances in short amounts of time, you're going to see this budget skyrocket.
When creating your fuel budget, consider how often and how far you'll be traveling, as well as the kind of gas mileage your rig gets. Also take into consideration how often you'll be out sightseeing.
Entertainment
Nobody travels the country to sit at home all day and stare at a wall. For this reason, you should expect your entertainment budget to bloat a bit during your travels. However, there are ways to keep entertainment costs down and still see some awesome things.
The first thing we recommend doing is purchasing some reciprocal memberships. These memberships will get you into all kinds of attractions, and most of them are pretty budget-friendly. Another great idea is to search the internet for free things to do in a given area. Local playgrounds are always fun to seek out, and hiking trails can be found in almost every area.
Clearly, this is one of the most flexible areas of your budget. Allow what you can, but don't worry if it isn't much. We're confident you'll find fun things to do anyway.
Emergency Funds
If there is one thing that is set in stone when it comes to RV living, it's the fact that things will go wrong. By having a nice savings account at the ready, you can make those problems much less stressful to deal with.
In order to create and maintain a good emergency fund, we find it best to put a dedicated amount of money into the emergency account each month. How much you contribute is up to you, but remember that the idea is to keep this fund well-stocked for those rainy days.
Other Budget Items
Clearly, there are other things you'll want to budget for. These include things like clothing and gifts, which will likely cost the same in an RV as they did in a house. Other things you might want to budget for are rallies and other events, as well as a Fulltime Families Membership.
Think about all the things you pay for now and whether you will be paying for them while traveling. Be sure to include everything when creating your budget. After all, it's better to budget too much than too little!