This article may contain compensated links, please read our disclaimer for more information.
The weather is warming up, and that means it's time to start thinking about how to keep your RV cool during the super hot summer months. It's a pretty well-known fact that RVs aren't the most insulated homes out there, and those full-timers who use their Clam Shelters on a daily basis will be looking for ways to keep those tents cool as well. 
Fortunately, there are ways to beat the heat and stay comfortable in both your RV and your Clam tent! You just have to go in knowing that doing this takes a bit of planning and know-how. Lucky for you, we can help with both those things.
Below are our top tips to keep your RV cool this summer. Keep these things in mind when planning trips, setting up camp, and as you live your day-to-day life, and you should be able to stay comfortable for the entire season. 
Travel North
The first and perhaps most obvious tip is to simply go north. As a general rule, the further north you're able to travel, the more comfortable the temperatures are going to be.
This alone might save you from running your air conditioner at all, and will certainly make it a lot easier to keep things nice and comfortable in both your RV and your Clam. Just make sure you head south again before the cold weather blows in next fall or you'll be feeling pretty chilly!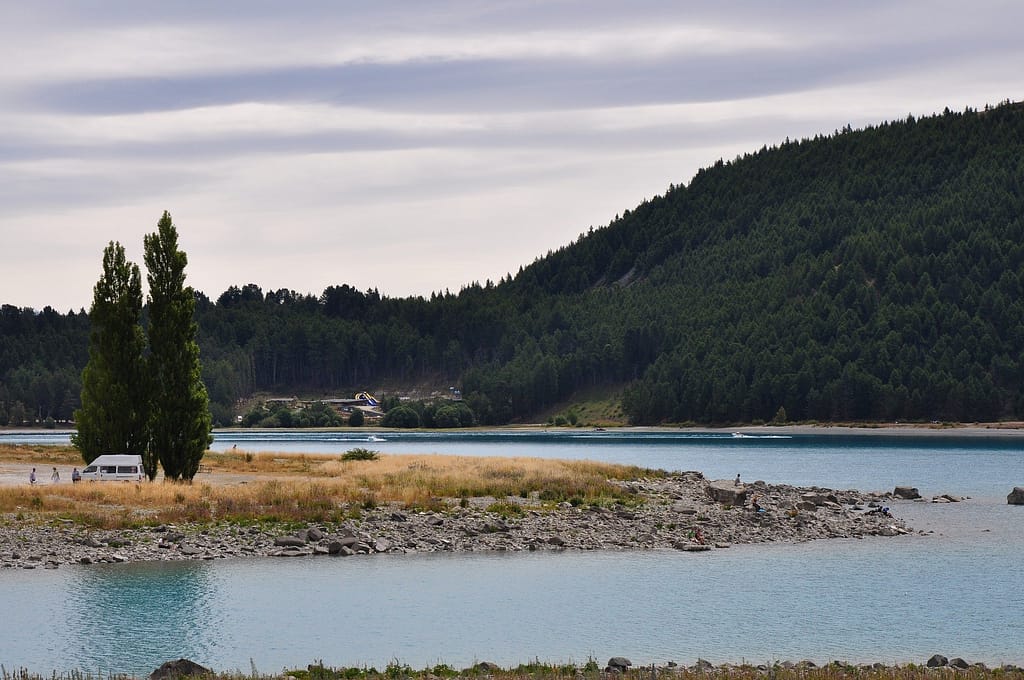 Watch Where You Park
Even if you can't get all the way to, say, Oregon or Maine, you can help keep your rig cool by parking strategically in whatever state you are staying in. By this, we mean make sure you park in as much shade as possible. Parking near water can also be extremely helpful. 
If you're able to park in full shade, you could reduce the temperature of the air your A/C has to cool by up to 20 degrees. In this case, the air temperature in the Clam will also be reduced by about that much. That's an astounding difference!
Yes, parking in full shade might mean your satellite won't work as well, but most satellites can be moved around a bit to get the best reception possible, and even if that isn't the case, being comfortable is more important than having excellent TV or internet connection in most cases. 
Improve Insulation
Obviously, your Clam doesn't have any insulation at all. That said, the RV does have some, and there are ways to improve upon what you do have in order to keep your RV cool. 
Consider putting Reflectix in all the windows in order to keep cool air in and hot sunlight out. You might also put towels or blankets around doors and over windows to keep the cool air from escaping. 
Replace Lights
Traditional light bulbs put off a lot of heat, which adds to the temperature of your RV or Clam. In order to keep the temperature down, it's a good idea to replace all lights with LED bulbs. Not only do these put out much less heat, they also use far less electricity, making them a much better option for boondocking.
On top of all that, LED lights last longer than other lights, meaning that while they are a bit of an investment upfront, you won't have to replace them for quite some time. 
Cook Outdoors
Using the oven or stove in your RV is going to heat things up. Clearly, you can't just stop eating, but you can take the cooking outside. Invest in a good grill and plan to cook the majority of your meals outside on the grill or with an Instant Pot. This will get all of the heat of cooking out of your home so you can keep your RV cool and relax in comfort after dinner is made.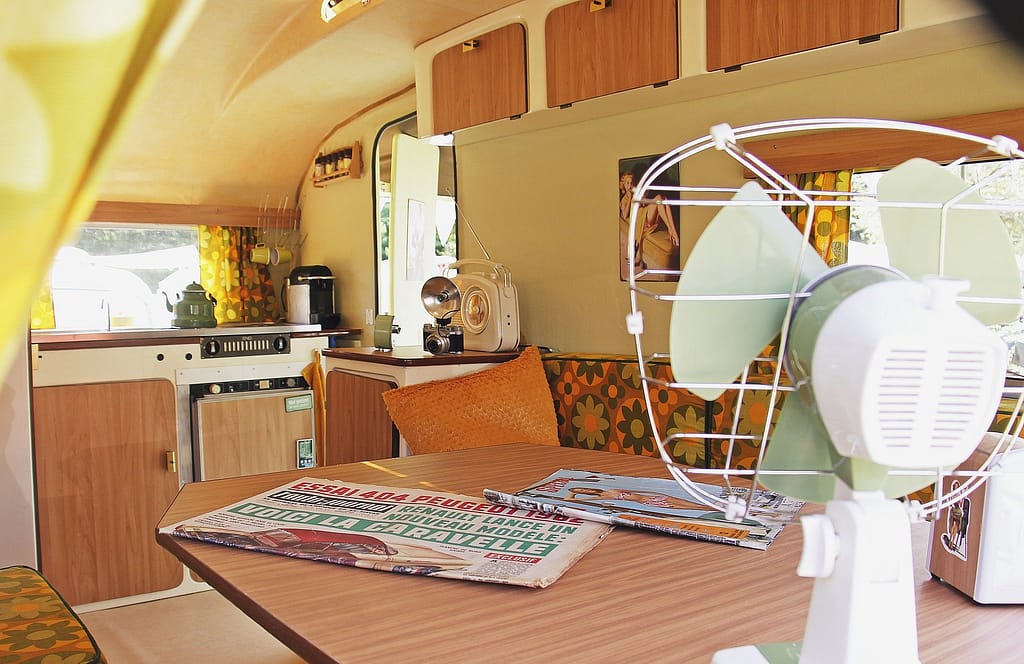 Use Fans
Make sure to put fans to good use! These are perfect when boondocking, as they require much less electricity than an air conditioning unit and can be run off of a battery without issue. 
Rooftop vent fans can work wonders if you run them while the windows and/or other rooftop vents are open. This is especially true of the Fantastic Fan or the MaxxAir Fan—both excellent products that are loads better than the stock vent fans that tend to come in RVs. 
As far as freestanding fans go, we really like the Vornado 630. This is perfect for the Clam, but can also be placed in an open RV window with the other windows open to create a nice cross-breeze.
Take Care of Your Rooftop A/C
Your rooftop air conditioner works hard during the summer months. For this reason, it's important that you take good care of this appliance. Fortunately, that is easy enough to do. 
Here are our RV rooftop A/C maintenance tips:
Check the Cover

— Your plastic RV A/C shroud is what keeps dirt and debris out of the A/C unit. Peek at it often to make sure it isn't broken.

Clean the Coils

— Your RV A/C coils should be free of dust and nice and straight. If they aren't, clean them with a vacuum and straighten them

carefully

with a comb. They bend more easily than you'd think.

Clean the Filter

— The filter at the A/C intake can get really dirty, really fast. Clean this every week or so during the summer, making sure to replace it when it's too worn out to be of use anymore. 

Provide Power

— An RV A/C unit that is run on too little power can become damaged. For this reason, you shouldn't run your A/C unless you're hooked up to at least 30-amp electric. If you must use your A/C unit when hooked up to 20-amp, consider a

soft-start modification

. 
Invest in a Portable A/C
If you're in a hot place or if you only have one rooftop unit, you might find that your RV air conditioning system just can't keep up. On the other hand, it could be that despite setting up in the shade and making sure you're using LED lights, the Clam is just too warm to use. In either case, you might want to invest in a portable air conditioner to cool things down.
We really like the Zero Breeze Mark 2 for this purpose and highly recommend it to all Fulltime Families. This unit can run off of a battery for 3 to 5 hours. However, it can also be plugged in.
If you choose to plug the unit in, you will want to make sure you have enough power to run both the portable unit and your rooftop air conditioners. If you can, you might want to plug the portable A/C into the 20-amp outlet at the power pedestal, so it's pulling from a different source than the RV A/C unit(s).
Join Fulltime Families
Fulltime Families Members get access to the best resources, community and discounts.
Fulltime Families is a participant in the Amazon Services LLC Associates Program, an affiliate advertising program designed to provide a means for sites to earn advertising fees by advertising and linking to amazon.com, amazon.co.uk, amazon.ca. Amazon and the Amazon logo are trademarks of Amazon.com, Inc. or its affiliates.