This article may contain compensated links, please read our disclaimer for more information.
Buying an RV is the first step on the road to becoming a true RVer. The next step? Actually driving the thing. 
Driving RV motorhomes and trailers is intimidating. We get it—RVs aren't exactly the most nimble vehicles on the road, and one mistake or unfortunate event could be disastrous. Luckily, there are ways to help ensure you and your family are safe while driving an RV down the road. 
Below are our top tips for staying safe while driving RV trailers or motorhomes.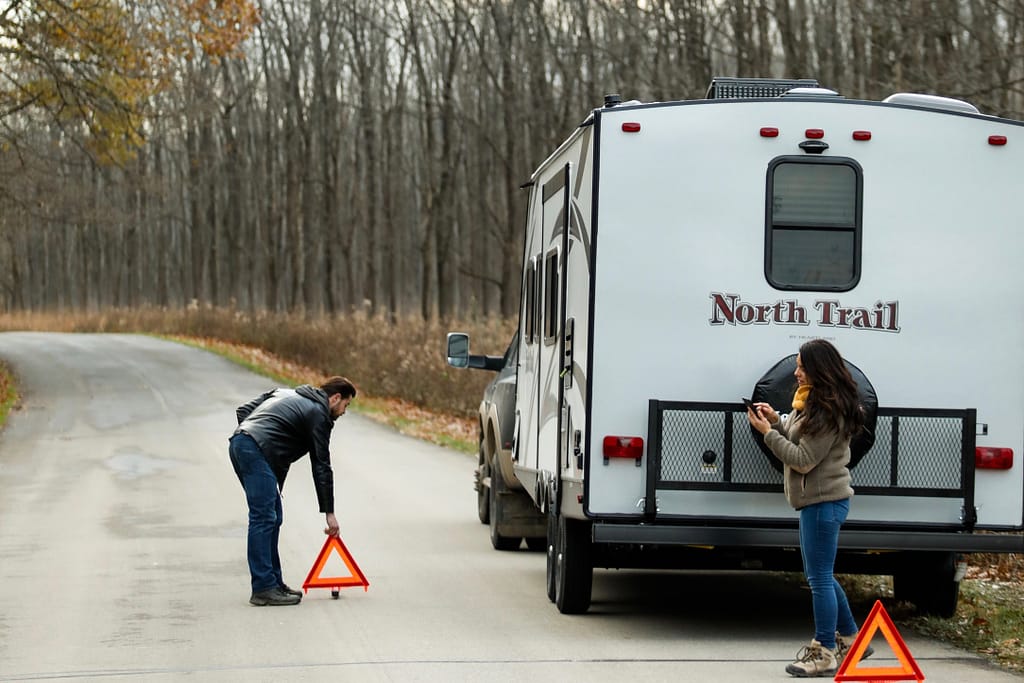 Invest in Roadside Assistance
Obviously, you will want to have good insurance before hitting the road full-time. However, many people forget to also invest in a high-quality RV roadside assistance program.
At the very least, roadside assistance will save the day if you need a jump or to replace a flat tire. That said, it could also quite literally be a lifesaver if you should find yourself stranded somewhere unsafe, so be sure you enroll in a program before taking your first trip. 
Keep Up with Maintenance
Another thing you can do before you ever hop in the driver's seat to make driving RV trailers and motorhomes safer? Make sure you've done all the required maintenance. Keeping up with your RV tires is crucial, and forgetting to check the brakes could cause major problems. Additionally, those with motorhomes will need to keep up with the engine and other things under the hood. 
Install a Tire Pressure Monitoring System
Even keeping up with your tire maintenance won't always prevent problems with your RV tires. For this reason, it's always a good idea to install a tire pressure monitoring system on your RV tires. Such a system can detect when a tire is losing air and will alert you so you can pull over before damage occurs or your family finds themselves in an unsafe situation.
Plan Your Route Wisely
One thing you learn pretty quickly when driving an RV is that not all roads are made for big rigs. In fact, some roads are downright dangerous for those with larger vehicles. For this reason, it's important to plan your route carefully before driving RV motorhomes and trailers. 
Use a program such as RV Trip Wizard—combined with a Trucker's Atlas and The Flattest Route website—to make sure you aren't going to run into any low clearances, bridges with low weight limits, or super steep grades. 
Know Your Height and Weight
Planning a route that avoids steep grades and low clearance bridges is great. However, things just happen without warning sometimes. Construction work could mean a temporary bridge is put in place, or a wrong turn could put you on a route with low clearances.
For this reason, it is important that you know how tall your rig is, as well as how much it weighs fully loaded. This will help you quickly determine whether a certain obstacle is too much for your RV to handle. 
Another thing you'll want to pay attention to? Your cargo carrying capacity. This is the amount your RV can safely carry. This number and your towing capacity are both very important to keep in mind when loading your rig. Carrying or towing beyond these limits can be extremely dangerous. 
Pay Attention to Weather
Driving in ice and snow or heavy winds can be super scary, and getting stuck out on the road when tornadoes are popping up is terrifying. 
Make sure you pay careful attention to the weather forecast, especially as your travel day approaches. If bad weather is in the forecast and it is possible to push your move-out a day or two, do that. If you have to leave the campground you're in when the weather is terrible, consider driving just far enough to find a parking lot where you can hang out until the storm passes.
Alternatively, if a bad storm is coming in out of the blue and you have only a little time to prepare, ask the campground staff where the nearest safe shelter is so you can get there as soon as possible.
Hitch Up Properly
If you'll be towing a trailer or a tow car, make sure you know how to hitch up properly. Keep in mind the aforementioned towing and cargo carrying capacities as well as your hitch weight. Use a hitch that can handle the weight of your tow behind and a weight distribution hitch when necessary, consider buying a sway bar if towing a bumper pull trailer, make sure whatever you're working has its own brakes. 
Hitching up properly is another super important step toward making sure you are driving safely down the road. 
Carry Emergency Supplies
Roadside assistance is awesome to have, but someone won't always be able to help right away. On top of that, there may be times when you have to help yourself due to lack of cell signal. Be sure you have the things you need to take care of yourself in case of emergency. 
Some important things to pack include: 
Spare Tire

Jumper Cables

Extra Fuel

Hand-Crank Flashlight

Hand-Crank Weather Radio

Portable Phone Charger

Emergency Blankets

Non-Perishable Snacks

Bottled Water

First Aid Kit

Traffic Cones

Emergency Vehicle Warning Lights

Tool Kit
Related: Playing it Safe When You RV Full Time
Always Do a Walk Around
It is important to do a walk-around every single time you drive your RV. Look at the tires to ensure there are no bubbles or worn spots, check the storage bay doors, check and double check your hitch, and look for anything else that might be out of place. This is also a good time to ensure that everything inside the RV is secured properly and your rearview mirrors are in the right position. 
Related: How to Avoid Expensive RV Mistakes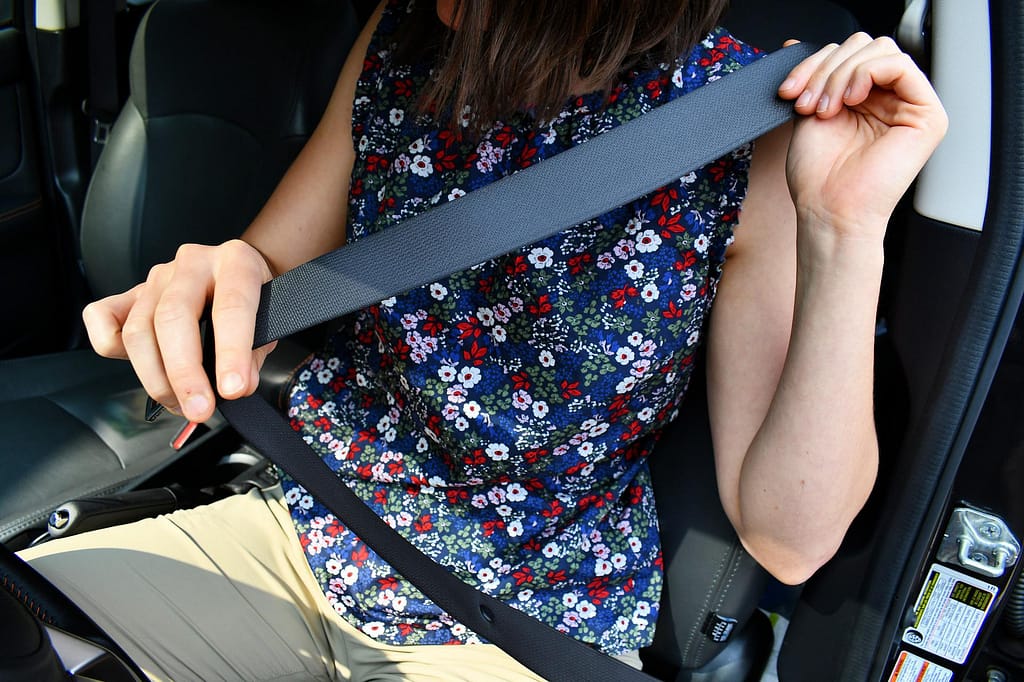 Use Seatbelts
Okay, so this one probably should go without saying. However, many people think that seatbelts are unnecessary for passengers while driving RV motorhomes. This isn't true. Wandering around the motorhome unbuckled could mean being thrown around the RV and might be distracting for the driver. 
On a related note, some people wonder, "Can you ride in an RV while driving?" Obviously, yes, you can ride in a motorhome while it is in motion. However, you should never ride in a fifth wheel or trailer while it is being towed. All people (and pets) should be safely buckled into the tow vehicle. 
Watch Those Turns, Take It Slow, Leave a Gap
Now that you've taken precautions, you have a route, your rig is ready, and you're all buckled in safely, it's time to hit the road. 
While you're driving RV motorhomes and trailers, it is important that you know to make wide turns. Additionally, you will want to take it slow, making 55 or 60 mph your max speed. Leaving a large gap between you and the vehicle in front of you is another important tip, as stopping a big rig takes a lot longer than stopping a car, meaning that gap could save you from having an accident. 
Never Drive When Tired
We all know how dangerous it is to drive while drowsy. Nevertheless, people do it. This can be especially tempting if you're almost to your destination and just need to push through for another hour or two. Just don't. 
If you're feeling sleepy—or even just tired because driving is particularly taxing due to weather or traffic that day—pull over and give yourself a break. You have your home-on-wheels with you after all, and can even lie down in your own bed for a nap.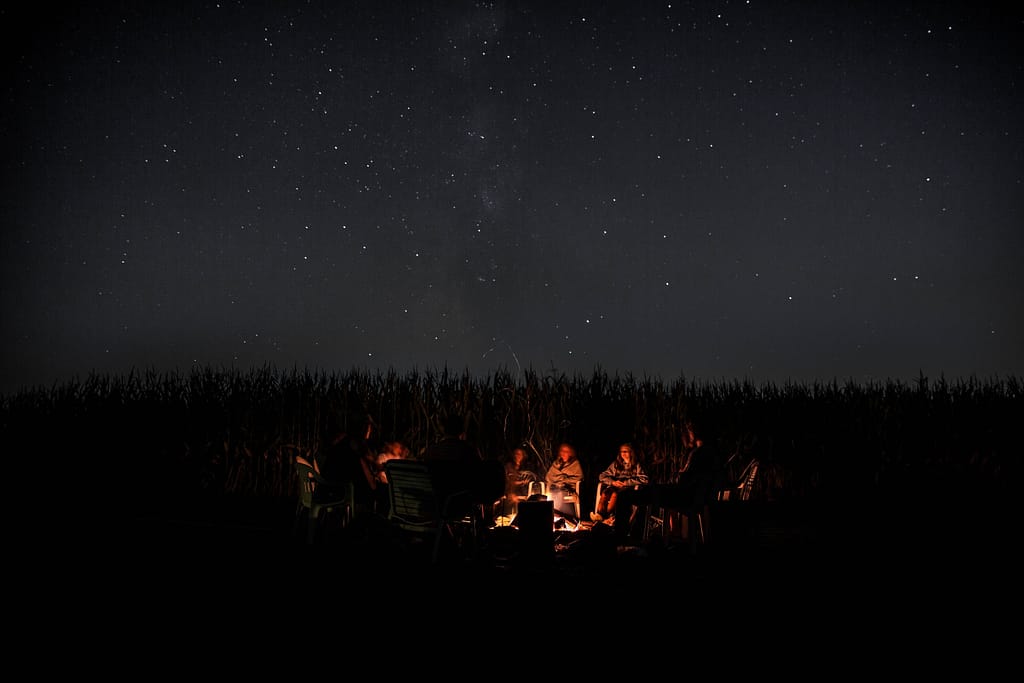 Travel or Communicate with Friends
It's always a good idea to ensure someone knows where you are and where you're headed while traveling. Keeping in touch with family and friends in your home state is one way to go about this. 
Another option? Create a traveling tribe. Traveling with other people makes things more fun and can be safer, and even when you split off from your RVing friends, you can keep in touch. This allows you to share travel plans both for safety and so you can plan to meet up again soon. 
Join Fulltime Families
Fulltime Families Members get access to the best resources, community and discounts.
Practice Makes Perfect
If you've never driven an RV before, you probably feel a little overwhelmed by the idea. Reading tips in a blog post will help a little, but the most important thing you can do for your first trip out is practice.
Head to an empty parking lot and practice driving your rig. Get a feel for how wide turns need to be. Practice backing into makeshift "campsites". Use the brakes so you know what you can expect from them. 
Still don't feel confident you know how to drive an RV safely? You might benefit from RV driving school. Online RV driving lessons are easy to find, and some places even offer in-person lessons. To find these in-person lessons, try searching for "RV driving school near me".
Fulltime Families is a participant in the Amazon Services LLC Associates Program, an affiliate advertising program designed to provide a means for sites to earn advertising fees by advertising and linking to amazon.com, amazon.co.uk, amazon.ca. Amazon and the Amazon logo are trademarks of Amazon.com, Inc. or its affiliates.