This article may contain compensated links, please read our disclaimer for more information.
Christmas is just around the corner, and if you haven't already, now is the time to start making plans for the celebrating Christmas in your RV. 
Obviously, living in an RV never stopped anyone from fully enjoying the Christmas holiday. That said, it does present some unusual challenges that may require a bit of creative thinking. For this reason, you will definitely want to dive into the planning process as soon as possible, especially if this is your first Christmas in your tiny home-on-wheels. 
The good news? Many people have gone before you. These people have all found amazing ways to celebrate Christmas on the road. We're confident you will also come up with your own wonderful traditions and ways of having fun, and we're here to help you out. 
In this article we are going to explore many of the ways people like to celebrate Christmas in their RV homes. Take the ideas that appeal to you, mold them into something of your own, and get ready to have an absolutely amazing time celebrating Christmas in your RV.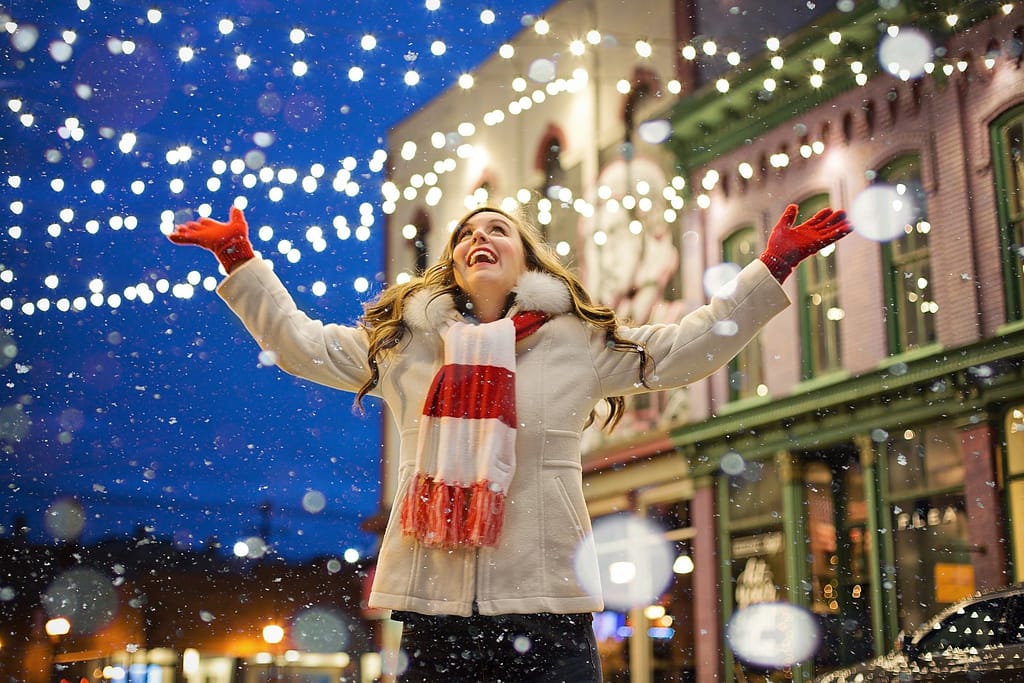 — Making It Special —
When you were living in a stationary place, you probably celebrated Christmas with family or a group of close friends. You might have gone to your family's church for holiday events and services, and you probably attended some sort of community event.
When you're on the road, it can feel difficult to find those sorts of holiday experiences. However, these things are available to you—it just takes a little more work to find them. 
Here are some of our favorite ways to make Christmas special while traveling full-time. 
Meet Up with Friends or Family
We all know that friends and family make everything more special. This is just as true for Christmas as anything else (and possibly even more so), so we highly recommend finding a way to be with those you love over the holidays.
This doesn't have to mean going back to where your family lives if it's too far away. It could simply mean meeting up with friends on the road, or even making new friends by making a point of attending a Fulltime Families event or being where other Fulltime Families members are. 
Not a member of Fulltime Families yet? Join now so you can start finding community on the road!
Find a Church Service
If you're religious, church is likely a big part of your holiday celebration. Obviously, you won't be able to attend service at your home church if you're out traveling, but you can definitely find a different service to attend. Pretty much any town or city in the country will have at least one church, and most have a bunch to choose from.
If you'll be in one place for a few weeks before Christmas, try attending some churches in the area to get a feel for which Christmas service you might like best. 
Volunteer Somewhere
Volunteer work is a huge part of the holidays for many families. Being on the road does not mean you have to miss out on this part of the holiday season. Almost all communities will have volunteer opportunities available. Try calling up local food banks or other local charities to see who can use an extra set of hands. Don't forget to get the kids involved and invite friends if you have some in the same area. 
Find Community Holiday Events
Finally, we highly recommend attending community holiday events to really get into the Christmas spirit. Pretty much every community in the country will have some sort of celebration, and larger cities might have several options to choose from.
Run an internet search for local Christmas parades, tree lighting ceremonies, and festivals. Drive around looking for neighborhoods with good Christmas lights displays, or ask around to find good displays that are open to the public. These types of events happen all December and are the perfect way to feel holiday magic.
Go Somewhere Awesome
Amazing holiday events happen all across the country. Theme parks run special Christmas parties throughout December, certain towns go all out with amazing Christmas lights, and others offer sledding and skating fun. Your home has wheels. Take advantage of that fact by traveling to the holiday fun.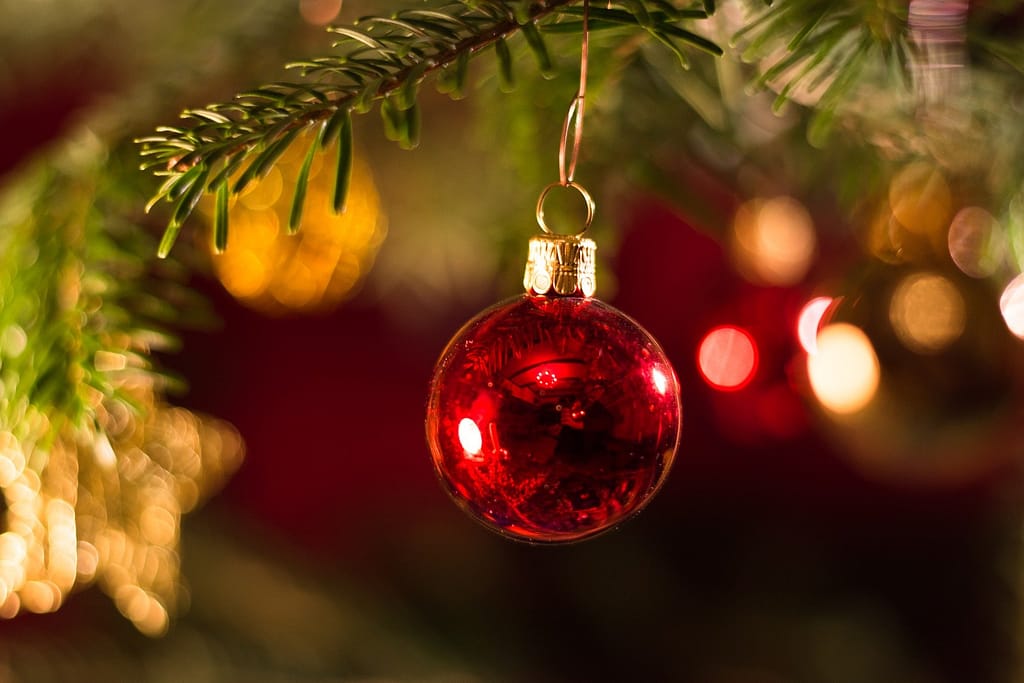 — Decorating the RV —
The holidays simply wouldn't be as magical without decorations. Brightly lit Christmas trees fill homes with a warm glow, and colorful Christmas lights fill the streets with holiday cheer.
Living in a tiny space, you may feel like you don't have room for Christmas decorations, but let us assure you, you can make room, and the holiday spirit those decorations bring will be well worth the temporarily lost space. 
Here are our top tips for decorating when celebrating Christmas in your RV. 
Plan to Sit Still for a Bit
Sitting still for a few weeks at Christmas time comes with many benefits. It allows you to check out different churches in the area and find the perfect one for Christmas Eve or Christmas Day. It also gives you a chance to learn about all the local festivities and join in the fun.
Another big benefit? The ability to decorate your rig and leave those decorations up for the whole holiday season. Taking everything down to move is a big pain, so we highly recommend settling down for at least a few weeks in order to avoid that problem. 
Get Creative with the Christmas Tree
Most RVs don't have room for a full-sized Christmas tree. If this is the case for you, you will need to think outside the box in order to ensure your family has a tree to decorate and sit around on Christmas morning.
Fortunately, there are options. You might try hanging a 2D tree from a wall, or simply hanging a garland or wreath and decorating that. Many people have tiny tabletop trees sitting on their RV dining tables, and some are even able to fit pencil trees, half trees, or corner trees somewhere. Some people even put a tree outside.
Focus on the Campsite
Speaking of the outdoors, don't forget to decorate your campsite. Many RVers find that it's much easier to go crazy with the outdoor decorations than it is to try to squeeze decor inside their tiny living spaces. Blow-up characters, strings of lights, and a wreath on the front door are all sure to brighten up the campground. Just be sure the RV park you're in allows outdoor decorations. 
Buy Cheap and Donate
Most RVers don't have the space to carry a bunch of decorations around. For this reason, many people who live on the road choose to purchase inexpensive Christmas decorations, decorate their home on wheels for the season, and then donate the decorations after the holiday is over. This allows you to make your space festive without giving up a lot of storage space. 
See this post for some awesome RV Christmas decoration ideas.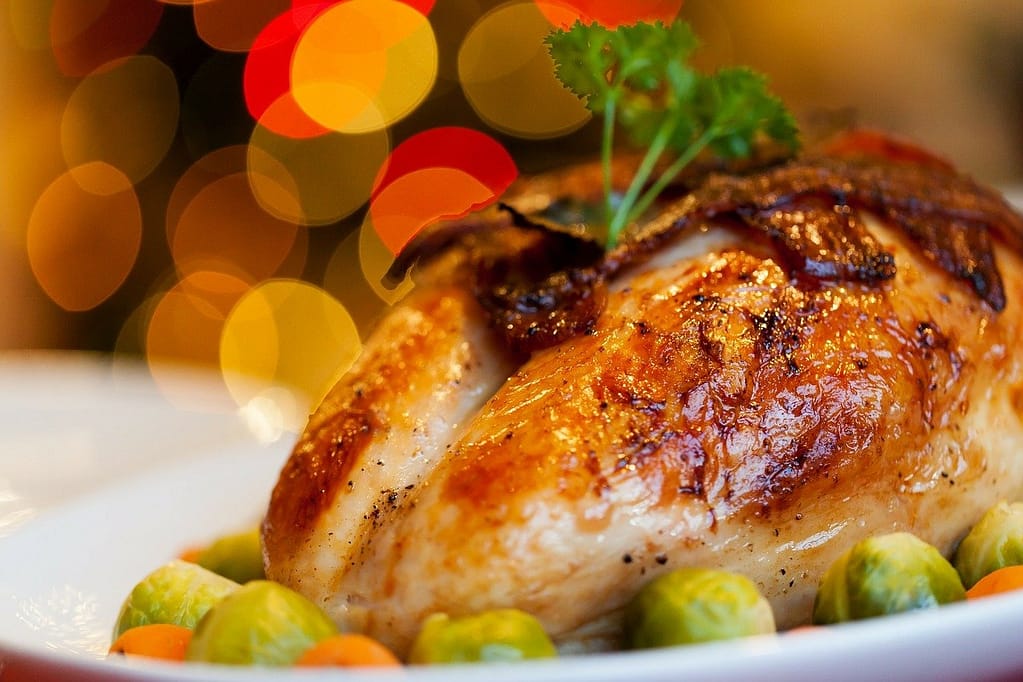 — The Christmas Meal —
For many, the food is the best part of the holidays. That said, cooking an enormous meal in an RV is pretty daunting for most people. Fortunately, there are ways to go about it. Not only that, there are also ways to avoid it entirely if you prefer that route. 
Take a look at the Christmas meal options and tips below and use the ideas that appeal most to you when celebrating Christmas in your RV. 
Consider Non-Traditional Meat Options
Making an entire turkey in an RV oven—or a small appliance like an Instant Pot or air fryer—is just not possible. For this reason, if you plan to cook an entire traditional Christmas meal, you might want to pick a different entrée option.
You could buy just a turkey breast, or roast Cornish hens or even a chicken. Another option? Making something like pot roast or steak. 
Create Extra Counter Space
One of the most frustrating things about cooking a large meal in an RV is the lack of counter space. You can create more working space for yourself by setting up a folding table or a couple of sturdy TV trays in the kitchen area. Don't have room for more work space inside? Consider setting up a table outside and doing some of your prep work there. 
Make Use of All Appliances
Another frustration many RVers experience when trying to cook a large meal? Not enough room on the stove or in the oven. To combat this, pull out all of your small kitchen appliances and make some things in the Instant Pot, in the air fryer, on the grill, or in the toaster oven. 
If you find you don't have enough power to run all of the electric appliances, try plugging an extension cord into the 20-amp outlet on your power pedestal and plugging an appliance into that. 
Don't have enough room for all of the appliances? Set some outside on the picnic table or a folding table. 
Cook Some Things in Advance
Another way to make things a bit easier on yourself is to prepare some foods in advance. There are a number of foods that can be made the day before—or even two days before—the actual event. Some of our favorite foods to make in advance include deviled eggs, pies and other baked goods, pasta and potato salad, and veggie and/or meat trays.
Attend a Potluck
Of course, you could avoid cooking the entire meal on your own by getting together with friends and having a potluck. Fulltime Families hosts a few different Christmas potlucks each year in places like Orlando, southern California, and the Houston area, where families tend to gather. That said, there is no reason you couldn't host a potluck of your own wherever you are. Alternatively, campgrounds will often host potlucks or serve holiday meals. 
…Or Go Out to Eat
If there are no friends to gather with and the campground you're in isn't offering any sort of meal option, you can still avoid cooking an entire Christmas dinner by heading to a restaurant. That said, not all restaurants are open on Christmas, and those that are may not have traditional offerings. As long as you're aware of that and okay with the options you do have, this can be an awesome option. 
Check out this post for more tips on cooking a large holiday meal in your RV.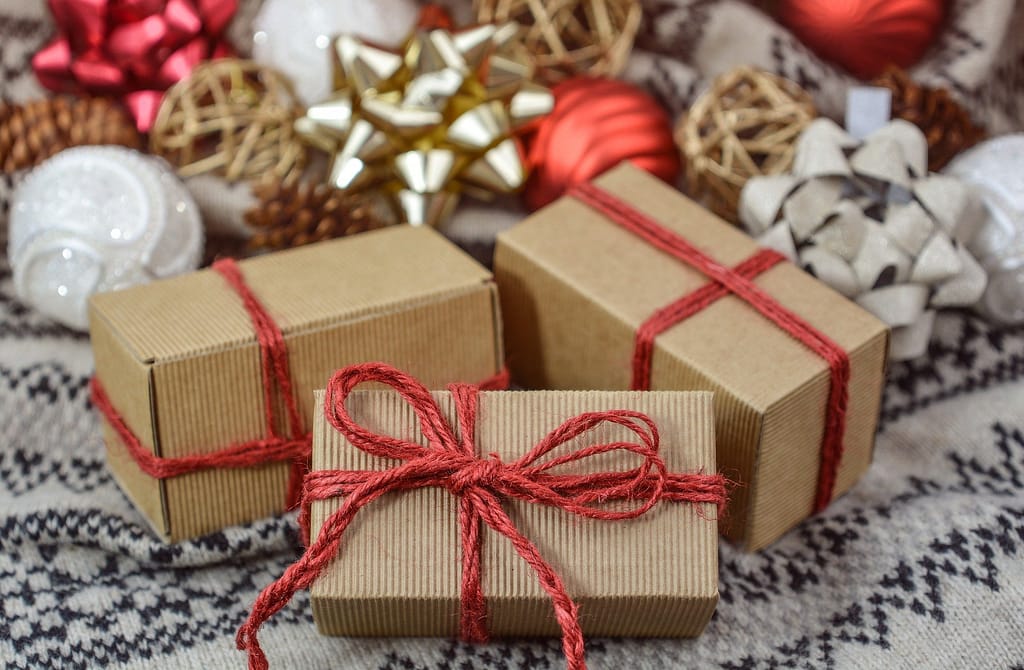 — Gift Giving —
We all love presents! Who wouldn't love buying something for a person they love and receiving a token of their affection in exchange? That said, if you live in a teeny tiny home, holiday gifts can be overwhelming. In some families, the onslaught of stuff is pretty intense, and finding places for all the new things while also hoping your rig isn't overweight isn't a fun task. 
Now, you definitely don't have to exchange gifts to have a good Christmas. That said, the kids will probably be pretty disappointed if you don't. Besides, part of the fun of the holiday is picking the perfect gifts for the people you love most and seeing their eyes light up as they rip off the wrapping paper. Therefore, we don't recommend forgoing the gifts entirely when celebrating Christmas in your RV. Instead, we recommend being more mindful about the gifts you give, choosing each present wisely. 
Here are our top gift giving tips for those living in small spaces. 
Give Consumables
We love gifting consumable items. Why? Because they don't last forever, meaning they don't take up precious RV storage space forever. Some consumable gifts your family might like to have include fancy toothbrushes, special soaps, bubbles, candy and special foods, and craft supplies.
Consider "Experience" Gifts
Another great gift option that doesn't take up any space at all? Experience gifts. This might mean giving gift cards to favorite restaurants, certificates for special lessons or classes, or a visit to a theme park or another cool attraction.
Reciprocal memberships are great experience gifts, as they can be used again and again all over the country, and we will always recommend discount camping club memberships—such as Passport America, Boondockers Welcome, and Harvest Hosts—which allow you to go more places while spending less money. 
Pool Money for One More Expensive Item
Finally, if your kids have several family members who like to shop for them and you always end up with way too much stuff, we recommend coming up with one super cool, more expensive gift and asking the grandparents, aunts, and uncles to pool their money to get that one thing. You'll end up with less stuff and one awesome gift that your kids would never receive otherwise. 
Need more suggestions for gifts when celebrating Christmas in your RV? Our gift guide and stocking stuffer guide both have some pretty awesome gift ideas that are just perfect for RVers like you and your family. 
With these tips and tricks up your sleeve, you are now ready to start planning the ultimate RV Christmas. This holiday season might be different for your family, but it isn't going to be sad or stressful. In fact, it might even be your best Christmas yet!
Join Fulltime Families
Fulltime Families Members get access to the best resources, community and discounts.
Fulltime Families is a participant in the Amazon Services LLC Associates Program, an affiliate advertising program designed to provide a means for sites to earn advertising fees by advertising and linking to amazon.com, amazon.co.uk, amazon.ca. Amazon and the Amazon logo are trademarks of Amazon.com, Inc. or its affiliates.